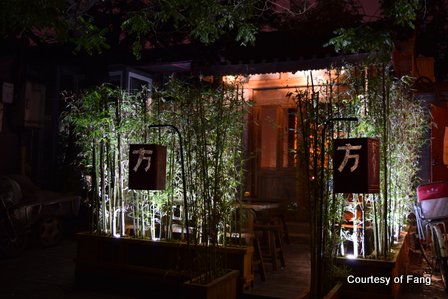 I wrote about Fang, the new bar beside Fangjia Hutong veteran El Nido, here about six weeks ago, made it to the place after these drinks at fellow newcomer Bungalow about two weeks ago, and am finally posting about that visit. I blame the delay on my senses, and in turn my notes, being blurred from too many tiki drinks prior to the visit. I'm now highly caffeinated and confident I can decipher several pages of handwriting that clearly betray a satisfied craving for rum-based beverages.
Fang is named after the first syllable in the hutong's name and involves Xiao Shuai, of El Nido fame, and Zak Elmasri. It has a slight Hidden House feel–sans sliding bookcase door–with walls of bamboo protecting an outdoor area and, further inside, a bar with hutong touches. The well-coifed bartenders and creative drink recipes make it upscale for this street.
Given the liver pummeling at Bungalow, I opted for something that sounded more subtle, the Fei Fei Martini. This includes Botanist gin, Lillet and jasmine tea. It's a nice tipple, with the tea giving it a pleasant fragrance and smooth texture. There are were also two chrysanthemum flowers on top. I can't remember if I ate them or not.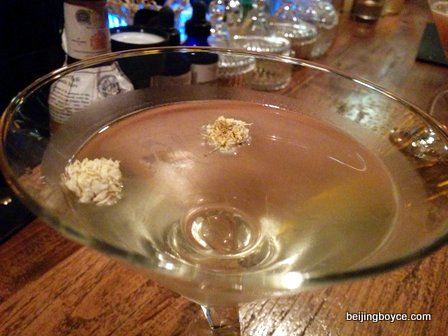 Journey to the West is far more forceful. It includes dates and raisins–bought fresh from a nearby Xinjiang products market–that are sliced and flambeed in over-proof rum for 45 seconds before being used in a recipe that includes apricot brandy and even more rum. I only had a sip and can say it's not my thing–rich!–but it might well be yours, especially on a cold winter's night.
Yet another drink includes suan nai–the ubiquitous Beijing yogurt drink–and ingredients like Ameretto, honey and cumin syrup. I saved that one for next time.
I did have a "bamboo shot" with Elmasri. It has Bison grass vodka, infused lemongrass syrup, and lemon and lime juice, and it quickly brought me back to my senses.
Or at least enough to overhear someone down the bar say: "When I do an experiment, I collect cells and capture them in chambers, and this time they were fat cells." That resulted in a long discussion about science in China and then a taxi ride to Paddy O'Shea's to see Canada play France in rugby and, well, there won't be any blog posts about what happened in that match.
Fang Bar. Fangjia Hutong. Beside El Nido. Creative cocktails that several of my friends in the trade have recommended with approval. Eat the flowers at your own discretion. 


*     *     *
Get regular Beijing updates via my
Instagram
and
Twitter
feeds. Also see my sibling sites
Grape Wall of China
,
World Baijiu Day
 and
World Marselan Day
. Help cover the hosting and other costs of these sites with a
WeChat
,
AliPay
or
PayPal
donation.
*     *     *