Here's an event you don't see every day!
Remember the tasty 'drunken shrimp' pizzas that Gung Ho! created for World Baijiu Day? This Friday, order one of those pies–topped with shrimp flambeed and sauteed with China's national spirit–and co-owner John O'Loghlen will treat you to a free tasting of rare baijius sourced from his father-in-law's extensive collection. The lineup also includes Taizi, a baijiu that is made in O'Loghlen's home country of New Zealand and that he was serving at last week's Pizza Cup in Beijing.
There are only 30 spots available–well, a maximum of 29 now since I'm booking one–so RSVP eva@gunghopizza.com ASAP if interested. See more details on the event and the baijius in the poster below.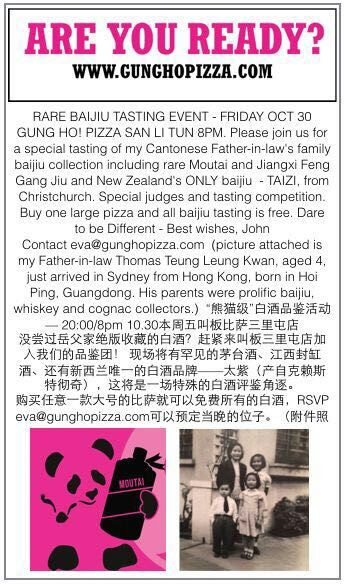 Check out my lists of Beijing food deals and drink deals. Also get updates via Twitter, Instagram and Facebook. And check out my sibling sites Grape Wall of China, World Baijiu Day and World Marselan Day.  If this site helped you find new bars, restaurants, foods and drinks, or saved you money, consider helping to cover the hosting and other costs with a WeChat or PayPal donation.