Italian eatery Bottega launched a new lunch menu last week so I made that my first stop of the new year. First, the above photos show the place virtually empty — that's because I took them at 2 PM when the responsible people had all returned to work. I simply wanted to give those who have yet to visit this place an idea of what it looks like.
After complimentary bread, I tucked into my first course, a bruschetta trio with loads of fresh tomato, earthy mushroom, mild mozzarella, well-balanced pesto and other delicious flavors on bread with perfectly crunchy crusts. I pretty much inhaled all three in a couple of minutes.
Next, I rarely order pasta but was intrigued by the word 'parpadelle' — turns out this is a wide flat noodle. Unfortunately, none was available, so I went along with the suggestion to swap in fettuccine, which is about half the width. This dish had fresh tomato sauce, firm pasta and flavorful moist meatballs, It would have been perfect except that when I make pasta at home, I load the sauce with spice — black pepper, red pepper flakes, fresh chili peppers, hot sauce — to the point I keep a fire extinguisher handy. Given this, I found Bottega's sauce more than a touch too mild. But normal people will like it just fine.
Anyway, those two courses cost rmb88, and I added a tiramisu (nice) for rmb20 and a glass of Chianti (simple and light) for rmb30. If you prefer a heavier and more complex wine, try the Sardinian option available by the glass for a bit more. Overall, an enjoyable lunch, and I'll be back to try a few other options. The following menu will be available until Chinese New Year.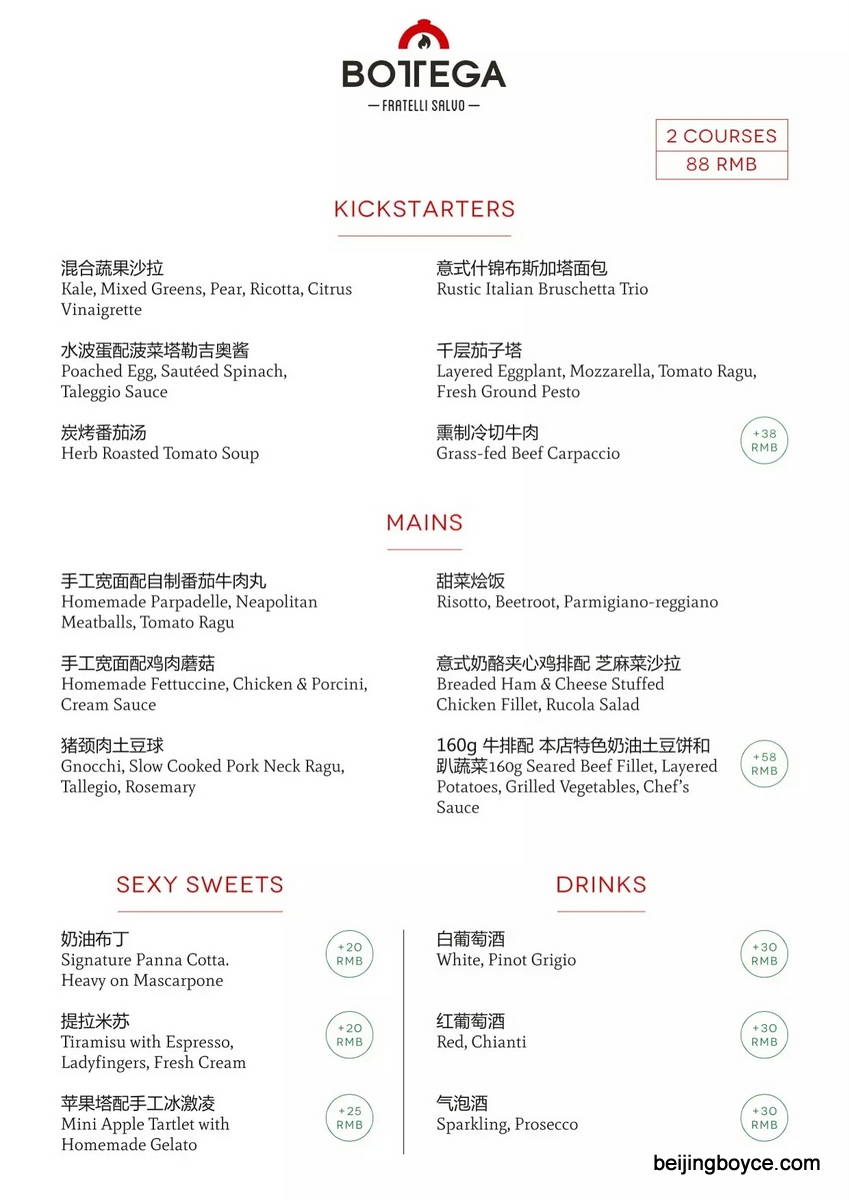 *     *     *
Get regular Beijing updates via my
Instagram
and
Twitter
feeds. Also see my sibling sites
Grape Wall of China
,
World Baijiu Day
 and
World Marselan Day
. Help cover the hosting and other costs of these sites with a
WeChat
,
AliPay
or
PayPal
donation.
*     *     *