Go absolutely mental during the new 'Crazy Irish Hour' at Paddy O'Shea's. It's buy one, get one free on all Irish beverages, including Guinness, Kilkenny, Murphy's, Baileys, Magners and over a dozen whiskey options, from 5 PM to 6 PM on weekdays. (That sixty-kuai two-for-one Guinness deal brings back memories of The Den, sniff.) Paddy's still has its regular happy hours from 2 PM to 8 PM on weekdays and 2 PM to 6 PM on weekends: 30 percent off most beverages, plus buy one, get one free on well drinks and local and Tiger beer. See more Beijing happy hour deals here.
---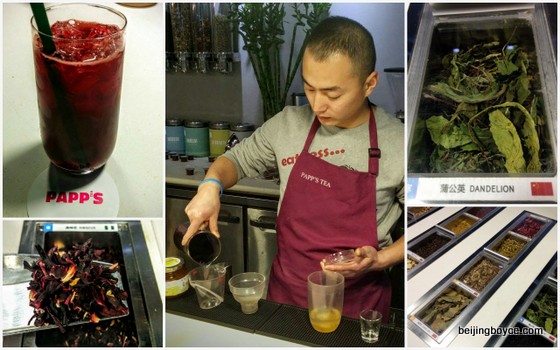 I finally visited Papp's Tea in Sanlitun Soho — there is also a branch on the west side of Yashow Market — and, along with learning more about the business from Martin Papp and Jerrod Weston, I tried the gin, hibiscus and pomelo marmalade cocktail. This concoction is dangerously fresh and delicious and will be perfect on a hot summer day. Or, come to think of it, right now. Papp's is also working on individual serving tea capsules for home use. I'll be back soon to try some teas.
E has dropped into the old Uncle Otis chicken slot down from The Big Smoke. Expect creative tacos, empanadas and the like. I tried the fish tacos last night — two for rmb45 — and they were a tasty snack, though I created a mess trying to squeeze that lemon. I assumed the "E" was a tribute to the Black Eyed Peas album Elephunk but it seems it is for "Eatery". Snooze. Anyway, Connor Brennan is managing this space. And fans of The Big Smoke take note: Gordon Kutil has a bunch of new lunch options available, including a Cuban sandwich. Will try soon.
---
I posted earlier today about lunch at Italian eatery Bottega in Nali Studio. For those seeking budget-friendly early-week fare, this place now offers half-price calzone fritto — deep-fried calzone — and draft Kentucky ale from 5:30 PM to 11 PM on Mondays until the end or March. I don't have a photo of the calzone so I used a shot of the delicious bruschetta trio instead.
---
Finally, another plug for XL, the restaurant / bar managed by Jane Cui (formerly at Nearby the Tree) and featuring tasty eats, including this substantial half-chicken meal for rmb70. It takes an hour from time of ordering until arrival, so enjoy a few drinks while you wait. I'm also a fan of the burgers, which are half-price on Tuesdays.
---
Check out Beijing drink deals here, food deals here and lunch options here.
*     *     *
Get regular Beijing updates via my
Instagram
and
Twitter
feeds. Also see my sibling sites
Grape Wall of China
,
World Baijiu Day
 and
World Marselan Day
. Help cover the hosting and other costs of these sites with a
WeChat
,
AliPay
or
PayPal
donation.
*     *     *