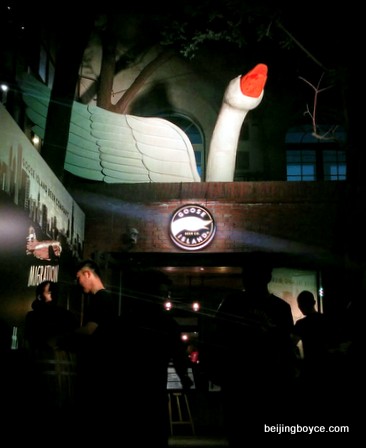 Big honking party at Home Plate last night for the Beijing launch of Chicago's Goose Island beer. The promoters did a thorough job of plastering most every available inch of the place with decorations and even parked a big old goose on the roof.
Jet lag and several martinis kept me to a couple of glasses of IPA, so I'll save judgment until I can try a few other options. But I can say the cheesy meatballs made by manager Brian Murray were awesome. While he noted the version from his youth included Cheez Whiz, the ones last night used fromage proper–two parts cheese to three parts pork, with dried chili flakes providing a nice spicy edge. Those would make for a most excellent cheesy meatball sandwich. This photo does not do them justice: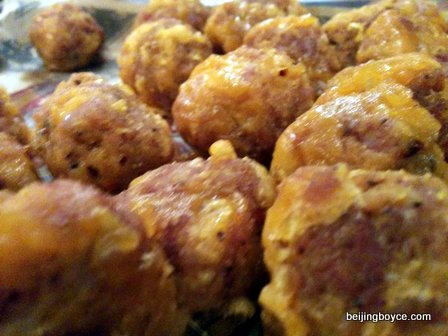 Goose Island is owned by Anheuser-Busch InBev, best known for Budweiser, and is undertaking a huge marketing push in China this month. It's kind of surprising to it surface in Beijing now because I found it stocked in Ningxia about eight months ago. Perhaps a rogue distributor out there? Anyway, there's lot of Goose Island stuff during the next few days, including a "block party", and you can find the details here.
food deals
 and
drink deals
. Also get updates via
Twitter
,
Instagram
and
Facebook
. And check out my sibling sites
Grape Wall of China
,
World Baijiu Day
 and
World Marselan Day
.  If this site helped you find new bars, restaurants, foods and drinks, or saved you money, consider helping to cover the hosting and other costs with a
WeChat
 or 
PayPal
donation.