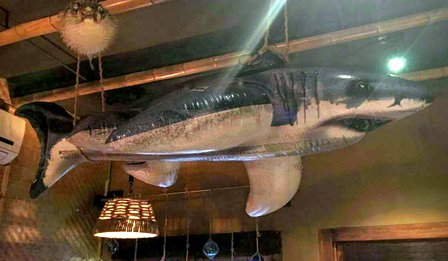 The Must Tries Series features people in the Beijing restaurant and bar trade telling us about both the best items from their menus and where they like to eat and drink in our fair city. This edition features Bungalow Tiki Bar co-owner Oliver Davies—limbering up below—and sidekick / inflatable shark / bar mascot Higgins.
What are three "must try" drinks at Bungalow?
Millionaire's Mai Tai: Following Trader Vic's recipe—indisputably the best, most balanced and exquisite Mai Tai recipe—but with [bartender] Phil Tory's choice of premium rums, it's like the classic yet deeper, richer and longer on the finish
Three Dots & a Dash: A succulent combination of lime, orange, Demerara rum, Agricole rum, allspice dram, falernum and a dash of honey. It's a unique and refreshing Tiki cocktail named after the Morse code for "victory". Invented during World War Two by Don the Beachcomber. Garnished with three Luxardo cherries (dots) and a pineapple slice (dash).
Improved Gin: When I'm not in the mood for Tiki drinks, but want something crisp, refreshing and ice cold. Made with the classic and unique Genever Gin, Bokers bitters and maraschino liqueur. Served on a large rock.
Phil is a stickler for making all types of drinks perfectly, and not just Tiki drinks. It's not every day I feel like a Tiki drink, but I do often feel like a perfectly made classic while sitting in a classy Tiki atmosphere listening to Tiki grooves. In those moods, Higgins and I choose the improved gin.
How about a few drinks at other inflatable shark-friendly places?
Al Capone at Scarlet A in Gulou: With hot pepper Cachaca, dark rum, chocolate bitters and a Laphroaig mist. I like the attention to detail and the care that go into their drinks. Scarlet has an endearing demeanor and they chose lovely designer furniture with real wood.
Black Magic at Mas in Beixinqiao: Partly because I have fond memories of this cocktail when I found it in my father's Mr. Boston's cocktail book, then he made it for me—or tried to!—I don't know anywhere else in town that does this and it works well with Mas' penchant for cinnamon.
Pisco Sour at Mao Mao Chong in Bachang Hutong: A classic Pisco drink with a perfect egg-white foam. Mao Mao Chong make a really sold one. [Owner] Eric [Liu] is always accommodating and patient and has a great bartender "bedside manner" with customers.
---
See here for an early review of Bungalow Tiki Bar, here for other recent entries in the Must Tries series, and here for a five-year flashback post.
*     *     *
Get regular Beijing updates via my
Instagram
and
Twitter
feeds. Also see my sibling sites
Grape Wall of China
,
World Baijiu Day
 and
World Marselan Day
. Help cover the hosting and other costs of these sites with a
WeChat
,
AliPay
or
PayPal
donation.
*     *     *