By Jim Boyce | It's raining cats and pandas in Beijing and there is chatter some restaurants and bars will close tonight due to the onslaught. I contacted twenty or so to get the scoop. Or should I say pail?
First, a trio of Sanlitun South joints that offer hump day comfort food value should be open. "Absolutely," says Lucy Li of Q-Mex (half-price nachos from 5 PM). "Absolutely" says Richard Ammerman of Jing-A (rmb30 chili). (Hey, Lucy said it first!) "Unless things get really dire," says Kenn Bermel of The Local  (rmb3 wings). Plus, neighbor Pop-Up Beijing has rmb35 happy hour wine, including new addition Sigalas Kavalieros Assyrtiko, from 5 PM to 7 PM, says Glenn Schuitmann. ("We are the sanctuary for the masses," he says. "We're also building an ark. Just in case.)
Also open in that area: Q Bar (two-for-one cocktails from 5 PM to 8 PM), says Geroge Zhou, bar and restaurant XL (off Xindong Road), says Jane Cui, and Beer Mania, says Thierry de Dobbeleer, who adds, "We are not afraid of rain in Belgium." (We're in Belgium? Watch out, Beijing, it looks like you might be within Brussels' nine-dash line.)
"As far as I know, we're open," says Jeff Powell of Frost. "We will be the island". Meanwhile, Big Smoke manager Connor Brennan might give staff who live far away a break but will hold down the fort. Aw, he's so nice.
I didn't find any place in Sanlitun-Gongti that says it will close so you are pretty safe in those parts.
Near Beixinqiao, Cafe de la Poste is business as usual, says Justin Barthelemy, "unless the water comes inside."
Ramo in Fangjia Hutong will be open, says Paca Lee, as will neighbor Tuk Tuk on Fangjiu Hutong, says Zak Elmasri, though he says he needs to check the status on sibling establishment Fang Bar just up the street.
One street over, Bungalow Tiki Bar will be closed: surprising, since the bar has a huge inflatable shark that could double as a raft in an emergency.
Both Wudaoying Hutong and Liangma River locations of Arrow Factory will be open, says brewer Thomas Gaestadius, who hails from Sweden where they know a thing or two about heavy rain (frozen variety). So will Irish Volunteer. "I don't see why not," says optimistic Zach Lewison.
At this point, it sounds like most venues will be open, with closings most likely in the hutongs. In any case, your best bet is to call ahead. And to play it safe: be aware of the possibility of uncovered manhole covers and that the rain might well worsen. Hopefully, we aren't heading for a repeat of the tragedy of four years ago.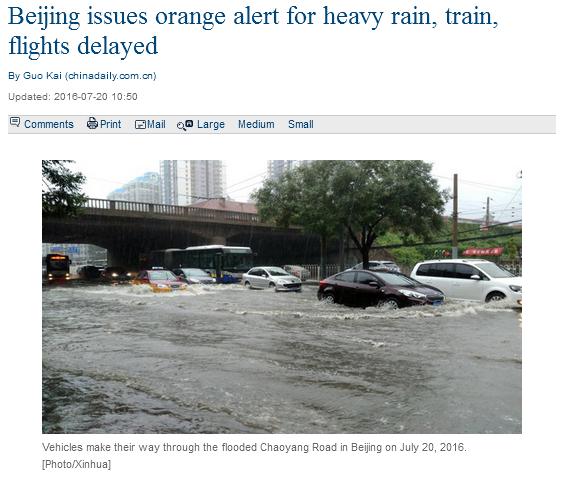 ---
Check out sibling sites Grape Wall of China and World Baijiu Day.
*     *     *
Get regular Beijing updates via my
Instagram
and
Twitter
feeds. Also see my sibling sites
Grape Wall of China
,
World Baijiu Day
 and
World Marselan Day
. Help cover the hosting and other costs of these sites with a
WeChat
,
AliPay
or
PayPal
donation.
*     *     *