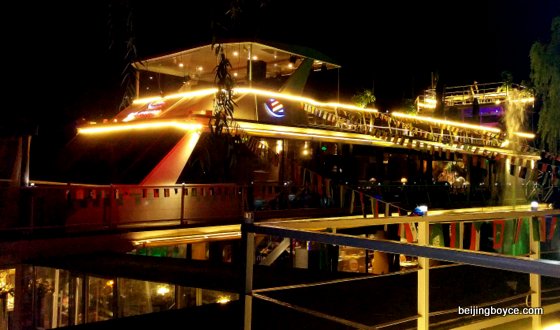 By Jim Boyce | After The Den closed and left a gaping hole in the late night eats scene, my picks in that part of town have been between a hotpot session at Haidilao or beef noodle soup, kebabs and tasty side dishes at Pingwha Sanbao. The recent opening of Afunti at Workers Stadium, and the "24H" on its sign, suggested another worthy option, and I finally moseyed over there with a few friends at 1 AM one recent day.
The venue itself is the best part. The new Afunti took over the boat-like structure just across from the stadium's southeast corner. On the outside, it's lit up like a Christmas tree. Inside, it offers multiple floors of dining, including a top deck with views of a lotus-filled pond and the buildings surrounding Workers Stadium.
Given the huge amount of seating, and it's not just flimsy stuff, this place should shape up as an option for a dozen co-workers or visitors from overseas to chill and pig out, although I'm told the post-dinner tabletop dancing so popular at the previous Afunti is not frequent here.
Anyway, we started with a slab of Afunti "craft beer"—six glasses for rmb180, if memory serves. It's a wheat beer that smells better than it tastes and comes off as fairly vapid although I'm sure most people will be happy to wash down their food with it. We also got bottled Xinjiang beer: it didn't fair well given a slight skunky aroma. Afunti has other options, including Xinjiang wine, though I have no idea how long the bottles have been in stock.
For food, we started with mutton baozi, stuffed with moist flavorful meat. Then it was on to the kebabs, the meat once again fine—tender and juicy with a nice crisp outer layer—although overwhelmed with seasoning. Pure fire. The noodles in the chicken dish dapanji were fresh although the overall flavor was mediocre.
Next up… well, that is as far as we got. It turns out Afunti closed at 2 AM on this night. Word is a round-the-clock schedule is in the works.
That's just a snapshot of Afunti, a place that seems to have plenty of potential. I'm not close to giving up on Haidilao or Pingwha but it's good to see yet another option in the neighborhood.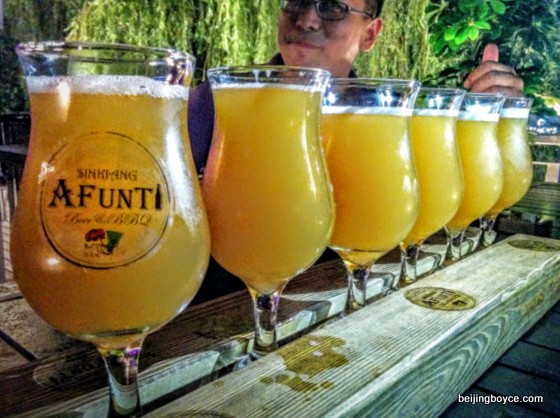 *     *     *
Get regular Beijing updates via my
Instagram
and
Twitter
feeds. Also see my sibling sites
Grape Wall of China
,
World Baijiu Day
 and
World Marselan Day
. Help cover the hosting and other costs of these sites with a
WeChat
,
AliPay
or
PayPal
donation.
*     *     *