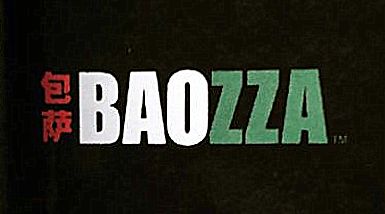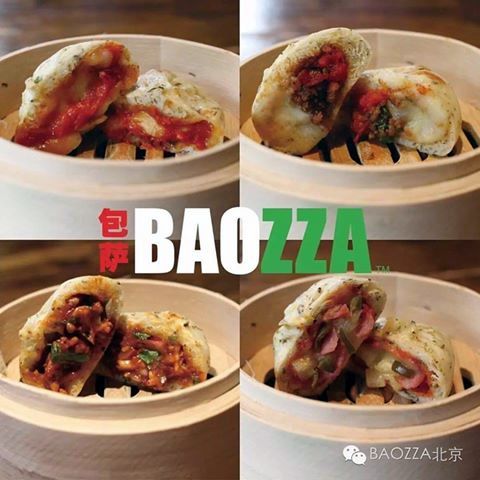 By Jim Boyce | It's baozi. It's pizza. It's baozza!
I'd just finished mowing down the half-price habanero chicken at Q-Mex last Thursday night when I ran into the guys behind Baozza, a portmanteau—or portmantou, he he—of baozi and pizza and an apt description of the comfort food of the moment.
This isn't the first I've seen of someone do a spin on baozi. A few years ago, Phoebe Storm experimented using Western fillings and held a few tastings at restaurants. And Chinese chains are offering non-traditional options like teriyaki and red pepper beef. I even regularly slice open baozi from my local shop—they do a mean one stuffed with pork and a quail's egg—to add cheese, Taco Bell hot sauce or whatever else is in the cupboard. But Baozza is very focused effort, the kind of project that could see shops pop up elsewhere—their site already lists Shanghai, San Francisco and Los Angeles.
Anyway, if you can't wait, a heads up that Team Baozza will be at the Woodstock of Eating event today at Sanlitun Soho. I'm aiming to slip over there a little later to give these a test. You can also follow them on weixin via the 'baozza' account.
Finally, a shout-out to Q Mex for consistently delivering on its nightly food deals, whether it's Monday burritos, Tuesday pizzas, Wednesday nachos or Thursday chicken or ribs. In my ideal world, their food truck would be pulling up right now with one of those nacho pizzas.
---
Check out the sibling blogs World Baijiu Day and Grape Wall of China.
*     *     *
Get regular Beijing updates via my
Instagram
and
Twitter
feeds. Also see my sibling sites
Grape Wall of China
,
World Baijiu Day
 and
World Marselan Day
. Help cover the hosting and other costs of these sites with a
WeChat
,
AliPay
or
PayPal
donation.
*     *     *