By Jim Boyce | A half-dozen Beijing bars and restaurants are featuring events and specials in the week leading to World Baijiu Day on August 9. A look at the slate so far. (Get more info about World Baijiu Day here and see the list of the events for two dozen other cities here.)
August 2 to August 9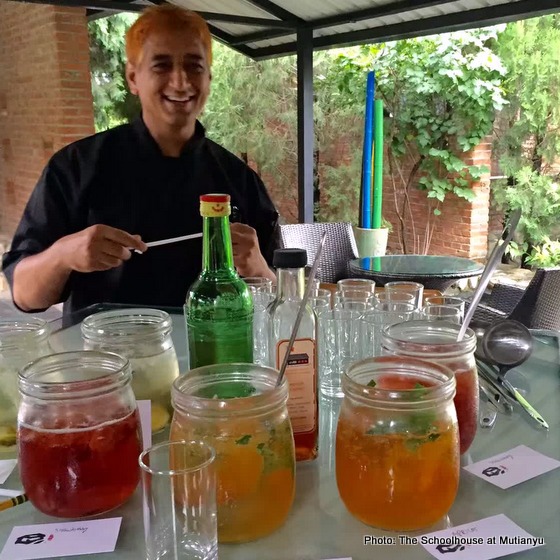 The Schoolhouse at Mutianyu has made baijiu liqueurs for years and Randhir Singh has now added a half-dozen baijiu cocktails for this year's event. Options include apricot and basil, lemon and green tea, and caramel coffee, and cost rmb48 to rmb57. More details here.

The Tiki Bungalow put a baijiu twist on the Mystic Lamp to create Goodbai Fu Manchu, says Oliver Davies. Includes Bye Joe, Venezuelan rum, almond extract, and lychee, lime and orange juices, and is served in a Fu Manchu mug. (Closed Sundays.) More details here.
From August 6

Jing-A Taproom returns with another beer that uses qu, the fermentation agent for baijiu, this time in partnership with Belgian yeast. Expected something akin to their pomegranate sour, says Alex Acker. The tentative launch date is August 6. More details here.
August 6

Pop-Up Beijing and Good Works will partner for baijiu, coffee and tea concoctions. Sam Cornthwaite will have Moutai Iced Mochas and Hainan Island Iced Teas. Get both for rmb50, with funds to Good Works' mission to train late-teen orphans to work in the coffee trade. 4 PM to 5 PM. Book via hello (at) popupbeijing.com. More details here.
Pop-Up Beijing holds its second annual World Baijiu Tour, with brands from China, New Zealand and the U.S. Try a half-dozen baijius for rmb50, with funds to Good Works. "We operate on a strictly 'no ganbei' policy," says Glenn Schuitmann, eying the shop's more fragile products. 7 PM to 8 PM. Book via hello (at) popupbeijing.com. More details here.
August 7 to 14

Capital Spirits will tease your brain before numbing it. Try an intro flight of baijius and, if you guess them right, win a beer or a shot. There will also be a quiz created by writer Derek Sandhaus, with varying degrees of difficulty, says Capital Spirits' David Putney. Closed Mondays. More details here.
August 9

Q Bar will mark World Baijiu Day with a free tasting of local and foreign baijiu brands from 7 PM to 8 PM, says owner George Zhou. Then the classic Big Trouble in Little China will be shown on the big screen, with baijiu cocktails available for rmb30 each. Book a spot via spirit (at) worldbaijiuday.com.
Venue Info
The Schoolhouse at Mutianyu: Brickyard in Beigou Village. 6162-6506. / The Tiki Bungalow: 34 Jiaodaokou Beisantiao. / Jing-A Taproom: 1949, The Hidden City, Courtyard 4, Gongti North Road. 6501-8883. / Pop-Up Beijing: North Side, Ground Level, Building 22, 4 Gongti Bei Lu. 6502-5725. / Capital Spirits: 3 Daju Hutong. 6409-3319. / Q Bar: 6F, Eastern Hotel, corner of Sanlitun Nanlu and Gongti Nanlu.
*     *     *
Get regular Beijing updates via my
Instagram
and
Twitter
feeds. Also see my sibling sites
Grape Wall of China
,
World Baijiu Day
 and
World Marselan Day
. Help cover the hosting and other costs of these sites with a
WeChat
,
AliPay
or
PayPal
donation.
*     *     *