By Jim Boyce | Beijing has lots of dimly lit dark-paneled speakeasy style bars staffed by black tie-adorned mixologists making decent drinks in robotic style for connoisseurs wearing flip flops and cargo shorts and requesting their orders be 'extra strong', thank you very much. So, kudos to Mimi e Coco, a bar that opens tonight near Ramo in Fangjia Hutong, for something different and fun.
Mimi e Coco is the coolest bar I've visited in months, with four air conditioners blasting away and raising goosebumps and providing welcome relief from the dog days of Beijing's summer. A project by Paca Lee of Ramo and mixologist bar whiz Michael, this place is promising, from the soothing evergreen paint job to the colorful chairs and tiles to the wacky labels on the bottles used to serve individual drinks. (The tiny animal heads that double as coat hooks below the bar are the small but typical Lee-like touch that gives her bars personality.) Mimi e Coco is a mix of Ramo, summer cottage and Cartoon Network, with a splash of Barbie's bedroom. It's cute.
(By the way, I arrived very late for last night's sneak peek—sorry, guys!—thus the lack of customers in my photo.)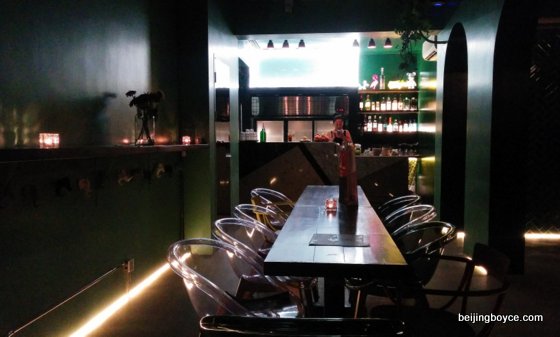 The focus at Mimi e Coco is coolers and cocktails served in mini bottles and sporting colorful creative labels. You will probably soon read everywhere how Michael makes his own bitters, cordials, bushes, shrubs and whatnot, but might wonder, after a few drinks, about pressing issues such as what exactly is that shrub thingy. It's typically a tangy concoction—think sweet and sour—used as a cocktail ingredient, much like bitters and simple syrup. Think vinegar and fruit.
Anyway, Michael a.k.a. The Master Shrub Maker does as many ingredients as possible in-house, and the result, based on my small sample size of two, is fresh, fruity, fun drinks.
On Lee's recommendation, I tried the Citrus Iced Tea with Earl Grey, gin, vodka, lime, lemon and simple syrup. This is a fruity blast balanced by the dryness of the tea. It felt like the healthiest thing I've had in weeks. That and the weather would seem to justify knocking back a dozen or so.
Next was the Suan Mei Tang, named after the sour plum drink that has been a summer staple for centuries in China. This one includes sour plum syrup, dark rum and soda. The fruit and booze play well together, with the soda keeping things from getting too rowdy, that is, it will slow people down enough so that they won't fall flat on their faces. (See here for a cool sour plum-beer infusion.)
Coolers are rmb40 to rmb50, while bottled cocktails are rmb50 to rmb60, and feature house recipes, including a twist on the Mojito. There are a handful of wines from rmb38 and a dozen beers, mostly Baladin (Italy) and BrewDog (Scotland), including a gluten-free option in case you are among the small number of people who have a health issue or simply want to pretend you are in order to get Special Snowflake Mileage.
I didn't talk to the owners about the food but the menu lists pita sandwiches at rmb40 and a cheese and meat platter at rmb60. And Ramo is close at hand with its tasty pizzas and burgers.
All in all, a unique effort that will hopefully do well for the late-night crowd,  including dance party types (I'm told they can crank the volume without neighbor complaints), and those seeking a getaway from the Fangjia strip. Speaking of which, Mimi e Coco is hard to find. It might be close to Ramo but the door is tricky to spot, so below is a hand-crafted custom-made six-step guide to getting there.
Mimi e Coco opens tonight. The hours are 6 PM to late, Tuesday to Saturday, and 3 PM to late on Sundays.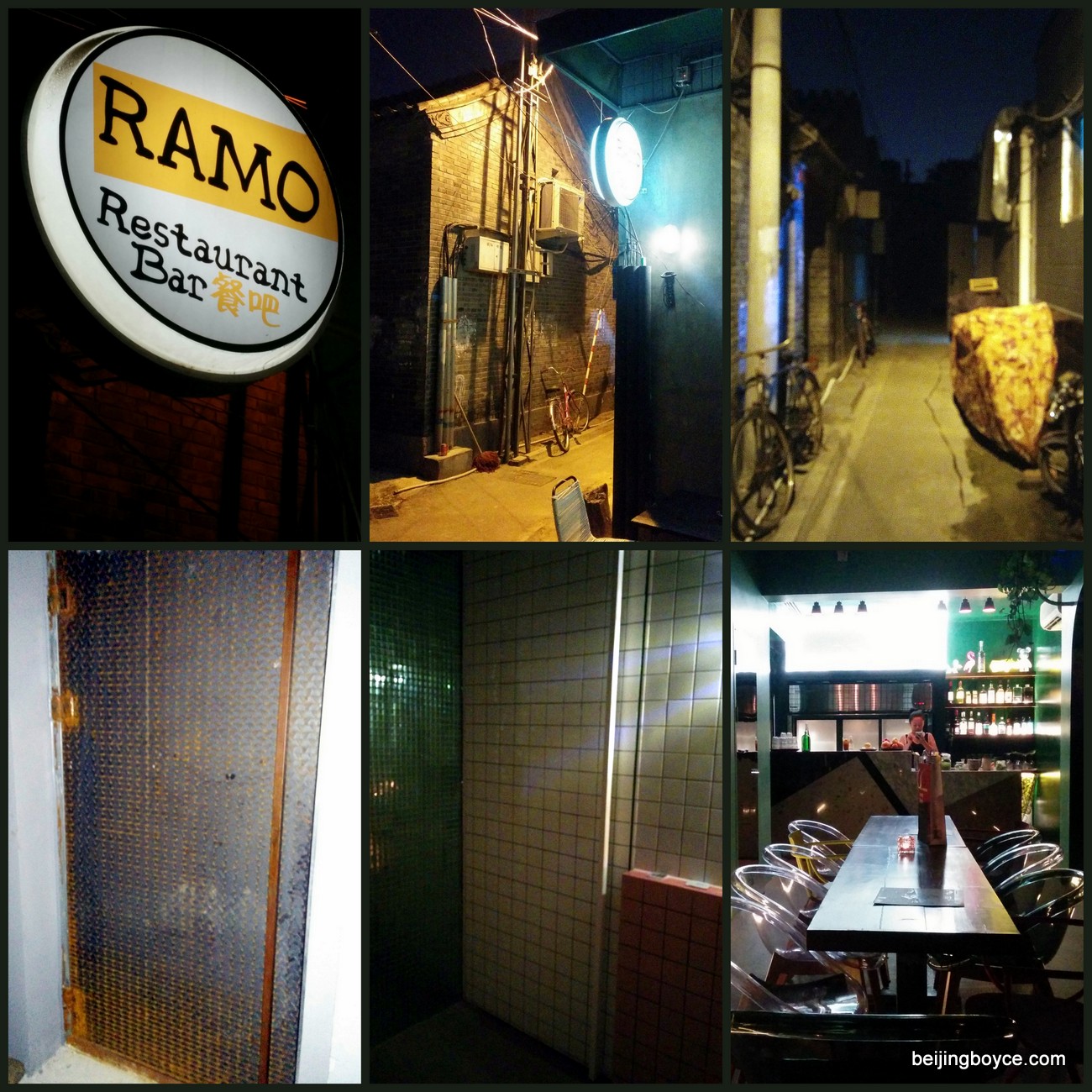 *     *     *
Get regular Beijing updates via my
Instagram
and
Twitter
feeds. Also see my sibling sites
Grape Wall of China
,
World Baijiu Day
 and
World Marselan Day
. Help cover the hosting and other costs of these sites with a
WeChat
,
AliPay
or
PayPal
donation.
*     *     *