By Jim Boyce | The Premier League season is back and, due to lucky picks and The Prime Mover's grace, I topped our 127-team Paddy O'Shea's league—tied with Huxley of Nanjie Bar—the first week and won a 300-kuai voucher. It'd be nice if the wine were due to my football expertise but I'm as well-versed in that sport as in astrophysics or Icelandic poetry. My fandom starts and ends with backing Ghana—I had housemates from there in my university days—at The World Cup. Here's the proof of my unlikely victory:

Which is why you should join the league. If TaterTottenHamNCheeze can win, anyone can. Each week, the teams with the five best scores win prizes. And while it's true that people who know the sport well tend to do best, it's possible to squeak out the odd win via luck or, in my case, consulting "expert picks" articles.
So, how does a newly rich fantasy football weekly winner spend rmb300 at Paddy O'Shea's? Our team of three started with shots, always a good way to whip through the money. In our case, we opted for that delicacy known as the pickleback, a shot of Jameson followed by one of pickle juice:

Few things quench your thirst after a pickleback than a refreshing wheat beer, so two of us had old reliable wheat beer Konig Ludwig while the rebel in our trio opted for Kilkenny. Paddy O'Shea's added a new tap system this year with something like 15 beers and ciders now available. (This place also has more than 20 bottled cider options).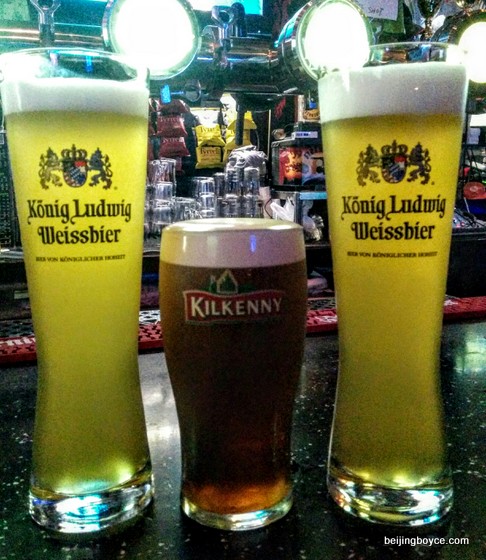 That got us pretty close to rmb300, so the rest served as a tip. Then we added a few more rounds of picklebacks since it's the official shot of the Premier League.
Want to join the fantasy league? If you already have a team, join using the code 581421-167522. If you need more instructions than that, see this post.
---
Check out my sibling sites Grape Wall of China and World Baijiu Day.
*     *     *
Get regular Beijing updates via my
Instagram
and
Twitter
feeds. Also see my sibling sites
Grape Wall of China
,
World Baijiu Day
 and
World Marselan Day
. Help cover the hosting and other costs of these sites with a
WeChat
,
AliPay
or
PayPal
donation.
*     *     *