By Jim Boyce | If I had to pick a Beijing "restaurant of the decade", my vote would go to Migas. The Migas team has an indefatigable dedication to quality and creativity, offers tasty cuisine through its regular menu and intriguing one-off events, and shares its knowledge with others in the trade. We're lucky to have these guys in our fair city. With Migas in the middle of its sixth anniversary festivities—see poster below for details—I thought I'd list six favorite things about this place. Thanks to Mike Iannini and Barbara Mui for introducing me to Migas in its earliest days.
---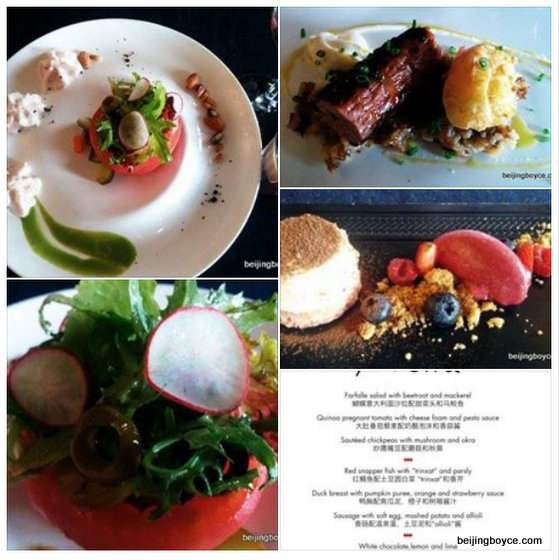 Migas is a superb lunch option, with the menu changing weekly and kept fresh due to chefs competing to see whose recipes get listed. Manager Eduardo Gutierrez once told me the purpose of lunch isn't so much to make money—leave that for the huge rooftop parties—but to keep the team sharp. On the whole, that team has operated with a finely honed razor's edge and that has meant good food and good value for diners.
---
The pouron is a glass container used to stream wine into one's keg hole. It's good clean fun and was a big part of a Maovember fundraiser that Migas hosted last year to fund cataract surgeries for elderly men in rural China. After mowing down an awesome brunch, six people tried their hands at the pouron, with each round featuring longer distances and trickier maneuvers. Migas also supported Maovember in 2014 with a Funk Fever party.
---
The Josper oven is an impressive piece of kitchen equipment that takes meats and veggies to the next level (more here). In March, I was part of a small class that got a close look at this oven and ate whatever came out of it. Learning was never so delicious.
---
The El Asador brunch featured food carts circulating with sausage coils, beef slabs, roasted chickens (chef Aitor Olabegoya is pushing a pair in the photo above) and, for vegetarians, gin tonics. This was a meat lover's feast, with bread, tortilla, salad and other stations providing support. See the full details here.
---
The butcher, the chef and the sausage maker: a trio from Spain created an assembly line in the heart of the restaurant to show the process from first cut to finished dish. Jean Pierre Castillo butchered the meat, then handed it to Carlos Sanllehy who made sausages and handed them to Angel Pascual, who used them as an ingredient in several dishes. It was a mesmerizing process to watch.
---
Sourcing ingredients from local markets is a daily chore and Migas has invited customers to tag along with its kitchen team. I've joined tours of both a slaughterhouse in Hebei and the Jingshen Seafood Market in Beijing, the latter in the photo above with visiting chef Carlos Tejedor.
Good stuff! And let's hope for another six years of Migas pushing the boundaries of Beijing's dining scene. Here are the details for this week's festivities:
---
---
Check out sibling blogs Grape Wall of China and World Baijiu Day.
*     *     *
Get regular Beijing updates via my
Instagram
and
Twitter
feeds. Also see my sibling sites
Grape Wall of China
,
World Baijiu Day
 and
World Marselan Day
. Help cover the hosting and other costs of these sites with a
WeChat
,
AliPay
or
PayPal
donation.
*     *     *