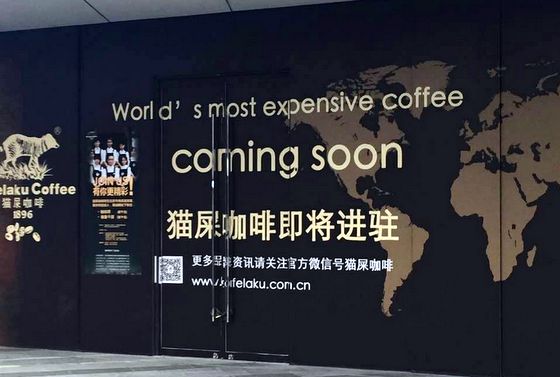 By Jim Boyce | One of this blog's April Fool jokes this year regarded a Beijing craft beer producer called BrewTong doing infusions with coffee beans shat by hutong weasels. It was a spin on kopi luwak, or civet coffee, where the cats in question eat coffee 'cherries' that experience all kinds of fermentation and enzyme action during their intestinal journey and pooped to the delight of eager bean collectors. It's supposed to result in superior coffee. (Note to vegans: civets are omnivores so you might want to try black ivory coffee.)
Anyway, a friend in Sanlitun Soho sent me this photo that shows a branch of Kafeluka Coffee will soon open there. This is far from the first such "cat feces" cafe: the company started in 2010 and claims operations in almost every province, including several stores in Beijing. And there isn't just cat poop coffee on offer, either, as they also have regular ol' java and items such as red pomelo coffee and lychee mint mojitos. By the way, I love their tagline: "Sincerely serve you a cup of awesome Kafeluka Coffee". No one likes insincere cat poop coffee servers. No one!
Hopefully, the beans used in this coffee are ethically acquired, given tales of cruelty involving this product. I've only experienced kopi luwak once, and gave my extra beans to hutong bar Mao Mao Chong for use for in a tequila infusion, so I am curious to see what this place has to offer. If anyone's visited the other branches of Kafeluka, please give me a heads up!
---
Check out sibling sites Grape Wall of China and World Baijiu Day.
*     *     *
Get regular Beijing updates via my
Instagram
and
Twitter
feeds. Also see my sibling sites
Grape Wall of China
,
World Baijiu Day
 and
World Marselan Day
. Help cover the hosting and other costs of these sites with a
WeChat
,
AliPay
or
PayPal
donation.
*     *     *