By Jim Boyce | The annual Food & Wine Experience at Hilton Beijing has been a "must go" during my decade-plus in this city. A time to taste from among hundreds of wines, discover new labels, attend a seminar or two, meet old friends and make new ones, and have some good clean fun. I've especially enjoyed trying Chinese labels like Grace Vineyard, Silver Heights, Helan Qing Xue, 1421 and Helan Mountain, and even once organized my own tasting.
But Food & Wine has struggled. Hallways packed in previous years with tables and tasters were nearly empty in 2015 and Zeta Bar shifted from hosting classes to being a coat check: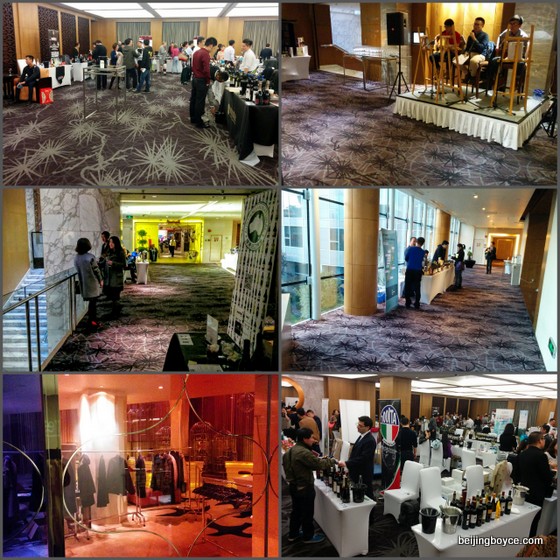 Even in Food & Wine's early years, when the China market was tiny, this event generated lots of buzz and featured the likes of winemaker Marimar Torres and educator Tim Hanni, the first U.S. Master of Wine. It quickly became a fixture and continued to draw crowds due to the efforts of people like Vlad Reyes and Chris Roberts and Simon Amos and Emile Otte.
The recent low turnouts fly in the face both of this legacy and of China's rapidly growing market, one where consumers are experimenting more than ever with wine and where writers, educators, consultants and producers are flooding into the country. If anything, it seems Food & Wine should be scaling new heights, particularly when one considers the large turnouts at many of the city's beer festivals, food fairs and other such events.
That hasn't happened and, based on talking to trade people, including six participants from last year, and my own observations, there are several reasons:
The media campaign for Food & Wine is narrow. Last year, promotion was channeled via a single radio station, a surprising choice in an age of social media. This year, the Hilton will again roll the dice with one outlet, TimeOut Beijing, to attract people.
Attendance relies on free tickets. Over a thousand freebies are issued to table sponsors, thus shifting the stress on signing distributors, who in turn drive traffic, rather than on directly appealing to consumers. This event provides six hours of wine tasting for only rmb88, or rmb228 with the buffet, yet paid turnout is shockingly low. Even worse, several distributors showed me stacks of tickets they were unable to give away.
Some distributors attend the event, at least in part, to please Hilton and protect their listings, or to hopefully secure listings, on the hotel chain's menus. In turn, this means they are loathe to criticize management and explain their gripes about the event.
A relatively new policy of allowing vendors to sell wine has brought mixed results. Consumers can take home bottles of wines they like, which is good, but distributors also have an incentive to push stuff they want to dump rather than their portfolio stars. I've noticed a shift to lower-end wines, something reminiscent of Carrefour wine fairs.
Finally, the Hilton's focus on events seems to be on the wane, not only for Food & Wine, but also activities like the rodeo and annual pancake race, both of which were nixed. It's not enough to pack a place full of wine—any trade fair can do that—it also requires adding interesting seminars and fun activities to attract people. It requires a lot of effort.
While the situation might seem dire, especially in terms of ticket sales, a savvy media campaign and serious dedication by the hotel would go a long way to showing Food & Wine is a priority for Hilton Beijing. The China market is booming, consumers want to try new wines, and the Hilton has legacy on its side. If the hotel can't or doesn't want to take advantage, I hope another venue steps up and claims the niche, because the Beijing wine scene offers something better than this:

This year's Food & Wine Experience is slated for October 15. I'll update when I get more details about the program and prices.
---
Check out sibling sites Grape Wall of China and World Baijiu Day.
*     *     *
Get regular Beijing updates via my
Instagram
and
Twitter
feeds. Also see my sibling sites
Grape Wall of China
,
World Baijiu Day
 and
World Marselan Day
. Help cover the hosting and other costs of these sites with a
WeChat
,
AliPay
or
PayPal
donation.
*     *     *