By Jim Boyce | Sips and bites, sips and bites, get your sips and bites! Yeah, that's all the excitement I can generate at the moment because it's 2 AM, I'm tired and I just want to share a few items before hitting the hay.
Baozza opened its first shop on Friday and I went for lunch this week. The compact menu includes four baozzas, two soups and two salads, with word four more baozza recipes are in the pipeline, including a dessert option.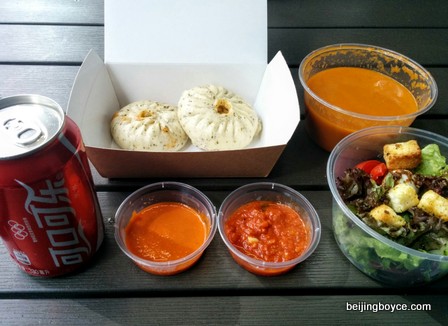 I grabbed the "four for rmb35" deal, which got me a 'meat lover's' and a 'BBQ chicken' baozza, with dipping sauces, plus roasted tomato soup and quail's egg garden salad. Good taste, good value, good times! (By the way, I'm told two or three baozza suffice for a meal. I dispute this. I could easily down a dozen of these things.) My buddy also gave his meal a thumbs up and especially liked the coconut cream mushroom soup. This place is only open weekdays for lunch for now. Find it at the back of Foodie Town, B1 level of building six (southwest corner) in Sanlitun Soho. Details here.
---

A beer bar called High Town is opening this week on the second floor of Nali Patio. I visited Tuesday and the manager said they plan to have nine beers plus food, including sandwiches and something called "Mexican pizza." When I stopped in again tonight, they looked just hours from opening, so it should be safe for beer fans to check it out from tomorrow.
---

I've written lots on my two favorite Tuesday night food deals in Gonglitun, the half-price burgers at XL and half-price pizzas at Q Mex. I just heard from D-One Sports Bar, in the club strip on Workers Stadium West, that it also has pre-Hump Day specials on both burgers and pizzas (see above image). The owner is also a seafood importer and has deals on crabs and Canadian lobsters on Mondays:

---

Pepe Carmon, chef and butcher from Andalusia in southwest Spain, is in town this week and led a cooking demo in Migas today. The focus was sausages, including a blood and liver one called Sevillian Morcilla and a fish one called Butifarra de Pescado.

Both delicious, especially those codfish sausages, and I imagine I will dream tonight of battering and deep-frying them along with a side of fries. We also tried other regional specialties, including a hearty chick-pea based dish called albaronia that was apparently created centuries ago to please a vegetarian princess. Want to try some of these treats? Migas will feature Andalusian dishes for both lunch and dinner the next three days: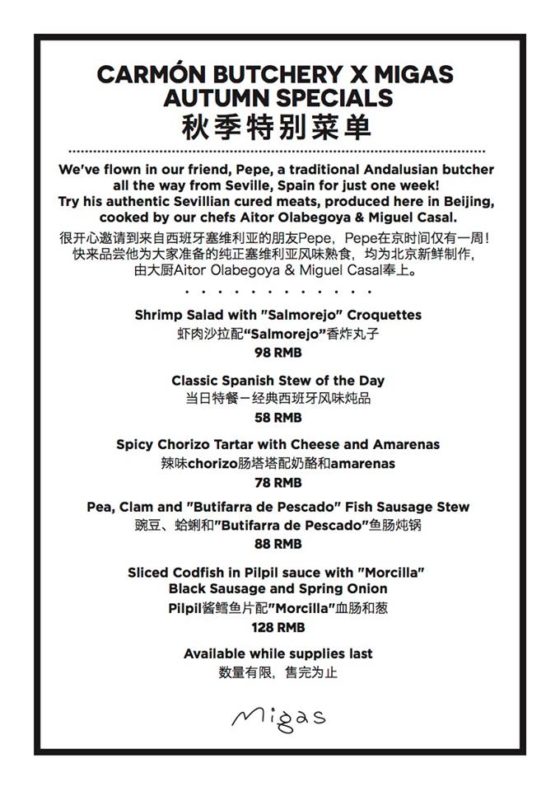 ---
Check out sibling sites Grape Wall of China and World Baijiu Day.
*     *     *
Get regular Beijing updates via my
Instagram
and
Twitter
feeds. Also see my sibling sites
Grape Wall of China
,
World Baijiu Day
 and
World Marselan Day
. Help cover the hosting and other costs of these sites with a
WeChat
,
AliPay
or
PayPal
donation.
*     *     *