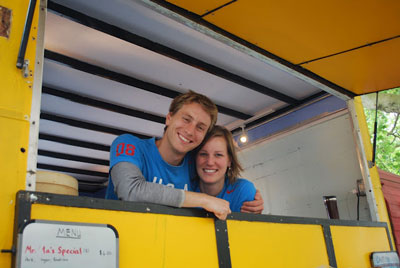 By Jim Boyce | You can take the bar and restaurant people out of Beijing but you can't keep them from feeding and watering the world after they're gone. Welcome to the first in a series of "where are they now" posts about former Beijingers still in the food and drink game. Part 2 goes up tomorrow!
---

Teesh Law & Matt Godfrey | Mala Dumplings | Margaret River
Teesh Law is the former owner, and provider of healthy meals and kick-ass coffee, at Deli Deluxe near the west gate of Chaoyang Park. She spent a half-dozen years in China before leaving for Australia a few years back and recently started food truck Ma La Dumplings with her partner Mark Godfrey. They serve northern-style dumplings at Surfers' Point three days per week and are seen above with a former Beijing neighbor who has now tasted their food on two continents. By the way, I'll never forget gently driving through Beijing with Law and a trunk full of coffee and hot chocolate as part of Maovember 2014.
---
Paul Mathew appeared on the Beijing booze radar as part of the team behind Flamme and knocked customers socks off with an insanely good happy hour featuring top-notch drinks. He also consulted for Taps, Q Mex and Diageo among others in Beijing, During his stint here, Mathew held a stake in London bar The Hide, now marking its tenth year, and has since become co-owner of two new spots, The Abritrager, focused on beers and spirits made within London city limits, and Demon, Wise & Partners. He's also doing a lot of cool stuff with baijiu.
---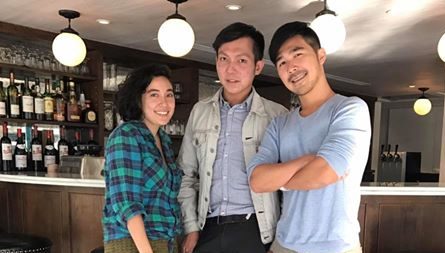 Alisha Bailey | Le Blanc | Taipei
Best-known to Beijingers as co-owner of seafood restaurant Starfish, and to me for making some beauty Bloody Caesar oyster shots during the Canada Day celebrations here, Bailey is now back in Taiwan. She's now part of the team at Taipei restaurant Le Blanc, source of steak, lobster and all other manner of tasty treats.
---

Reid Barrett & Julia Filip | The Dump Truck |  Portland
This couple once wrote about food and drink with the guys at The Insider's Guide and The Beijinger (when they ran that's Beijing), then headed to Portland where they have put their China experience to work. Filip had learned to make dumplings in Beijing, started providing them for a karaoke in Portland, and eventually opened a food truck called The Dump Truck. They won an award for "best dumplings" from Oregon Live earlier this year.
---

Joseph Kornides | Whisky Den | Melbourne
Kornides squeezed into the Beijing scene a decade ago with modestly sized Nanluguxiang bar 12SQM, a place that later expanded to 40 square meters. He then took things up down a notch by opening Mini Bar in a mere six square meters of space. Kornides returned to Australia a few years back and launched Whisky Den last summer in his hometown of Melbourne.
---
 
Dave "Bob" Gaspar | Kentucky Ale | Taipei
He wowed you at The Brick. He amazed you at Home Plate. He touched your heart strings during the first Mr Maovember pageant. Then he moved away. Thanks a lot Dave Bob! Just kidding ya. This former Beijing bar manager / man about town / facial hair specialist is now working for Kentucky Ale in Taipei and bringing lots of the same fun—think boozy bingo—to that city. By the way, he'll be back in Beijing and behind the bar at Home Plate from 7 PM on the January 17.
---
Old-timers might remember Robbie Hennebry for his stints at places like Danger Doyle's, Parkside and The Stumble Inn, or simply as a highly entertaining singer / guitarist, with more than a few memorable shows at Fubar and other venues. (His Hey Jude is a guaranteed to please.)  He's now plying his trade in London as general manager of Ponti's Italian Kitchen.
---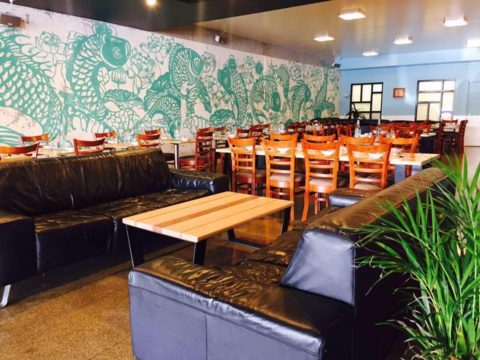 Stephanie and Steven Rocard | The Flying Pigeon | Gisbourne
When this couple opened Mao Mao Chong in Banchang Hutong, just up the street from the aforementioned 12SQM, it quickly became one of the most popular bars in Beijing for its tasty drinks and pizzas. You can still get a good cocktail there, courtesy of Eric Liu, but founders Steven and Stephanie Rocard are now in Australia with a new establishment, The Flying Pigeon. A recent menu at this Asian fusion restaurant listed items such as coconut beef curry, prawn dumplings, Thai-style pulled pork and BBQ pork and rice.
Lots more "where are they now" updates coming, including in part two tomorrow.
---
Check out my sibling sites Grape Wall of China and World Baijiu Day.
*     *     *
Get regular Beijing updates via my
Instagram
and
Twitter
feeds. Also see my sibling sites
Grape Wall of China
,
World Baijiu Day
 and
World Marselan Day
. Help cover the hosting and other costs of these sites with a
WeChat
,
AliPay
or
PayPal
donation.
*     *     *