By Jim Boyce | Had my first drink and restaurant meal since this one on New Year's Day! I wasn't doing a "dry January" or anything like that, just busy getting 2017 off to a good start.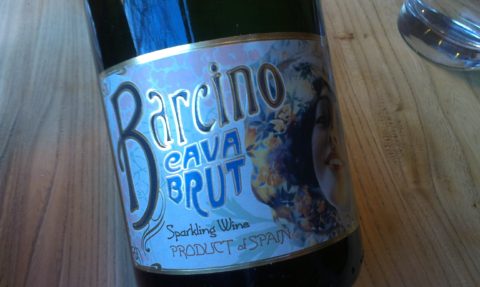 I went with buddy Number 9 to Spanish restaurant Niajo, a Nali Patio venue with tight cozy seating and a dozen shades of brown that provoked a sense of warmth on a blustery winter day. We grabbed a table for two at the window looking east to Chaoyang Park, ordered our business lunch sets and got the Barcino Cava flowing.

Then we tucked into the gratis starters of mixed olives, bread (it would have been nice to have oil and vinegar on the table, too) and nourishing cream of cauliflower soup shots.

Then it was on to the first dish: battered vegetables and langoustine a.k.a. Norway lobster or Dublin Bay prawns. You only get one of these crustaceans but it is delicious: tender and moist in a light and crispy coating. Paired with carrots, green bell pepper, and more. I could eat a dozen of these critters. And the Cava worked well with the light oiliness of the batter.

Next up, Rioja-style chorizo potatoes, a hearty dish that was perfect for the weather. The potatoes are sauteed and seasoned with bay leaves, paprika and more, with a generous helping of sausage providing a pleasant mild spiciness. I tried the Soplo red blend but it was too light and fruity against this dish. Perhaps an earthier wine would do well for winter?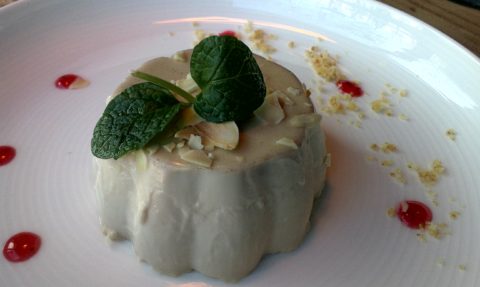 Finally, the dessert: coffee panna cotta. Creamy and flavorful. Number 9 finished his before I even took one bite. Must admit a cold dessert on a cold day didn't do much for me.
A three-course lunch, including one beverage, is 118 kuai per person, with that glass of Soplo only 20 kuai extra. And you should never get bored with lunch here given the menu changes each week.
---
Check out sibling sites Grape Wall of China and World Baijiu Day.
Check out my lists of Beijing
food deals
 and
drink deals
. Also get updates via
Twitter
,
Instagram
and
Facebook
. And check out my sibling sites
Grape Wall of China
,
World Baijiu Day
 and
World Marselan Day
.  If this site helped you find new bars, restaurants, foods and drinks, or saved you money, consider helping to cover the hosting and other costs with a
WeChat
 or 
PayPal
donation.