By Jim Boyce | "And then the bacon and chocolate became one and were anointed with a heavenly spirit."
I'm not sure from whence that quote hails but I believe two friends reliable in things both delicious and unhealthy, Mike Signorelli and Nick Stipp, had it in mind when they sent me this link. It describes how to make bacon-chocolate shot glasses and, with Q Bar owner George Zhou game to try, I headed there last night.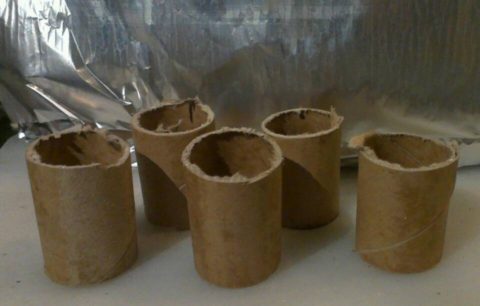 Our first step was to find a few shot-glass shaped objects to wrap in foil, then wrap in bacon, then stick in a nice hot oven. After a bunch of head-scratching, we realized the cardboard tube for the foil would do just fine.
We then wrapped each shot "glass" inside and out with foil. So shiny!
Next, we added bacon. Challenge one: the slices were so narrow we could barely cover the tube bottoms. Challenge two: we didn't have string to tie things tight and instead had to do our best with toothpicks.Then we slid the glasses into an oven set at 190 degrees Celsius.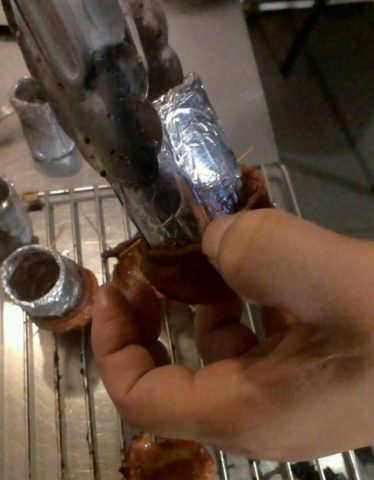 They cooked for about 25 minutes, until between tender and crispy. To be honest, they looked a horrible mess through the oven window. And, once we took them out, they seemed glued to the tinfoil. But a little jiggling soon got them loose.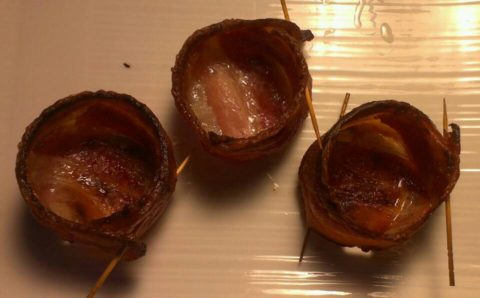 And, to my great surprise, they looked far better than expected. Yes, they were short and squat—again, use wider bacon!—but the sides and bottom sealed together fairly well.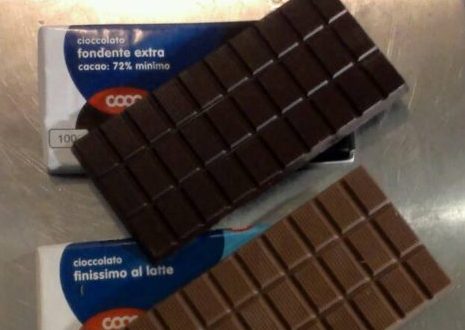 It was time for the chocolate. We had both 72-percent cocoa and milk chocolate bars and decided to go for the former, melting it in a small pot.
We spooned the melted chocolate into the shot glasses, putting a layer on the bottom and using the back of a small spoon to "paint" the sides.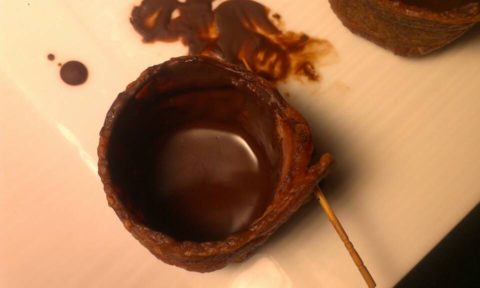 After a short stint in the freezer, they came out looking pretty good. You can see that the interior has been coated and appears to be leak-proof.
Testing time! We considered a bunch of options, from Kahlua to Zacapa 23 to Bourbon, but ultimately picked an Islay single malt, partly because we felt like drinking one! With Laphroaig too pungent, we went, at the recommendation of bartender Jacky Jiu, for a Bowmore 12-year-old: it has a mild smokiness he thought would work well with the bacon.
It did. We knocked back the shot—the whisky picked up a chocolate edge right away—and ate the vessels. Delicious, though the ratio of alcohol to chocolate and bacon was not ideal. You would need a lot of pork to get a buzz!
One solution is to take the shot, nibble off a bit of the upper part of the glass, then repeat until everything is gone. Another is to use wider bacon for a deeper glass. A fun experiment would also be to dip the glass in chocolate to either coat the outside or both the outside and inside. They're all worth a shot! Anyway, for a first try, I'm ranking this a tasty success.
---
Check out sibling blogs Grape Wall of China and World Baijiu Day.
*     *     *
Get regular Beijing updates via my
Instagram
and
Twitter
feeds. Also see my sibling sites
Grape Wall of China
,
World Baijiu Day
 and
World Marselan Day
. Help cover the hosting and other costs of these sites with a
WeChat
,
AliPay
or
PayPal
donation.
*     *     *