Jim Boyce | Papp's Tea and CHEERS Wine aim to make the morning after a big night a bit more bearable. Their hangover cure, said to "calm an angry liver" and "harmonize the stomach", will go on sale after Chinese New Year holidays. According to a draft label, the cure includes peony white tea, chrysanthemum, goji, orange peel and hawthorn. "For even better results, add a dash of salt and / or five slices of banana!" it states.
Banana!? Add salt to my tea!? That's madness! And as far as I know, the only way to harmonize a stomach is with a double order of eggs Benedict or an XL bacon cheeseburger.
I tend to be skeptical of most hangover cures, although while perusing the packaging last night, someone who tested the tea exclaimed, "It works!"
So, I'll give it try it, although my usual hangover cure is likely to remain far more fowl: chicken, either used for soup stock or deep-fried and greasy.
Finally, I understand there is fine-tuning to be done with the packaging but word is the tea will be rmb79 per dozen bags. And it's BYOB—Bring Your Own Banana.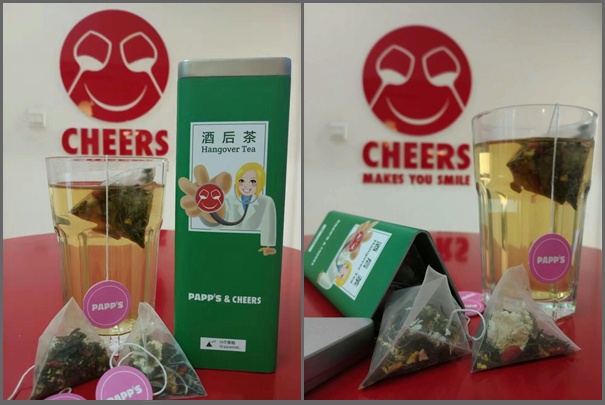 ---
Check out sibling sites Grape Wall of China and World Baijiu Day.
*     *     *
Get regular Beijing updates via my
Instagram
and
Twitter
feeds. Also see my sibling sites
Grape Wall of China
,
World Baijiu Day
 and
World Marselan Day
. Help cover the hosting and other costs of these sites with a
WeChat
,
AliPay
or
PayPal
donation.
*     *     *