By Jim Boyce | Word of yet another new Sanlitun speakeasy raised the specter of same old, same old cocktails served by bow-tied bartenders under Edison lights in soberly furnished confines accompanied by jazz play lists fresh from Download Central. Additional word this place was on the B1 level of Topwin Center—a mall basement—didn't make it sound any better.
But Press Release skips the usual default drinking establishment settings for a literary theme and creative concoctions.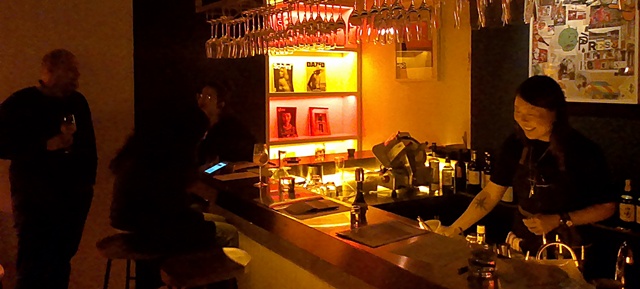 Manager, bartender and Beijing native Issey Lin studied PR in Chicago, worked in New York and Beijing, and squeezed in plenty of worldwide travel as well as a stint in Milan. Her career explains the names of both the bar and the drinks, with tributes to public relations / propaganda legend Edward Bernays and literary icons such as Hunter S. Thompson, Ernest Hemingway and F. Scott Fitzergarld.
And that Milan experience explains a wine list—20 reds, six whites, five bubblies—that is 75 percent Italian, with grapes like Aglianico, Barbera and Sangiovese. (With Italian wines bars Vesuvio and Buona Bocca nearby, it feels like the tens of millions of euros spent on marketing by the mother country might be yielding fruit in central Beijing.) This place won't break the budget, either: there are a half-dozen options at rmb260 and at rmb320 per bottle. By the glass, Italian Primitivo and French Sauvignon Blanc is rmb60.
As for cocktails, the Press Release currently has seven signature options. The Gin Gatsby is a step up on the Gin Rickey of Fitzgerald's Gatsby. Gin and nuts are prepared sous vide-style at the bar are used with melon, thyme, Campari and soda. It's a nice pick for those who don't like their tipples too dry, with fragrance aplenty from the herbs.
The "Write Drunk, Edit Sober" is a tribute to Hemingway. Lin wanted to go beyond the namesake daiquiri and thus we have rum, hawthorn, grapefruit, pepper and soda. I'll just call it "good" as this was my final cocktail and preceded by mezcal, Merlot and Prosecco.
My favorite was Beat Generation, with tequila blanco, tomato, tonic water, soda water and a few dashes of soy sauce. It came with a green pepper garnish—I've only seen that before at Q Bar—and refreshing aroma and flavor. That zingy / umami tomato / pepper smell woke me up while the drink's crispness made it seem a perfect match for something a bit greasy, like a cheeseburger or, maybe, two cheeseburgers.
Cocktails are rmb65.
You get to Press Release by entering L'Epasar on the B1 level of Topwin, at the opposite end from CHEERS and April Gourmet. Enter, hang a left past the buffet, press the blue button on the wall, push open the door, and walk through a narrow wine cellar—previously the restaurant owner's drinking den—to the bar proper.
There are a half dozen stools at the bar plus space for about a dozen more patrons, including on a long bench. The decor is a work in progress, with one collage up and more artwork to follow, and a display of ten typewriters and counting, which Lin has collected from around the globe. (Those reminded me of Tryst, the former Nali Studio bar where patrons pecked out love letters, poems, insults, and more on a manual unit. The drunk ramblings, filed each night in a binder, made for fun reading.)
And yes, you will find Edison lights, though they are balanced by soft neon from tube fixtures. Head-bopping music comes courtesy of a Marshall unit behind the bar.
You might consider Press Release as a laid-back, half-sized, less swish (and less expensive) version of Vesuvio, with more cocktail options and the same lack of windows, although it's justified here due to the B1 location.
Anyway, it's early days as the enthusiastic Lin, who serves as menu designer, DJ, ingredient maker and bartender, gets everything up to speed. The decor will fill out, hopefully the wine list will diversify to match the creativity of the cocktails, and new concoctions will no doubt appear. Perhaps one called Boilerplate or a B-Roll or even Bernays Sauce: the theme lends itself to much creativity. So, while Press Release isn't exactly hot off the presses just yet, it is off to a nice start simply by deviating from a typical Sanlitun story and giving us a quirky new lead.
---
Check out sibling blogs Grape Wall and World Baijiu Day.
*     *     *
Get regular Beijing updates via my
Instagram
and
Twitter
feeds. Also see my sibling sites
Grape Wall of China
,
World Baijiu Day
 and
World Marselan Day
. Help cover the hosting and other costs of these sites with a
WeChat
,
AliPay
or
PayPal
donation.
*     *     *