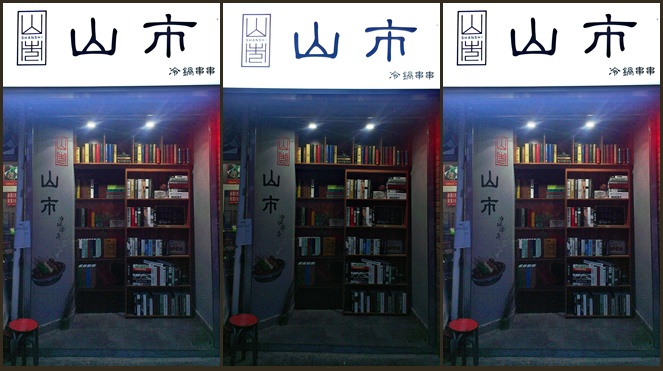 By Jim Boyce | While sauntering through a side-street near home a few Fridays ago, I spotted a bookcase embedded in a wall. What's this? Has the speakeasy movement moved to the southernmost limits of old Sanlitun bar street? Nah, it's a restaurant trying to be cool. (By the way, this is how I get all my Sichuan peppercorn-hot leads—by walking around, by getting tips from friends via weixin, or by talking to drunk bar and restaurant managers at XL.)
Shanxi (山市) isn't on a particularly nice street: it's a tight passage that lacks parking for the BMW crowd and accumulates an, um, interesting mix of fumes. But this restaurant is getting good reviews, both online and from several of my friends, for its tasty chuanr, side dishes and, according to one buddy, delicious rabbit heads.
I've tried to go twice, only to arrive too late on one occasion and to have friends switch plans on another. If anyone's up for a taste test, let me know and we can check it out!
Bonus points to 山市 for having a name that even those with a limited repertoire of Chinese characters will be able to read. There's nothing like a feeling of accomplishment before a diving into a plate of bunny noggins.
Pics of the venue and dishes as sourced from a slew of online reviews:
---
Check out sibling blogs Grape Wall of China and World Baijiu Day.
*     *     *
Get regular Beijing updates via my
Instagram
and
Twitter
feeds. Also see my sibling sites
Grape Wall of China
,
World Baijiu Day
 and
World Marselan Day
. Help cover the hosting and other costs of these sites with a
WeChat
,
AliPay
or
PayPal
donation.
*     *     *