By Jim Boyce | Topwin speakeasy Press Release has been open less than two weeks but I've already visited five times (see here and here), including today, when I learned the menu is already going through an overhaul. Only two of Press Release's seven inaugural signature cocktails will remain: the peanut butter, whisky and wine concoction 032c and the one with sous-vided honey comb and whisky. The rest are making way for more wine-themed cocktails, says owner Issey Lin, who was busy working on recipes today.
In fact, Lin wants the overall focus to shift to wine and has a new menu tonight that includes flights named after magazines. The Playboy will include a sparkling, a white and a red that cover three countries; The Atlantic will feature three wines with grape varieties that start with the letter "a', and Monocle will focus on more sophisticated red wines. Press Release is also starting to sell half-bottles of wine.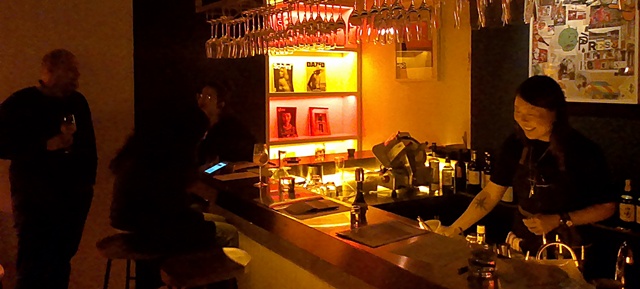 To get to Press Release, go to Topwin B1 Mall, to the far end with restaurant L'Epasar. Enter the restaurant, hang a left past the buffet, press the blue button on the wall, push open the stainless steel door, and walk through a narrow wine cellar—apparently used as the landlord's drinking den—to the bar proper.
---
Check out sibling sites Grape Wall of China and World Baijiu Day.
*     *     *
Get regular Beijing updates via my
Instagram
and
Twitter
feeds. Also see my sibling sites
Grape Wall of China
,
World Baijiu Day
 and
World Marselan Day
. Help cover the hosting and other costs of these sites with a
WeChat
,
AliPay
or
PayPal
donation.
*     *     *