By Jim Boyce | "I'm a leaf on the wind!" Once in a while, you just need to be that leaf on the wind, to go with the flow, to put a hectic week or two into the rear view mirror by enjoying a long meandering day (and night) of fun. Like last Saturday.
Mine started at Pudao with a tasting of nine Chinese wines, including the much-discussed Ao Yan from Yunnan. Made by LVMH at an elevation of ~2,500 meters and costing rmb2,188 per bottle—on sale Saturday for only rmb1,988!—that wine no doubt helped explain the pretty strong turnout. I'll have a full write-up soon on sibling blog Grape Wall of China. Suffice to say there were mixed reviews of this one.

There's nothing like a brisk walk to burn off some wine—and Annie's Pizza. That inspired a zigzag through the streets between Central Park and Sanlitun. Those narrow passageways are filled with snack, meat, clothing, shoe, electronics, hair accessory and other vendors, many working from a blanket or table, with one selling pants for rm10 per pair. It's an amazing contrast to the scene a hop, skip and jump away where people enjoy rmb35 coffees, rmb80 martinis and rmb300 dinners. (Plus rmb2,188 bottles of wine.) And it provides a bit of perspective—and guilt. On the other hand, look at that pretty tree!
All that walking and guilt required some kind of stimulant so I stopped at 7-ELEVEN and tried the new ginger Coke. Initial thought: heat and add whisky, and maybe more ginger. That would work as a winter warmer. Anyway, it shouldn't be long before we see this pop up in Beijing's bars.
The walk ended just in time to enjoy the last rays of sunshine and first day with the deck cushions out at Q Bar. This rooftop venue has a superb happy hour: buy one, get one free cocktails from 6 PM to 8 PM nightly. That's two martinis for rmb50, two frozen margaritas for rmb60, and so on. If you have any brains you'll get up to that sixth floor and destroy a few of their cells by indulging heavily.
Next stop: Press Release. This bar ranks among the more intriguing additions to the scene although it has a very limited cocktail menu—seven options—and I've now run through it. But it was fun to try the 032c, a mixture of peanut butter-infused whisky and wine that sounds disgusting but tastes delicious. I liked the tomato-y Beat Generation, too.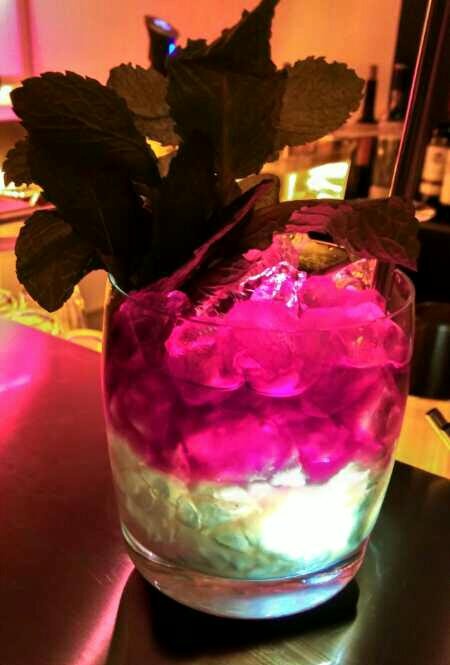 Then it was time for the main event. My only two planned stops were Pudao and Pop-Up Beijing, the latter celebrating its second anniversary with a charity auction that included art, furniture, a meal with the staff, and Tanghulu, the two-meter high faithful fiberglass horse being tossed to bidders like a handful of oats to a famished foal. Anyway, we settled with a bottle of wine—Pop-Up has a nice range from rmb180—and watched the action. I lost out on bidding for Tanghulu, which made me both worry about that horse's future but breathe a sigh of relief as I wouldn't have to find an Uber to truck that monster home.
With the day's mission complete, we were left without a plan. Then we found one: go back to Q Bar. I nursed a Negroni and endured a repeat of the Grammys:  I don't understand the popularity of Adele or find James Corden even remotely funny. Maybe I should have had a second, or seventh, Negroni. In any case, the Grammys made me feel a twinge of hopelessness that could only be massaged away by copious amounts of late-night grub.
During the past year, late-night dining has typically meant Haidilao or Pingwa Sanbao but this time we headed north of Workers Stadium to wily old veteran Xiaozhang Kaochuan. The wait staff reminds me a lot of that from the former Den: able to be tough with the all-too-frequent problem diners but quick with a smile if you appear to be anything less than a troublemaker. We gorged on lamb, quail's egg and fish tofu kebabs, kungpao chicken and mapo dofu, and lots more, with no leftovers for that lazy Saturday.
---
Check my sibling blogs Grape Wall of China and World Baijiu Day.
*     *     *
Get regular Beijing updates via my
Instagram
and
Twitter
feeds. Also see my sibling sites
Grape Wall of China
,
World Baijiu Day
 and
World Marselan Day
. Help cover the hosting and other costs of these sites with a
WeChat
,
AliPay
or
PayPal
donation.
*     *     *