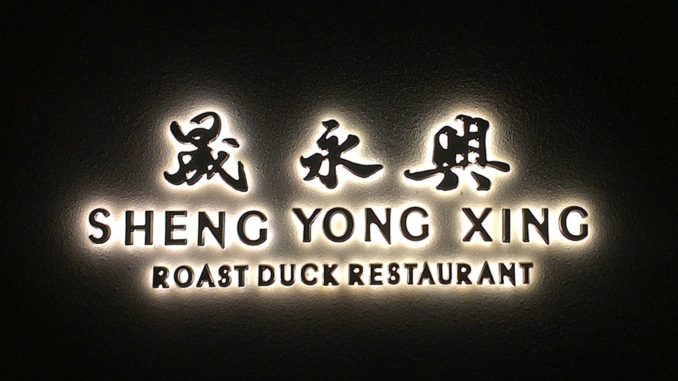 By Jim Boyce | Invitations from restaurants and bars to taste-test menus sound like fun but also create pressure. Management typically hopes less for criticism and more for confirmation that everything is absolutely completely totally awesome. After all, a great deal of time has been invested in dishes and drinks thought to be truly good.
The pressure was double last night at the new Sheng Yong Xing Roast Duck in Sanlitun. Owned by Wang He, this is the first restaurant for wine consulting project DrinkArts by Li Meiyu, best known as the 2011 China National Sommelier of the Year and for her time at Park Hyatt, where she now consults.
"We are trying to be a nice place for wines," says Li.
Anyway, I have always linked Li to Park Hyatt and its high prices. And while the other Sheng Yong Xing branches are reasonably priced, I worried this new one would be prohibitively expensive given the high rents in the Sanltun area and, based on photos, the seemingly upscale decor.
No need to worry. Let's start with the food, then get into the wine.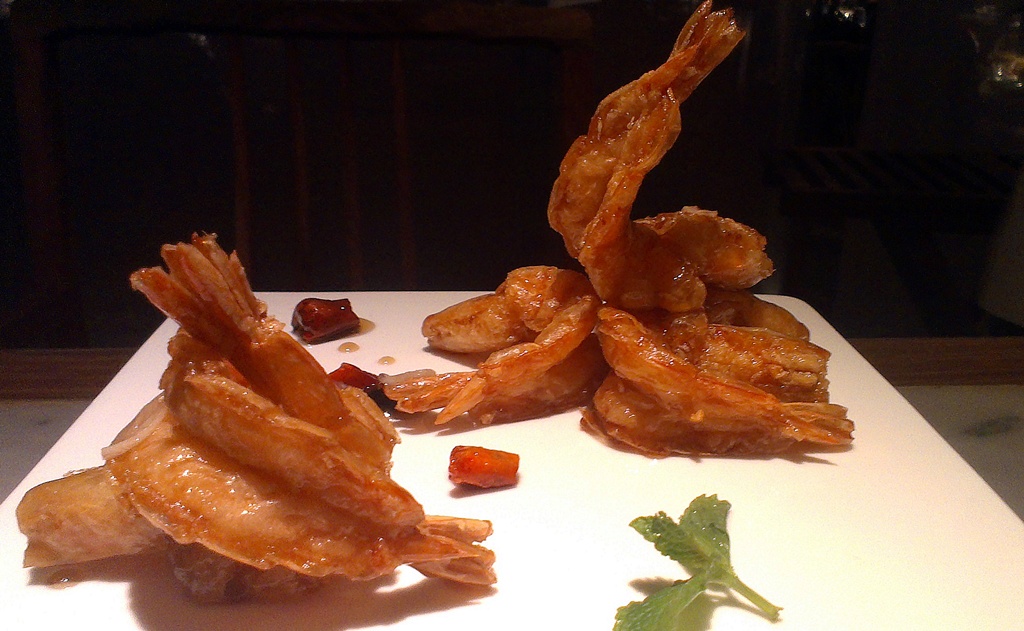 The crispy shrimp were perfectly cooked, with a nice crunch and a honey glaze made lighter and sweeter with sugar. While many people will love this dish as is, if you find it a bit saccharine, utilize those chili peppers. I would enjoy this even more with chili flakes for dipping. (rmb78-rmb118 depending on order size.)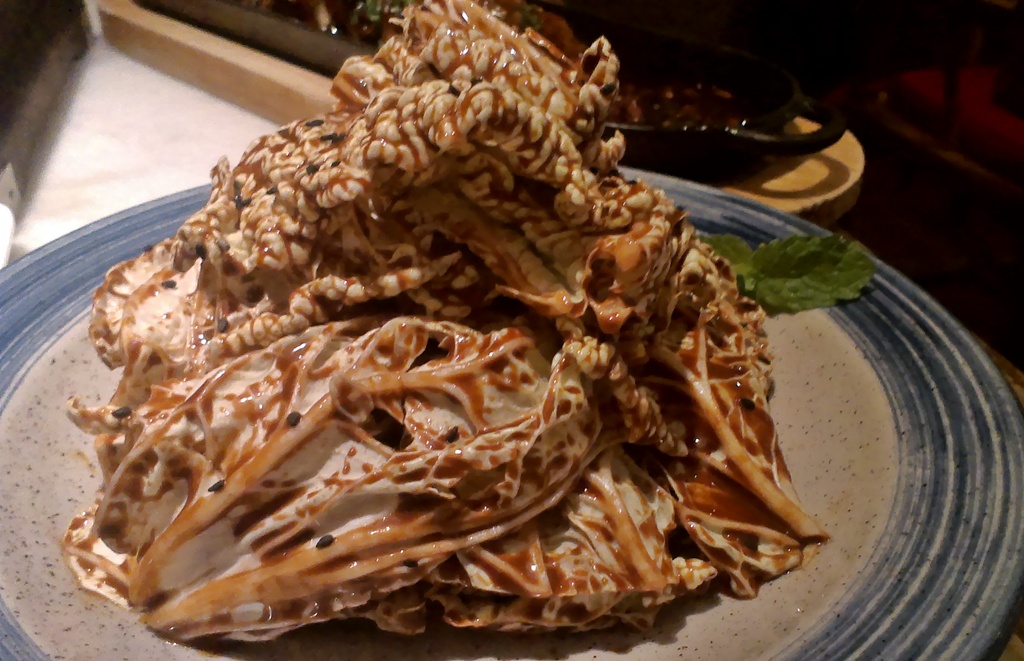 I also tried the white cabbage slathered with a sesame-based paste. While cabbage might seem like an afterthought, this dish is rich, heavy and a bit addictive, akin to eating peanut butter and crackers. (rmb20)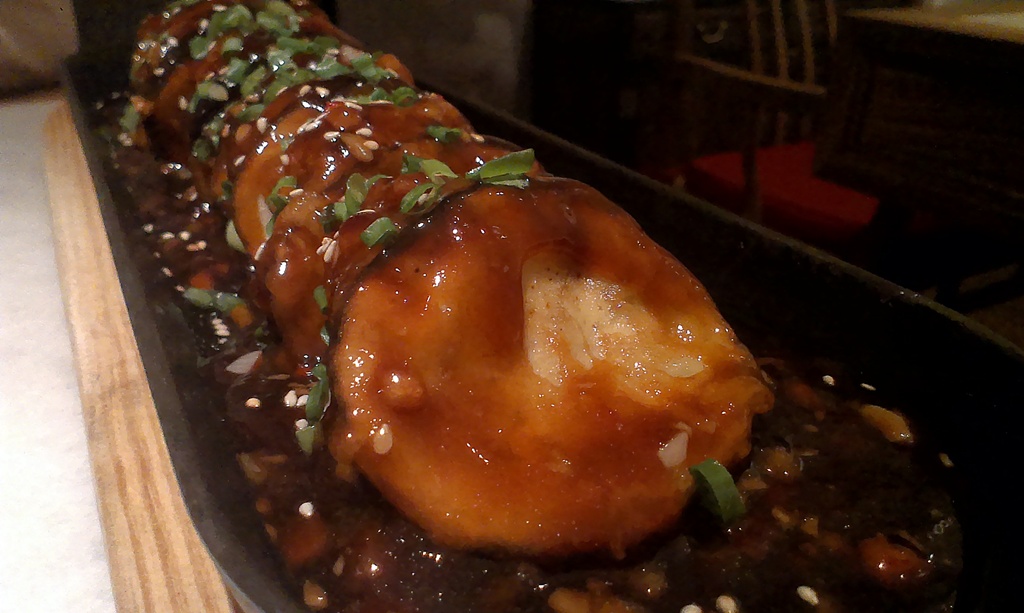 If you're a vegetarian and think this eggplant is up your alley, you'll be heading back to the menu. Each slice is embedded with seasoned pork and shrimp, slathered in sauce and topped with chives. It's deceptively filling. I felt like I was eating the eggplant equivalent of three treasure dumplings and wanted to splash vinegar into that sauce to give it more zip. (Sorry, I didn't write down the price.)
Finally, the duck. As with many places, a masked blade-wielding chef will slice your bird table-side. (rmb178-198)
Sheng Yong Xing duck is cooked at a higher temperature than at most places, says Li. The result, she says, is crispy skin with reduced fat content.
"People want a healthier, modern style of Beijing duck," she says. It came with the usual accoutrements, including that tough wine match, garlic.
That is just a small selection from a vast menu that spans kungpao chicken (rmb28) to a series of pricey sea cucumber options. My guess is the average food bill would be rmb120 to rmb150 per person. (By the way, the English menu could use a good edit. As an example, I had to look up "dictyophora indusiata", which seems to refer to bamboo mushrooms.)
So, how about that wine?
This is where prices get insane, and by that, I mean insanely low by Beijing standards. Where at fancier duck joints, I might hem and haw about ordering another bottle, here wine starts at just rmb158.
A few price points: Warwick Estates First Lady Unoaked Chardonnay from South Africa is rmb180, Akarua Rua Pinot Noir from New Zealand is rmb320, Ponzi Pinot Gris from Oregon is rmb330 and Kalleske Clarry's Grenache-Shiraz-Mataro is rmb400. There are a half-dozen bubblies, including Moscato at rmb240 and Perrier-Jouet Champagne at rmb600.
And smartly chosen local wines: Angelica bubbly from Grace in Shanxi is rmb220, Chardonnay from Tiansai in Xinjiang is rmb200, and Marselan (also from Grace) is rmb280.
(If wine is not your tipple, there is baijiu, including Moutai, Jiannanchan and Nuilanshan, and beer, with draft Yanjing at rmb15 and Tiger, Hoegaarden and Erdinger at rmb15, rmb25 and rmb25 respectively.)
The wine-food focus at Sheng Yong Xing might work even better with a list of packages that pair dish trios with several bottle choices. For example, crispy shrimp, kungpao chicken and a third dish that fits that flavor profile could be listed with three possible wine options. Packages like that would give diners more ideas for getting into wine.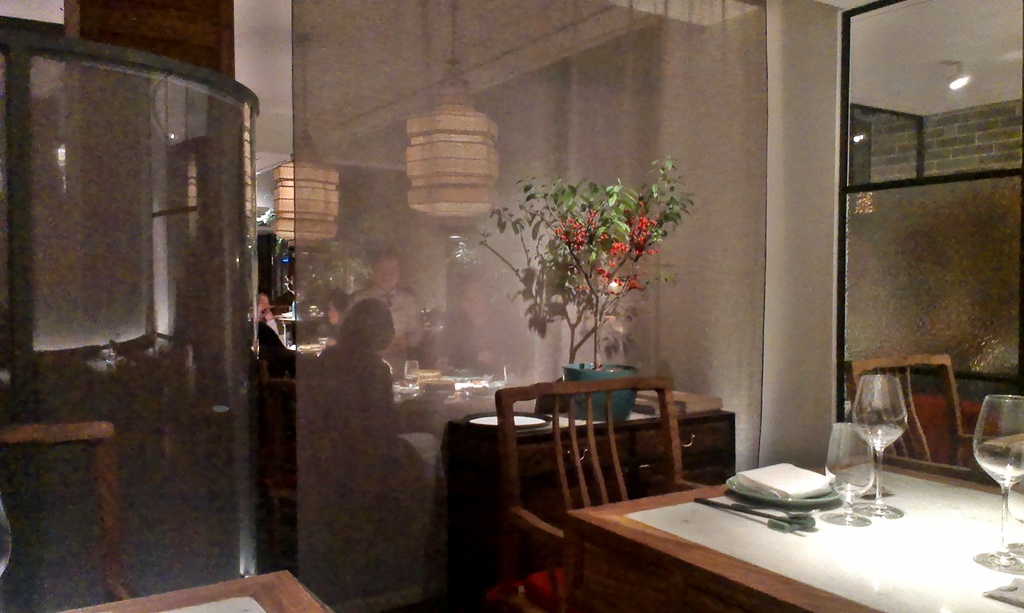 Sheng Yong Xing has seating for 16 on the first floor and 118 upstairs, with a terrace to come. I sat in the biggest room, centered by large circular tables made semi-private by veils, with tables for two at the edge. There is also a room that can handle groups up to 30.
And while Sheng Yong Xing wasn't particularly loud, a sense of renao did bubble under the surface. I could see myself bringing visitors from abroad here for a gregarious dinner, then going to check some of the area's bars.
In any case, this place is worth a try, arguably sooner rather than later: if Sheng Yong Xing gets very popular, I can see those prices taking off.
Note: The Sanlitun-area branch is on Xindong Road, across the street from the Canadian Embassy. Open daily from 5 PM to midnight. If you are early, you'll likely get a seat; after 7 PM, it's best to RSVP via 6464-0968.
Note: I brought a bottle of Legacy Peak Cabernet Sauvignong 2012 from Ningxia. This is the first vintage and distributed by East Meets West. This wine, made with grapes from a 20-year-old vineyard, ranks among the region's better options, although I find it is best to open and let it breathe for a while.
---
Check out sibling blogs Grape Wall of China and World Baijiu Day.
*     *     *
Get regular Beijing updates via my
Instagram
and
Twitter
feeds. Also see my sibling sites
Grape Wall of China
,
World Baijiu Day
 and
World Marselan Day
. Help cover the hosting and other costs of these sites with a
WeChat
,
AliPay
or
PayPal
donation.
*     *     *