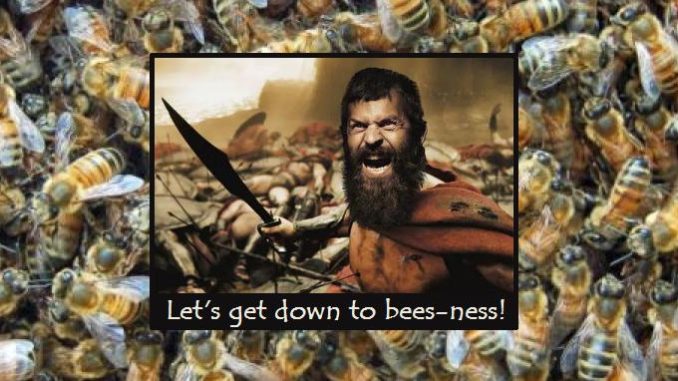 ---
---
By Jim Boyce | The CHEERS wine shop chain will soon tweak its famous "CHEERS Makes You Smile" motto in order to stop a growing consumer crisis and promote more inclusivity.
"Not everyone is smiling," explained a frustrated Claudia Massager, CEO of CHEERS. "I was in our Gulou shop last week and saw one customer frown and another with a blank look, and I thought to myself, what is wrong with these people!? Smile, damn you, smile! So I created a 218-point plan to force every single customer to act naturally and properly."
The campaign will start next week when each shop receives a giant red poster with the new motto, "CHEERS Makes You Smile—Or Else."
Or else what?
"We Swiss have many ways to force people to follow our completely reasonable orders," says Massager. "Have you ever seen a Swiss army knife? Also, we have fondue. Perhaps I will pour bubbling hot cheese on the bottoms of these frowners. How would they like that!?"
Massager says repeat non-smilers will be forced to return their CHEERS VIP cards and to drink a shot of that horrible Swiss whisky the company somehow got through China Customs quality control a few years ago.
"Then we will kick them out and into Beijing's streets—where there are no smiles!" she says.
Massager notes that smiling releases endorphins and that the best wine pairing for those particular neurotransmitters is a chilled Marquis Bernard off-dry bubbly.

---
Famous for owning Indian eatery Punjabi and moaning about a lack of Beijinger restaurant awards, Gireesh Crowdbury finally has his hands on some voter-inspired hardware. Years of rumors about his glory being blocked by a cartel of vote-skewing competitors or a group of mean-spirited food writers no longer matter: The Beijinger has named him reader's choice and editor's choice in the new category, Bar / Restaurant Personality Who Most Relentlessly Fills Countless Weixin Groups with Repetitive, Cheesy & Often Questionable Content.
"Gireesh ticked all of the boxes," said Mike Wester of The Beijinger. "Ability to respond seamlessly across multiple groups on a 24/7 basis, check. Repetitive posting of the same meme so that fellow members want to bludgeon themselves with a ball-peen hammer, check. Use of humor in situations where it is wildly inappropriate, double check."
"I admire his stamina," added Wester, who participates in 50 WeChat groups himself. "He overwhelmed all of my Pizza Cup and Burger Cup spam. I might have to hire him for our marketing team."
Readers were also enthusiastic, with Joyce Bim giving typical testimony.
"Even if I didn't eat at Punjabi, I would have voted for Gireesh," said Bim. "The time he spends on stage to get the award might provide the first five-minute break I've had in two years without a mention of Patron."
As he received his award, Crowdbury texted hundreds of groups that he planned to cut his messaging to 16 hours per day and devote the extra time to a new cause: an all-you-can-drink Patron buffet at Punjabi. The Beijinger is mulling the creation of another new award should he pull that one off.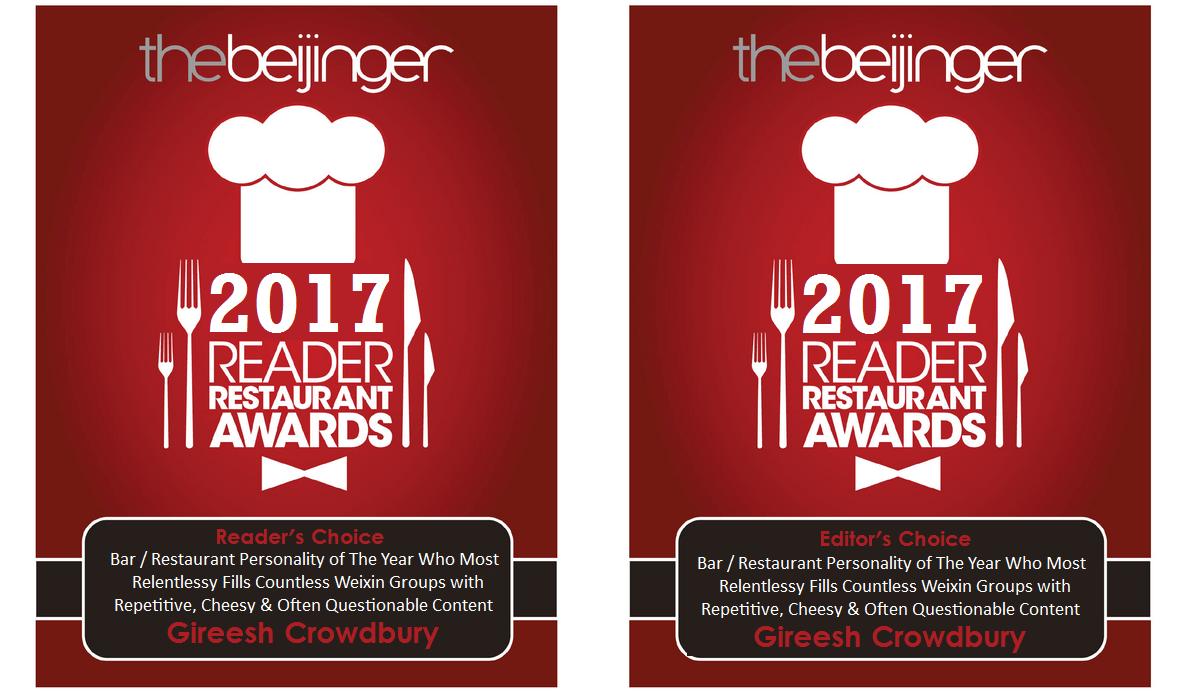 ---
Look for Beer Mania's Thierry de Dobbeleer to get down to bees-ness for this year's Maovember charity campaign. In 2016, he raised rmb20,000 by shaving his beard alone. For 2017, he is offering to both get rid of his year-old whiskers and replace them with bees.
"Yes, it is true, I am willing to wear a bee beard for one year so that orphans can have books to read," says de Dobbeleer. He is already researching strategies on how to take showers, wear a pollution mask and take airplane flights with some 15,000 bees clinging to his face. And he is approaching the potential shift to "Bee Mania" with a positive attitude.
"I am from Belgium and they are from Bee-lgium, so we are one," says de Dobbeler. "Did you like my little joke? You did? Good. Now buy my beer or get out, you dirty Canadian."
I'll have an update as soon as de Dobbeleer's 2017 Maovember campaign gets, er, buzzing.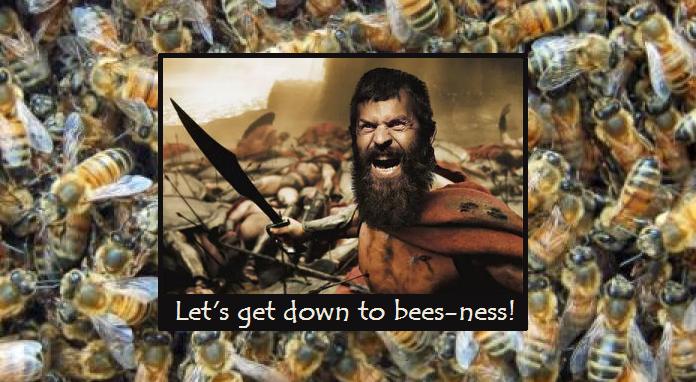 And unless you are extremely dense, you know everything in this post is bullshit. Except perhaps for Gireesh's Patron Buffet. Anyway, you can check out his Indian restaurant Punjabi on Lucky Street. You can find the nearest CHEERS outlet here: it's OK if you don't smile, the campaign hasn't started yet. And you can click here for more on Beer Mania, where the weekend happy hour is from 5 PM to 7 PM and features half-price Belgian draft.
(You can check out last year's April Fool's post here.)
---
Check out sibling blogs Grape Wall of China and World Baijiu Day.
*     *     *
Get regular Beijing updates via my
Instagram
and
Twitter
feeds. Also see my sibling sites
Grape Wall of China
,
World Baijiu Day
 and
World Marselan Day
. Help cover the hosting and other costs of these sites with a
WeChat
,
AliPay
or
PayPal
donation.
*     *     *