By Jim Boyce | Maybe it's a good thing The Burger Cup is in Beijing because this event and its "Wild West" theme might well have raised some rootin'-tootin' cultural appropriation controversy back home. Chinese and Russian burlesque dancers dressed as "Indians"? Scandalous! People from the nation of India topping burgers with Moroccan sauce and selling Japanese beer? Outrageous! Chinese using "New World" ingredients like tomatoes and potatoes? Stop it! A DJ named Kippy spinning colorful tunes from distant lands in which he holds no citizenship? Are you kidding me?! A Canadian blogger using the American spelling of colorful. Mildly annoying!
And how about burger joint names like the body-shaming "Fatboys", gender-biased "Mr Charcoal" and military industrial complex-sounding "Cannon's"? But in Beijing, a bunch of Germans, Americans and Chinese with a Tex-Mex joint can still create a burger inspired by chorizo without facing the social media version of a firing squad.
Anyway, enough social issues talk: on to the burgers. While I enjoy trying new takes on foods and drinks, sometimes I simply want a "classic" like a martini or a margarita pizza that hits the spot when well done. In desperate need of such simple sustenance, I tried five burgers from the 28 vendors selling them this year. My fave was Cannon's double cheeseburger: a no-nonsense, perfectly greasy, pair-of-patties tribute to the U S of A. Even better, it came in a foil sleeve that allowed drippings to stay put rather than end up on my sweet Passby Bar T-shirt. And even better than that, Cannon's will soon open on Xingfucun Middle Road.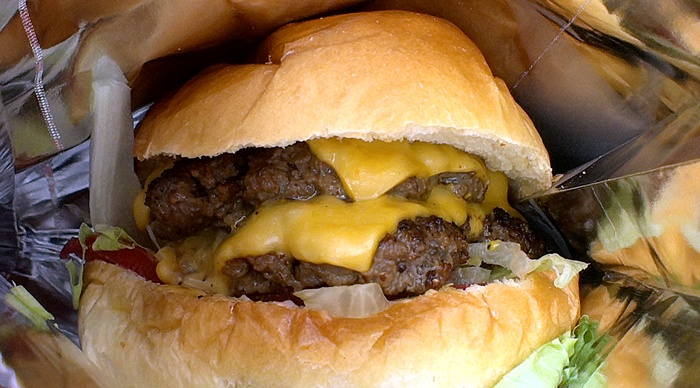 Honorable mention goes to Punjabi for its Samosa burger. Think tender chicken topped with a squished samosa, harissa sauce, Vidalia onion and lettuce. It's like the Indian version of the Slow Boat fryburger.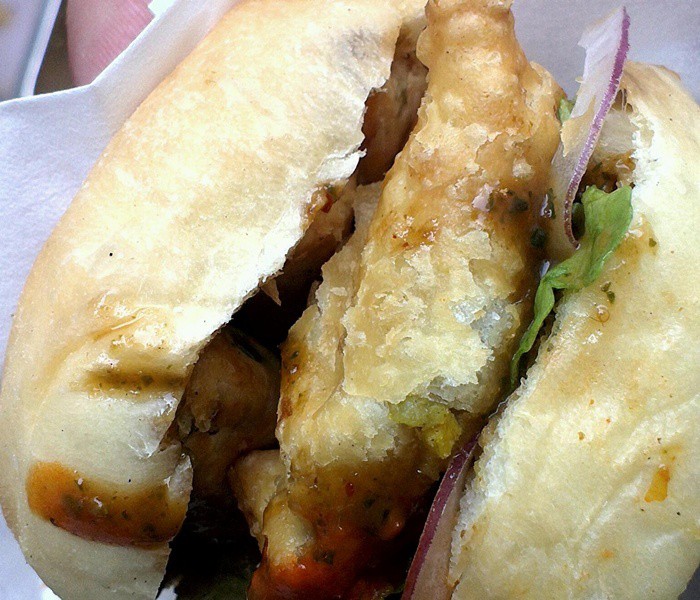 I also tried the bulgogi burger at Kentucky Ale and veggie burger at Punjabi, both solid efforts. My least favorite, and the most expensive, was the vegan burger at Root Pop. To be honest, I didn't realize it was vegan until after I ordered. And it looked superb when it arrived with a side of nachos. But it turned out to be like a BMW shell over a Xiali engine: it lacked oomph.
I also tried to get a Chorizo burger at Q-Mex but the lines were insanely long.
There were plenty of drink options, such as fresh juices, coconuts spiked with rum, wine, and craft beer, including a new Citrus brew from Kentucky Ale. And nice music, too. Besides DJ Kippy, there were a slew of bands, with my favorite being Stevie Crack Mac and the Crack Babies Mac Daddies, to entertain the thousands of people on hand. All good, except when the drummer threw his sticks deep into the crowd, far past where people were watching. As they say, it's all fun until somebody loses an eye due to a Crack Babies drumstick. Fortunately, no one did, and The Burger Cup turned out to be a most excellent event.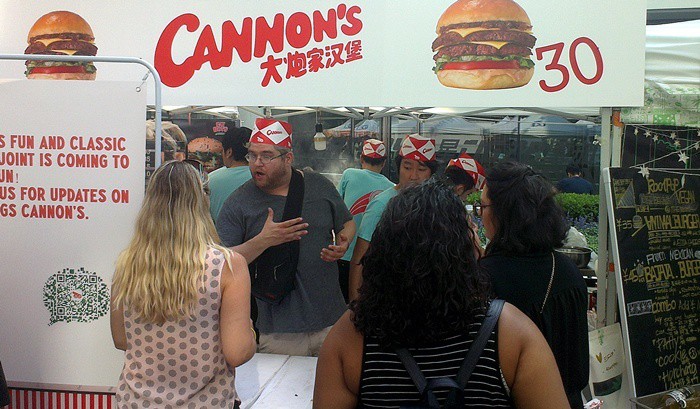 ---
Check out sibling sites Grape Wall of China and World Baijiu Day.

*     *     *
Get regular Beijing updates via my
Instagram
and
Twitter
feeds. Also see my sibling sites
Grape Wall of China
,
World Baijiu Day
 and
World Marselan Day
. Help cover the hosting and other costs of these sites with a
WeChat
,
AliPay
or
PayPal
donation.
*     *     *