By Jim Boyce | I posted last week that Frost has miraculously reopened and that Q Mex will soon open a taco and tequila joint across the Liangma River. Here are a few other quick notes:

It doesn't get much airplay but Luga's Villa pizza is pretty good. And it's half-price on Monday nights. The two pizzas above cost rmb71 total! The better pie: the one with sausage and jalapenos.
---
What replaced Aperitivo after its 12 year-plus run beside Tongli Studio? In Bag Clothes. Hmm, don't think I'll be a regular there. The good news is Aperitivo has reopened in Sanlitun Soho on the first floor of building six. Owner Stefano Fin says he's still getting up to speed but the drinks and snacks are already flowing, with bread sourced from Opera Bombana. Look for him to soon add a small deli corner.
---
Back in the Tongli area, the strip with MASH (formerly Poachers), Maitail et al had its facade renovated as part of ongoing changes in Sanlitun. Word is the venues can remain open, and there were customers inside some when this photo was taken, although Maitail looked gutted.
---
Over at Workers Stadium, Fubar is temporarily closed, with co-owner Kevin Zhang saying renovations are about to begin. Given many predicted Fubar would close within three to six months after a partner breakup over five years ago, it seems a miracle the place has lasted this long.
A few doors down, the former George's Bar has seen its facade go from slate gray to white. It was pitch-black inside. This venue has gone through a number of theme changes since founder George Zhou left for Q Bar and has never found the right formula. We'll see what comes next.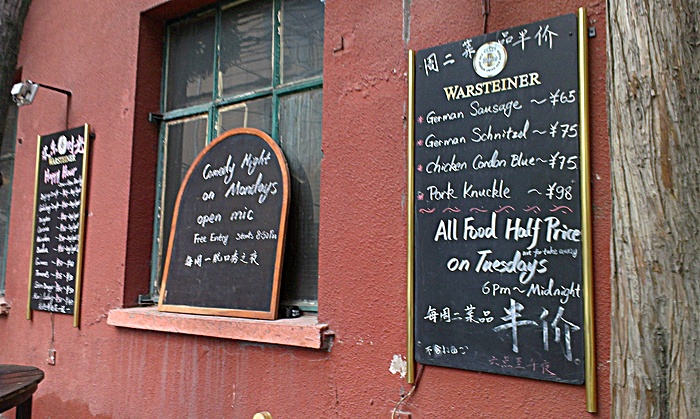 As noted a few weeks ago, Groovy Schiller's is mixing up its second floor to have a cocktail theme. While work has been done on the kitchen, Jack Zhou says it'll be four to six weeks before everything is good to go. He says the menu is expanding and, as noted in the sign above, all food is half-price on Tuesdays from 6 PM to midnight.
---
Finally, Beer Mania held an impressive cheese event last week and I got a chance to try some tasty leftovers. This place has one of the city's better happy hours, with half-price Belgian draft beer from 4 PM to 8 PM daily. Grab a glass, grab a seat on the deck and grab some cheese.
---
Check out sibling blogs Grape Wall of China and World Baijiu Day.
*     *     *
Get regular Beijing updates via my
Instagram
and
Twitter
feeds. Also see my sibling sites
Grape Wall of China
,
World Baijiu Day
 and
World Marselan Day
. Help cover the hosting and other costs of these sites with a
WeChat
,
AliPay
or
PayPal
donation.
*     *     *