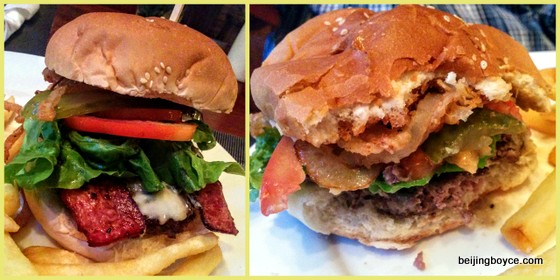 By Jim Boyce | It's Tuesday at 5 PM, you're thirsty and hungry, and on a budget. Beside the usual happy hours—see these two dozen-plus options—here are eight Tuesday-specific food and drink deals in our fair city.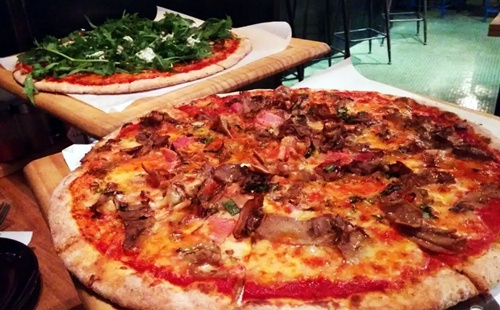 If you aren't already still mowing through a stockpile a buy one, get one free Gung Ho salads from their Monday deal, get over to their Sanlitun, Shuangjing, Lido shops for the same on pizza. In-store dining only. And check out the smoked pork pizza.
---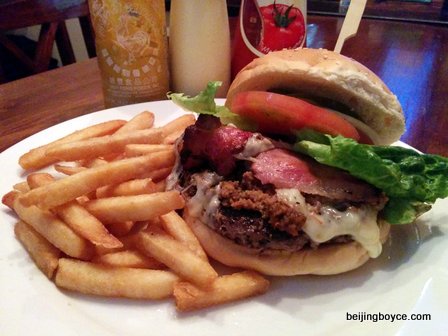 I've written much about the beauty of the burgers at XL Bar & Restaurant, just off Xindong Road. From the chili to the blue cheese to the massive 'All-Star', these creations by Chef Song are all delicious and all half-price from 4 PM on Tuesdays. Most weigh in at 元34-元44 with discount. Good fries, too.
Back to pizza: Q Mex is known for its Tex-Mex and Cal-Mex comfort food but the pizzas are top-notch, too. Try the thin-crust nacho or the ham and mushroom. Pizzas are half-price, with most around 元35 after discount, on Tuesdays from 5 PM.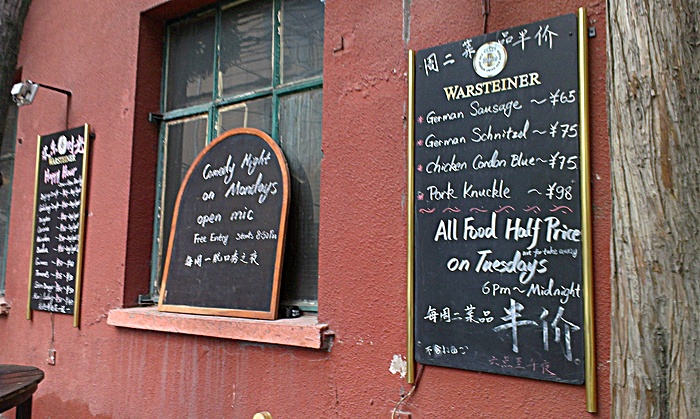 After 20 years near Liangma River, Groovy Schiller's was forced to close by the authorities last year but has since re-emerged in the former Nearby the Tree. And it's added a half-price Tuesday food deal that covers sausage, schnitzel and more. From 6 PM to midnight.
Luga's Villa has weekly specials on everything from tacos to burritos. That includes half-price steaks on Tuesdays from 5 PM.
8-BIT has an extended happy hour on Tuesdays, with 元15 Asahi, 元30 Arrow draft, 元35 classic cocktails and lots more. From 6 PM to 2 AM.
Every town needs a few "Taco Tuesdays" and the new Ron Mexico venue provides. Get 元10 tacos, including beef short rib, Buffalo chicken and other options, 7 PM to 11 PM.
And CHEERS has 'ladies night' on Tuesdays. A free bottle of bubbly per group of 4 women. In-store imbibing only.
See more drink deals and food deals.
---
Check out my new 京B Daily page with headlines, weather updates, food and drink deals, job openings, and more. Also see sibling blogs Grape Wall of China and World Baijiu Day.
*     *     *
Get regular Beijing updates via my
Instagram
and
Twitter
feeds. Also see my sibling sites
Grape Wall of China
,
World Baijiu Day
 and
World Marselan Day
. Help cover the hosting and other costs of these sites with a
WeChat
,
AliPay
or
PayPal
donation.
*     *     *