By Jim Boyce | Mike Wester will finish a month-long 900-km walk for charity today that gave him a renewed sense of Beijing. Here are eight thoughts inspired by his million-plus step mission for Maovember.
(Note: Mike will time his 899th km for arrival at tonight's Maovember closing party at Paddy O'Shea's. He'll arrive at 8 PM, we'll walk the last km with him, then we'll enjoy two bands, CHEERS mulled wine, Jameson pickleback shots, Orchard Pig cider, hockey and dart games, a draw, the weighing of the "win your weight in wine" winner, and more. Details here.)
---

Solitude in a City of 25 Million
Mike Wester: I've spent a lot of time walking alone and it is really nice. To be in quiet parts of the city listening to music or podcasts or even just thinking has been really therapeutic. And here I am on my last evening walking by myself and it's quite comfortable. It's given me a lot of time to think about my life, about my business, about my family, and about the charities.
City of Cities
I wandered through parts of town and discovered former vacant lots that are now massive multi-used compounds with innumerable bars and Western restaurants, so much so it almost seems ridiculous that we have a magazine called The Beijinger. [Mike is founder of The Beijinger.] Beijing is no longer one city, it's innumerable micro-cities, self-contained with everything you could imagine. And it's not just dinky run-of-the-mill joints but real quality places.
The Clash of Civilizeds
If you want to see a city that's like [central] Beijing but that has 90 percent of its problems ironed out already, go to Yizhang. It's like the Beijing do-over. Wide city streets, shared bikes parked in the right spots, a laid-back modern vibe that's amazing. I really liked it when I walked through there to visit The Roots. "Civilized Chaoyang" can shove it because the real civilized district of Beijing is Yizhuang.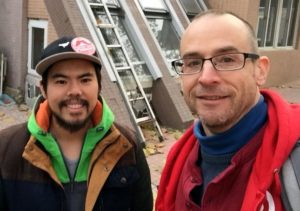 Weekend at Brownies
I feel proud to have walked to Bread of Life Bakery and seen it with my own eyes. It's important to me and to Maovember that we know the money raised will go to some place meaningful and some place where we can trace exactly what impact the donation will have. To be at the bakery and try the delicious brownies was a real treat. It was also a real challenge to get there, at 60 km each way, but I'm glad I did it.
The Winter of Our Content
I'm really surprised at the air quality. I had three or four mask sponsors lined up under the guise that I would wear their masks when the air quality was bad. But we hardly had any really bad days in one of the typically horrendous months of the year, November. I'm hoping for a little bit more of that.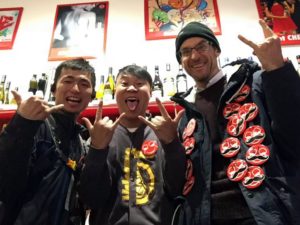 Eat, Drink and Be CHEERy
I was really impressed with the quality of staff of all the CHEERS stores I visited on my ["win your weight in wine"] charity challenge. I visited over 20 stores and found the staff, to a man or woman, to be inviting, friendly, enthusiastic and happy. I really admire the brand.
A Life Ped-antic
It's quite possible to live in Beijing without using any mechanized transportation—subway, bus, taxi or private car. There is so much packed into each neighborhood plus you have delivery service for everything from pharmaceuticals to liquor to food. As long as you don't have an enormous commute between home and work, you really can make the city work on foot.
Perfect Strangers
I feel very grateful that a lot of friends and even people I didn't know came and walked with me. I thought I would blow past 900 km and probably do 1000 km and get people really inspired. But here it is coming down to the last 24 hours and I'm barely going to make it.
What I found most moving this month was to have complete strangers friend me on wechat and make a donation. I'm very appreciate of friends and family members and business contacts and corporate sponsors who have supported me. But when I see someone who has never met me before and has faith that we are doing something good and is moved by the initiative and the Maovember charities to give money to a stranger, I'm very inspired by that generosity.
---
There is still time to sponsor Mike. Also, he will time his 899th km for the official Maovember closing party at Paddy O'Shea's tonight (directions). We'll then do the last km together with him before enjoying two bands, beverages, games, a draw and more (party details here). We also have three "hair of the dog" events: SantaCon Beijing and the Beijinger Chili Eating Contest at Punjabi, both on December 2, and the Hatchery Maovember Shave Off on December 3. More details here.)
*     *     *
Get regular Beijing updates via my
Instagram
and
Twitter
feeds. Also see my sibling sites
Grape Wall of China
,
World Baijiu Day
 and
World Marselan Day
. Help cover the hosting and other costs of these sites with a
WeChat
,
AliPay
or
PayPal
donation.
*     *     *