The official Maovember closing party at Paddy O'Shea's is always epic fun and tonight is poised to be the best ever. You can expect:
Two bands.
CHEERS mulled wine, Jameson picklebacks and Orchard Pig cider, all proceeds to charity.
Hockey and dart games for charity.
A draw for, you guessed it, charity.
Handover of the first donations to partners Bread of Life and Library Project.
Weighing of the "win your weight in wine" winner.
Lots of fellow Maovember supporters, from individual donors to our bar, restaurant and vendor partners.
And last, but certainly not least, the capping of Mike Wester's month-long, 900-km mission. Mike will time his 899th km for 8 PM, we'll walk the 900th km together, then the party starts.
In short, we'll be on hand at 7:30 PM, Mike's last km is at 8 PM, group photos, donation hand-overs and "the wine weigh-in" are just after 9 PM, and the music, drinks and games are all night. Paddy O'Shea's is opposite the Australian Embassy (see details here). Hope to see you tonight!
(If you can't make it, we also have three "hair of the dog events": SantaCon Beijing and the Beijinger Chili Eating Contest at Punjabi, both on December 2, and the Hatchery Maovember Shave Off on December 3. More details here.)
Pics from last year's party: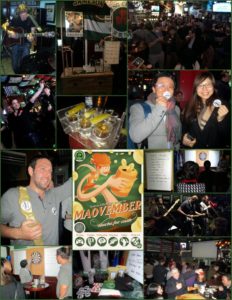 Check out my lists of Beijing
food deals
 and
drink deals
. Also get updates via
Twitter
,
Instagram
and
Facebook
. And check out my sibling sites
Grape Wall of China
,
World Baijiu Day
 and
World Marselan Day
.  If this site helped you find new bars, restaurants, foods and drinks, or saved you money, consider helping to cover the hosting and other costs with a
WeChat
 or 
PayPal
donation.