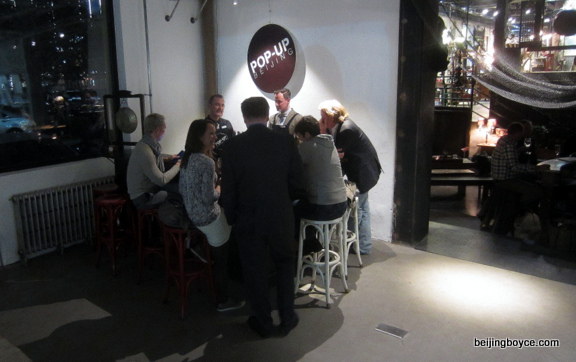 By Jim Boyce | Pop-Up Beijing will close on December 10 after nearly three years as one of the city's best home decor shops and one of its best food, drink and event spaces. Pop-Up's Glenn Schuitman announced the news early this morning.
"Around two weeks ago, my business partner Vito Zhang, announced that he no longer wishes to work in our industry, and that he wishes to close POP-UP BEIJING," wrote Schuitman.
"Vito and I have worked hard together, 'fought the good fight,' laughed until we cried, and worked our butts off for around five years since the opening of our interior architecture studio POP-UP CREATIVE…. However, I accept that he has lost his passion for our business, and I respect his decision to close."
Schuitman cited the difficult fight to put "community over competition". He added that over the past year, on top of the "usual hurdles" faced by businesses, "our factory collaboration, and our warehousing have all been forced to move out of Beijing province; and competitiveness in the industry has become ever-more aggressive."
His full statement is here.
Along with providing fine home furnishings, including the ever-popular prawn pillow, and a steady stream of regular events like movie nights, seminars and national day parties, Pop-Up ranks among the best places to enjoy wine. It offers a modestly sized but impeccably thought-out list, and quality brews from Arrow Factory and Nine Inch, and is an automatic recommendation when beer or wine lovers contact me.
Pop-Up has also been a great supporter of my own causes. It officially launched its first wine bar (it has two!) in 2015 as a fundraiser for Maovember. In partnership with chef Sue Zhou, it held an epic spirits and food pairing for World Baijiu Day this year. (It's joined all three WBD campaigns, including in 2015 and 2016.) And it hosted our 8th annual Grape Wall Challenge with 20 quality Chinese wines. I also had Christmas dinner at Pop-Up last year.
Few people realized when Pop-Up first opened three years ago just how much quality, diversity and sheer fun it would bring to this area of town. It has certainly ranked for me as one of the best surprises in the Beijing scene these past few years. And while it is sad news that Pop-Up is closing, we were also lucky to have such a place in the first place. Best of luck to the Pop-Up team and I look forward to having a farewell drink or two at your fine establishment.
---
Check out our month-long Maovember charity campaign that teams bars, restaurants, shops and customers. Also see my sibling blogs Grape Wall of China and World Baijiu Day. And 京B Daily for headlines, food and drink deals, weather updates, and more.
*     *     *
Get regular Beijing updates via my
Instagram
and
Twitter
feeds. Also see my sibling sites
Grape Wall of China
,
World Baijiu Day
 and
World Marselan Day
. Help cover the hosting and other costs of these sites with a
WeChat
,
AliPay
or
PayPal
donation.
*     *     *