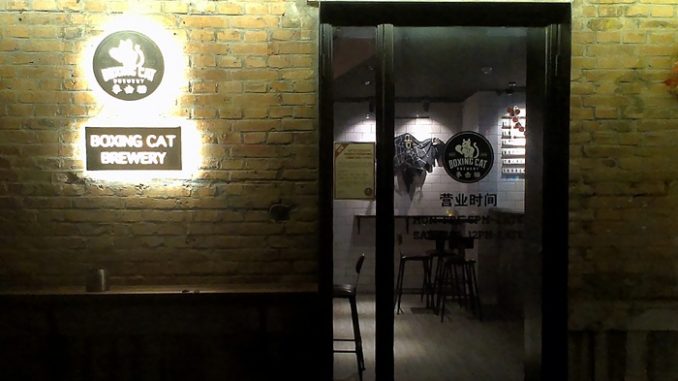 Our annual Maovember charity campaign is on now. Please support us! See our upcoming events here and ways to help here.
---
By Jim Boyce | I asked Alex Acker of Jing-A Brewing at his 8×8 beer event last Saturday if he had known Boxing Cat, the respected Shanghai brewery some say sold its soul to the "devil" / Anheuser-Busch InBev this year, was planning to open that pop-up bar last month across from his Beijing taproom.
"Not until after they signed the lease," said he with no hint of smile.
It doesn't seem to have affected Jing-A. I found its taproom as busy as ever during three visits these past ten days. Two trips to Boxing Cat, on the other hand, revealed a total of nine customers, including me. (It was busier a third time due partly to a "brewmaster dinner".)
Then again, the big bucks will be bottle and keg sales. And with its quality beer and new financial clout, Boxing Cat is poised to excel, kind of like a domestically raised version of Goose Island.
Anyway, Boxing Cat staff say that the pop-up, in the former Okra / Traitor Zhou's, will last until the end of 2017 and that the team is seeking a better Beijing venue. I learned this and more at that brewmaster dinner on Saturday. I gladly accepted the invite because Boxing Cat's Michael Jordan has been a Maovember supporter, because I enjoyed the Boxing Cat beers I have tasted and because I figured it would be fun to try more with fellow consumers.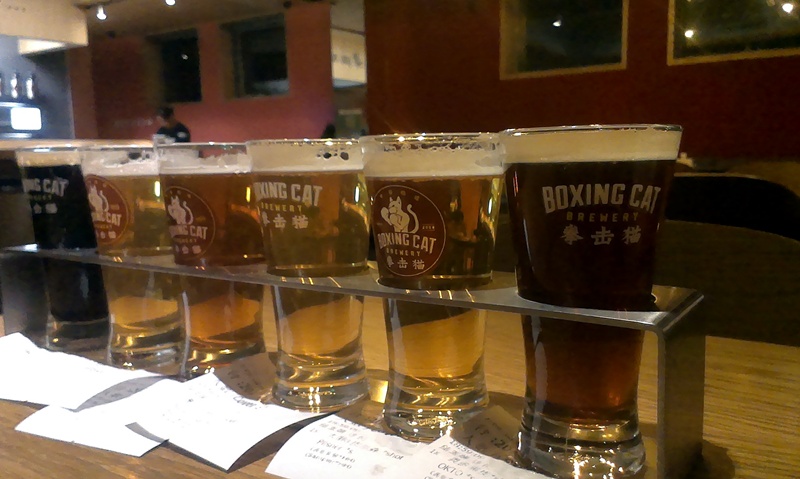 Things didn't quite work out that way. I was seated at a table for six and, after two no-shows, it was just me and Boxing Cat's Tim Belanger, Daria Burdinskaia and "Brewmaster Matt". Do three key staff members have better things to do than spend a Saturday night making small talk with a jet-lagged Canadian blogger who came directly from a big event organized by the business next door that is getting sympathy for its situation vis-a-vis Big Beer-owned Boxing Cat? No doubt they do. It felt awkward from the start.
Speaking of starts, our first tipple is El Presidente Lager, the kind of session beer I love. It is fresh, with a mild citrus character and 4.8 percent alcohol. Perfect for a long night of shaizi. And a nice match for the nibbles, including chunky guacamole. Boxing Cat co-founder Kelley Lee, who Beijingers will know best from the recently closed Cantina Agave, is leading the kitchen team.
Frankly, I'm not so intimate with China's craft beer scene. I trade enthusiastic periods of trying new places and releases with conservative stretches of sticking to Arrow Factory (my favorite), Jing-A's seasonal offerings and Pop-Up Beijing's lineup of Nine Inch brews. But I do know mentions of Boxing Cat elicit strong expressions of admiration and / or envy and / or, in recent months, hostility. Boxing Cat is the first China-based craft brewer to sign a deal with a huge player like AB InBev and, as they say, it's lonely at the top.
Our next beer is Crouching Thaigher Lager. It has more weight, bitterness and complexity than El Presidente, with the tasting notes listing lemon grass, coconut and Thai chillies. The Thaigher is paired with kampachi tiradito—marinated fish with olive oil, lime juice, salt and more (sample recipe here).
Am I allowed to eat this? I ask about the as-yet untouched dish. No, you just look at it all night. Hmm. I thought maybe someone was going to tell us about the pairing. No? Okay.
Yes, things are going well. Also, it will be some time before I realize Matt, beside me, is the brewmaster of the brewmaster's dinner. How's that for jet lag mixed with a Jeb Bush-level of low energy at our table?
I find hostile reactions to the Boxing Cat sale are interesting since I think the average person would jump at such a lucrative offer. It reminds me of Chinese friends who disparage American culture but are ecstatic if their kid gets a scholarship to a U.S. school.
But I do get the concern of other craft brewers: AB InBev backing gives Boxing Cat the power to undercut smaller guys on price and distribution. It's like dealing with a fighter who stays in your weight class after adding 30 pounds of muscle and hiring Bob Arum as a promoter. Although the counter-punch is that a higher profile for Boxing Cat will mean a bigger prize pool of customers and money for the overall craft beer scene.
Or maybe all of this conjecture is just the El Presidente talking.
Pairing three: Kelley makes perfectly cooked whole roasted scallops with seaweed nori brown butter and barley risotto. This is smartly paired with Champagne Supernova, a "Champagne inspired Berliner Weisse Style": the citrus edge works well with the scallops. Nice!
Small talk. Tim agrees the Toronto Blue Jays sucked more than a case of skunked beer this year. Daria tells us she did a master's degree in a Chinese-language program before moving to Beijing. I tell Tim about my recent adventures in the province of Ontario, from where he also hails, including visits to Collingwood, Tavistock, and hilariously named Dorking. I talk to Daria about a charity wine tour she helped organized for Maovember last year. Matt has a hat.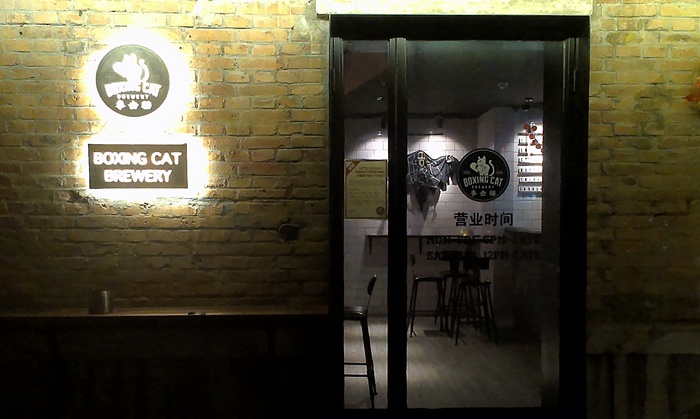 The fourth dish is pork tomahawk with sauteed apples, Calvados and sauce Normandy. The meat is tender and salty while the apples are too tart for me. I cut that pork into tiny bits and savor them over the next half-hour. This is paired with Cognac Barrel Aged Barley Wine, a knockout at 13.2 percent alcohol. I'm guzzling it because it tastes good, my jet lag dulls my common sense and I'm wracking my still-in-a-Toronto-time-zone brain for topics.
Boxing Cat will soon release four bottled beers: Ringside Red, TKO IPA, Right Hook Helles and Contender Extra Pale Ale. You can also find a dozen of their beers on the pop-up pub's menu, all priced at rmb40—or rmb35 during the 5 PM to 8 PM happy hours. Or get six 180 ml samplers for rmb100—rmb75 during happy hours. I have tried them all and, in my humble opinion, Boxing Cat's reputation for quality is well-deserved: these beers are good.
Matt goes to check the other tables. We check our phones. I think if we went to Pop-Up Beijing now to try those Nine Inch beers, then grabbed a cocktail at Press Release, we would have much more fun. This dinner is basically at their office and everyone wants to leave work. Strangely, this realization is heartening: I've dealt with enough corporate elites over two decades who could disguise such emotions. Even if their brand is now owned by Big Beer, these Boxing Cat guys are still, well, Boxing Cat guys at least for now.
Tim later tells me he hears no shortage of AB InBev jokes. While he gives a shrug, it obviously bothers him. Everyone who put soul into Boxing Cat is bound to feel discomfort. I mean, Boxing Cat is now owned by a company that made fun of craft brewers like Boxing Cat.
The last pairing arrives. Donkey Punch Porter matched with malt loaf and malted salty chocolate barley ice cream and toffee sauce. Served in cast iron frying pans. Porter, ice cream, done.
An hour later, I am in bed and drafting this post. I recall drinking with Michael and Tim last year: I absorbed their comments on why they liked or disliked a given beer and appreciated the way they simplified the technical side. That was fun. But that was another era. This is a new Boxing Cat, the Fall 2017 edition, and all eyes are on it, whether filled with admiration, envy or hostility, as it faces bigger stakes.
Thanks to Boxing Cat for the invite and enduring that night with me. Next time let's meet at Pop-Up Beijing! Also, my photos were pretty crap so I used a few shots from my other two visits.
---
Check out our month-long Maovember charity campaign that teams bars, restaurants, shops and customers. Also see my sibling blogs Grape Wall of China and World Baijiu Day. And 京B Daily for headlines, food and drink deals, weather updates, and more.
*     *     *
Get regular Beijing updates via my
Instagram
and
Twitter
feeds. Also see my sibling sites
Grape Wall of China
,
World Baijiu Day
 and
World Marselan Day
. Help cover the hosting and other costs of these sites with a
WeChat
,
AliPay
or
PayPal
donation.
*     *     *