By Jim Boyce | Fiery foods and heavy workouts both release pain-numbing endorphins, so it seems fitting that bodybuilder Ankit Nayal won the Beijinger Chili Pepper Eating Contest on Saturday. Even more harmonious: Nayal hails from India and was hometown hero at the venue, Punjabi, and his company BActive ranks among the top sponsors of Maovember, the charity that received almost rmb4000 from this spicy competition.
This contest was one of the year's hottest event. A fierce Punjabi buffet, a rènao vibe, and a range of peppers that rocketed up the Scoville scale and were tried by the crowd and competitors alike. Plus, some red-hot story lines.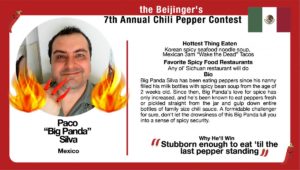 Paco "Big Panda" Silva of Mexico stood as a heavy favorite. Attendees could vote for the expected winner via rmb50 donations to Maovember and Paco's jar overflowed. That popularity was underscored by chants of "Mex-i-co! Mex-i-co!" during the night.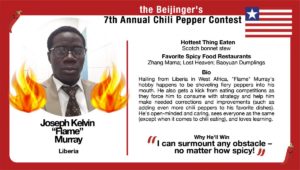 We had a no-show. Almost. Emcee Mike Wester of The Beijinger was seconds from starting the contest when Joseph Kelvin "Flame" Murray of Liberia arrived, grabbed his seat and put on a poker face to make Lady Gaga proud.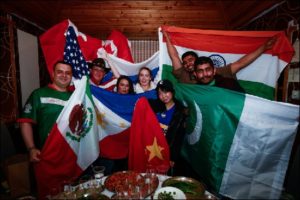 And there were six more competitors, including from Canada, Pakistan, Russia, The Philippines and The United States, all vying to take the crown, with CCTV and the producers of chili pepper documentary CrazyHot on hand to record it.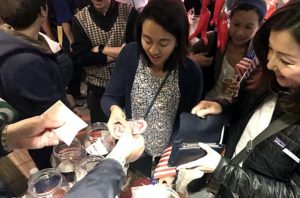 I spent most of my night at the donation table where fellow Maovember co-organizer Claudia Masueger of CHEERS provided a steady stream of beer although I did manage to sneak to the buffet. Owner Gireesh Chowdhury chose some of his spicier items and did not disappoint. Two thumbs up for the mixed barbecue.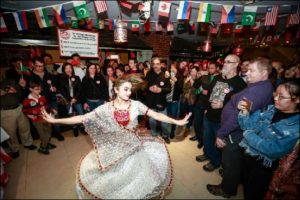 The event started with a belly dance to rev up the crowd. Then it was time for a fire in the belly via an assault of peppers.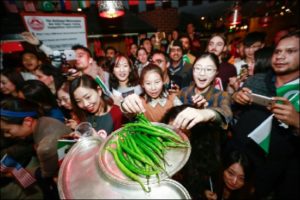 Before each round, attendees could try smaller portions of the peppers and many took the challenge. Competitors were then expected to eat three peppers, save for stems, in 15 seconds during each round. (For the last round, it was 5 seconds per pepper, until someone quit.)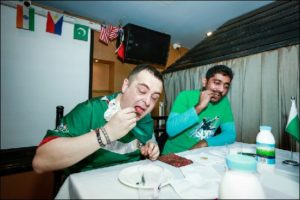 Sweat dribbled down foreheads, faces flushed and cooling intakes of breath became the norm. The crowd chanted country names and grew rowdier each round. The competitors eyed the soothing yogurt drinks in front of them: one sip and they were done.
Pakistan was the first to burn out, followed by Canada, Russia, The Philippines and the U.S.
That left an intriguing three-way battle among underdog Murray from Liberia, now drawing increasing crowd support, the muscle-flexing Nayal from India, who oozed confidence, and the favorite Silva from Mexico, who looked on the verge of melting.
It ultimately came down to Murray and Nayal and the day's spiciest pepper, the Yunnan Shabu Shabu, scored at nearly 650,000 Scoville units. (A jalapeño is 3,500 to 1,000 units while a cayenne pepper is 30,000 to 50,000 units.)
A sweat-soaked Nayal took the crown after two Shabu Shabus and proudly raised his country's flag. Then we all returned to having a bit more buffet and some drinks. Nice work by The Beijinger and Punjabi to source both worthy candidates and an intriguing range of chili peppers. If they do a repeat, it should be the hottest ticket in town.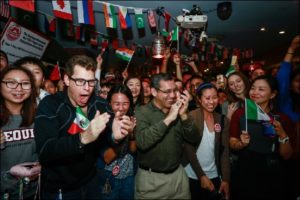 Note: All competitors got Punjabi, Bodensee, Ayam Brand, Herb Whisperer and Caravan prizes. Attendees who voted via Maovember donations were part of a draw for prizes from Q Mex Taqueria, Saigon Mama, Pak Pak Thai Kitchen & Bar and Punjabi.
---
Check out 京B Daily for weather, pollution, news and other updates. Plus sibling blogs Grape Wall of China and World Baijiu Day.
*     *     *
Get regular Beijing updates via my
Instagram
and
Twitter
feeds. Also see my sibling sites
Grape Wall of China
,
World Baijiu Day
 and
World Marselan Day
. Help cover the hosting and other costs of these sites with a
WeChat
,
AliPay
or
PayPal
donation.
*     *     *