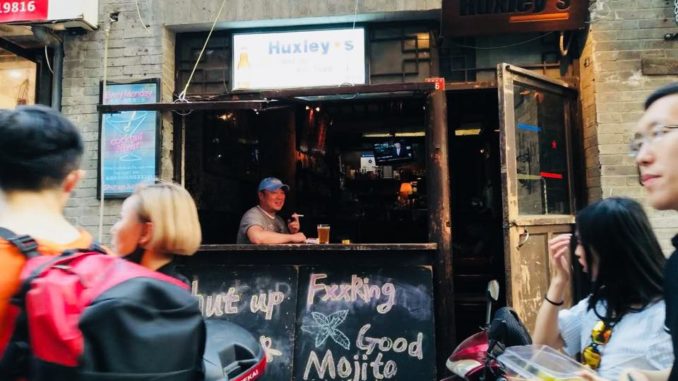 By Jim Boyce | Nestled on a Houhai side-street and known for its laid-back vibe and "shut up, just drink" mantra, Huxley's Bar will close on May 4.
Huxley's opened in 2002 and has witnessed the transformation of the Houhai lakes area from sleepy backwater to cacophony of copycat bars sprinkled with the occasional intriguing cocktail, craft beer or food joint. It has offered a respite from the crowds—a place to shut up and enjoy a Samuel Smith beer.
Owner Yuan Hai aka Huxley says sibling bar, Sanlitun South veteran Nanjie, is business as usual. An upgraded food and beer menu, and experiments with craft brew, over the past two years have made this a fun stop.
Huxley got into the bar business on old Sanlitun South Street more than two decades ago and has been involved in establishments such as Nian, Tun and Houhai Zoo.
---
Check out 京B Daily for weather, air quality, news and other updates. Plus sibling blogsGrape Wall of China and World Baijiu Day.
Check out my lists of Beijing
food deals
 and
drink deals
. Also get updates via
Twitter
,
Instagram
and
Facebook
. And check out my sibling sites
Grape Wall of China
,
World Baijiu Day
 and
World Marselan Day
.  If this site helped you find new bars, restaurants, foods and drinks, or saved you money, consider helping to cover the hosting and other costs with a
WeChat
 or 
PayPal
donation.