By Jim Boyce | The World Cup is on, and gives me a yawn, but if your heart races, then here are some places, to drink and to eat and to watch and to scream, and to perhaps even meet some who cheer for your team.
Also, I checked on our World Cup bar options for 2006, when draft Stella was a big deal, and for 2010 and posted notes below.
Enjoy the flashback!
---
---
Here is the venue list posted on June 11, 2010. A few places remain but most have gone to the great sports bar retirement center in the sky. Edited slightly to remove irrelevant info.
Good times in Beijing during the last World Cup as nearly every bar and its sibling had a TV screen to attract football fans. Here is an an updated list of spots to catch games this time around.
WORKERS STADIUM
The Den: A veteran on the sports bar scene, it is open 24 hours and has five screens, good pub grub, a reasonably efficient staff, and an excellent happy hour (5 to 10 PM daily, with half-price drinks and pizzas), though you would require the Hand of God to finagle a free glass of water here. Look for Danish fans to hang out —The Den, The DenMark, get it?
The Pavillion: Among the busiest spots during the last World Cup, it has large screens on one of the better patios in town, as well as screens inside, though the latter are at an angle that can lead to sore necks.
Uama Teppanyaki: The Budweiser-sponsored beer patio outside includes two large screens. Bud draft is RMB20 and there are other beers and mixed drinks available.
Hooters: The only Beijing outlet of this U.S. franchise; expect pricey but passable food (try the chili dog), a handful of screens, and waitresses dancing and singing to songs such as "You Are My Sunshine."
Danger Doyle's: Formerly known as Stadium, this two-floor Irish bar, with back and rooftop decks, has screens upstairs and downstairs.
Drei Kronen 1308: Sibling establishment of Danger Doyle's, this three-story German beer house offers three kinds of home brew.
Workers Stadium: Look for the Football City beer 'garden' with large screen. Guoan fans can catch the World Cup in the shade of their home stadium.
SANLITUN NORTH
Tun: Buy a meter of drinks during the World Cup, get a half-meter for free. Tun will screen games on the deck outside and on the TVs and that huge surface behind the stage inside.
Beer Mania: Buy one, get one free deal on Beijing draft during the games as well as T-shirt and ball giveaways for Stella drinkers.
SANLITUN SOUTH
Blue Frog: Wear your team colors on game day and the first beer is free (with purchase). Look for lots of Dutch fans to hang out here.
Luga's Villa: Free drink for those in uniform when their team is playing. Option of hanging in the villa, in the basement, or on the second floor or ground floor decks.
Saddle Cantina: Catch games on the first or second floors. Should be a wild night when the World Cup coincides with the Cinco de Drinko special.
Union Bar & Grille: One of the comfier bars in town, it has a handful of screens and will show games starting at 7:30 PM and 10:30 PM. All-day happy hour on Tuesdays.
Paddy O'Shea's: Will show games downstairs and in Kamat's upstair, have an outside bar and hot dog stand, and feature an Anyone But France campaign inspired by the Thierry Henri hand ball that dashed Ireland's chances of making the World Cup.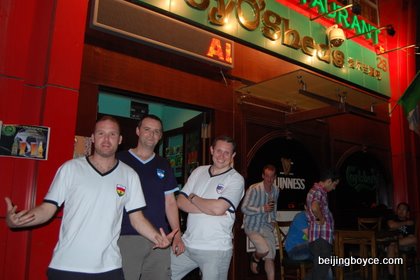 LIDO
Frank's Place: The reincarnation of what is widely considered the first non-hotel bar to open in Beijing. Plenty of screens as well as a large party area out back.
Eudora Station: This place shows sports, has a vast menu, and includes a lounge area out back and a nice patio up front.
The Irish Volunteer: While not a sports bar, it has kept NHL fans happy and will also show World Cup matches.
Parkside Bar & Grill
: Newcomer to the Lido scene with several 55-inch screens.
SHUNYI
The Pomegranate: The Shunyi-based sibling of Paddy O'Shea's.
MORE
The Goose and Duck Recently upgraded, this is a 24-hour sports bar with loads of paraphernalia and screen and a diverse menu.
Obiwan: Three story Xihai area venue. More details on this spot soon.
Salud NLGX: Look for a good crowd to gather at this Nanluoguxiang bar, drink homemade rum shots, and cheer on their teams. Free draft for the first goal scored during the World Cup.
Ned's: Aussies. Beer.
Souk: A Chaoyang Park West Gate venue that combines the feel of a lounge and some of the amenities of a sports bar.
Tim's Texas BBQ: Home of a wide range of Tex-Mex food, including a decent "Mexican burger", this place also shows sports.
All-Star: This place includes booth and table seating, solid pub grub, a four-sized bar, and dozens of flat screens in the Solana area.
Cafe Europa: Private areas for 20 to 40 people, with big screen and CCTV feed, three 11-litre kegs of Krombacher Pils, and appetizers. RMB3000 for 7:30 PM games. RMB3500 for 10 PM games.
---
I created these bar listings for the 2006 World Cup a few months before I launched the Beijing Boyce website, back when I spread info about our fair city's bar scene via email. Posted on June 21, 2006.
Here are (mostly) brief write-ups on the various venues at which I've watched World Cup games.
BROWNS
Germany vs. Costa Rica: This place was wild during the game and the party rocked on afterwards as the (mostly German) fans made ample use of the beer taps and the bar top. The usually empty back room was packed with chairs, tables and patrons. Browns has three huge screens and plenty of small ones, has recently added Beck's and Stella Artois to its draft beer selection, and gives out handy World Cup schedules. I've generally heard good reports from readers about this place.
THE PAVILLION
Serbia and Montenegro vs. Netherlands: The front end of what is arguably the best patio in town was fairly full, with a handful of people inside. The food was limited to a BBQ buffet, which was disappointing, because I had been craving nachos on the way over. Qingdao was on special. The Pavillion has two big projection screens outside and ample smaller screens inside. It's one of the more relaxing places in town, though I've heard mixed reviews about the service.
THE DEN
Iran vs. Mexico: The tasty four-cheese pizza and cold Qingdao was offset by loud dance music (Ace of Base anyone?), which meant no commentary, which helps explain why the place was nearly empty, which was unfortunate as this was a great game. The service was good.
BEER MANIA
England vs. Paraguay: A bit smaller and more subdued than the average venue, this is a cozy place to watch games while quaffing Delirium Tremors, both blond and dark. The owners recently installed a decent-sized projection screen, though I unfortunately caught what was arguably the most boring game so far on it.
JOHN BULL PUB
Australia vs. Japan: While a small group watched the small bar-side TV upstairs, a handful of us waited by the big screen as two employees futilely tried to get the projector working. I spent 15 minutes watching as they flicked buttons, a waitress shrugged her shoulders and a rough-looking patron yelled about "Dongbei ren" at his acquaintance, then gave myself a red card and left.
W SPORTS BAR
Australia vs. Japan: About 50 boisterous Australian fans were enjoying, on two big screens, a late rally and win by their team (Aussie, Aussie, Aussie, oy, oy, oy!). The staff here can handle a bottle opener, but don't think of asking anything as complicated as, "Is there a World Cup special?" As the only Swedish bar in town, W sends emails calling those from the land of ABBA for their home games.
PHIL'S PUB
South Korea vs. Togo: The number of teams playing in this game, two, was equal to the number of patrons at the bar. It was me and M-Dawg, and his presence had less to do with watching football (Chinese commentary) than with Phil's letting us to order yangrou chuar from next door. That didn't stop M-Dawg, who has a friend from Togo, from positing that football is the primitive forerunner of basketball.
"At one point, thousands of years ago, a player decided to pick up the ball and throw it into the net, but they found that was too easy, so they made the net smaller and put it into the air, and that's how we got basketball." Perhaps, in light of this (voiced) theory, the lack of patrons / football fans was fortuitous.
THE PAVILLION
Spain vs. Ukraine: I went there for work-related reasons and stuck around for the game. The patio was half-full, with seats at the picnic tables available, and the barbecue sizzling away. Pavillion has set up a temporary bar, with four or five draft taps, outside.
FRANK'S PLACE
Ecuador vs. Costa Rica: A friend and I popped into the reincarnation of Beijing's oldest non-hotel bar. He was impressed with the live guitarist before the game (tunes ranging from Neil Young's "Harvest Moon" to John Lennon's "Jealous Guy"), the screen on the sparsely populated deck out back ("If you could accuse that screen of anything, you could say you've never seen such a clear projection") and the deck itself ("awesome"). And rather than whisking away my glass and its last swig, as is so common, the waiter asked if I had finished it. Nice.
Unfortunately, this was the exception rather than the rule. The staff didn't know the price of the special (BBQ plus one Carlsberg for 60 kuai) and first forgot our beer, then our food, then our utensils. They took my after-dinner drink order but not my friend's, charged us for a Guinness we didn't drink, wrongly recalculated our bill, and forgot my receipt. As for the drinks, my friend's two Whisky Sodas looked and tasted completely different, and my Martini came with a massive lemon slice on the rim (!), though the Long Island was decent.
This first experience of the fully functioning Frank's was slightly surprising given the bar's team of expatriate employees, numerous investors with Beijing bar scene knowledge, and seemingly eager local employees, including a number plucked from Browns. Several readers have cited similar service problems, though I've also indirectly heard that Frank's is a great place to watch the World Cup, especially since there are eight TVs inside in addition to the one out back. (There is also a two-for-one special on Heineken). This is still a nice place to watch games and let's hope they get the kinks worked out with service soon.
RITAN PARK CENTRAL COMPOUND
England vs. Trinidad and Tobago: I envisioned a garbage-strewn field surrounded by pungent portable toilets, but instead found the one must-visit venue for World Cup viewing. The games are shown in the central compound, on the altar once used for sacrifices to the Sun god, where two big screens are mounted. One has English commentary and the other Chinese commentary, making it amusing as those watching the latter wait in anticipation every time they hear the cheers and groans of those watching the former.
The compound is surrounded by circular walls, adorned with Chinese carvings, surrounded by trees. Call it a giant yurt with the top down. There is plenty of seating, all the Qingdao (15 kuai) you could want, and Mojitos (25 kuai), Espresso (around 15 kuai), pizza and more from Havana Light. The only drawbacks: the toilets are, in fact, a bit gross, and by the time the final game ends, the sun is up and it's hard to see the screens. The entry fee is 30 kuai and includes one beer. An added benefit is that you can pop over to Stone Boat in the late evening for some great live music.
BEER MANIA
Argentina vs. Serbia and Montenegro: I arrived with Argentina winning 3-0 and before I finished my beer and my ham and cheese sandwich, it was 6-0. If anyone's team is ahead and needs insurance goals, I'm willing to stop by and provide my luck, in exchange for pints and snacks.
RITAN PARK CENTRAL COMPOUND
Ghana vs. Czech; Italy vs. U.S.: What a great place to witness the fastest-paced and arguably most exciting game so far, as Ghana won its first World Cup match by knocking off the highly ranked Czech team, 2-0. They now need to beat the U.S., which put up a ferocious battle against Italy, and benefited greatly from that country's own goal. Three red cards, a bloodied face, and a futile Italian corner kick in each of the final five minutes. Great games, great location, great fun.
BROWNS
Japan vs. Croatia: Browns is simply a fun place to watch the game, given its good beer selection, tasty food and good layout. This is one place that does not have to be full to have a lot of energy. The big group of Japanese fans beside me had a great time, although I think some of them had ulcers after that tight game, and as they headed out, the Brazilians flowed in, as Browns is apparently their World Cup home base (witness the huge flag on the east wall). This place is probably your best bet if you're looking for a crowd.
BEER MANIA
Brazil vs. Australia: It was on the way home! There were more people sitting out in front (five) than inside watching the game (three), with Chinese commentary, but who cares when you are watching a valiant effort by Australia and sipping a Caipirinha made by manager Marc.
JOHN BULL PUB
Mexico vs. Portugal: What a difference a quesadilla makes! John Bull Pub has been serving up authentic Mexican food on Fridays and Saturdays and did it again for this Wednesday night game. The result: tasty food and lots of people. Good time all around.
---
Check out 京B Daily for weather, air quality, news and other updates. Plus sibling blogs Grape Wall of China, World Baijiu Day and World Marselan Day.
*     *     *
Get regular Beijing updates via my
Instagram
and
Twitter
feeds. Also see my sibling sites
Grape Wall of China
,
World Baijiu Day
 and
World Marselan Day
. Help cover the hosting and other costs of these sites with a
WeChat
,
AliPay
or
PayPal
donation.
*     *     *
Be the first to comment