By Jim Boyce | Hoo-Ray again! Mexican food lovers should check out the new Baja-inspired eats by Ray Heng at his restaurant Sand Pebbles in Wudaoying. A last-minute schedule change allowed me to catch most of a menu tasting on Wednesday and these were my three favorite dishes.
Baja shrimp cocktail with avocado, cucumber, onion and jicama (a root vegetable native to Mexico) in marinade. I didn't get a photo but this is an appealing meal in a glass, from the avocado and shrimp texture to the vegetable freshness to the pleasant spiciness that created in me a deep need for frozen margaritas.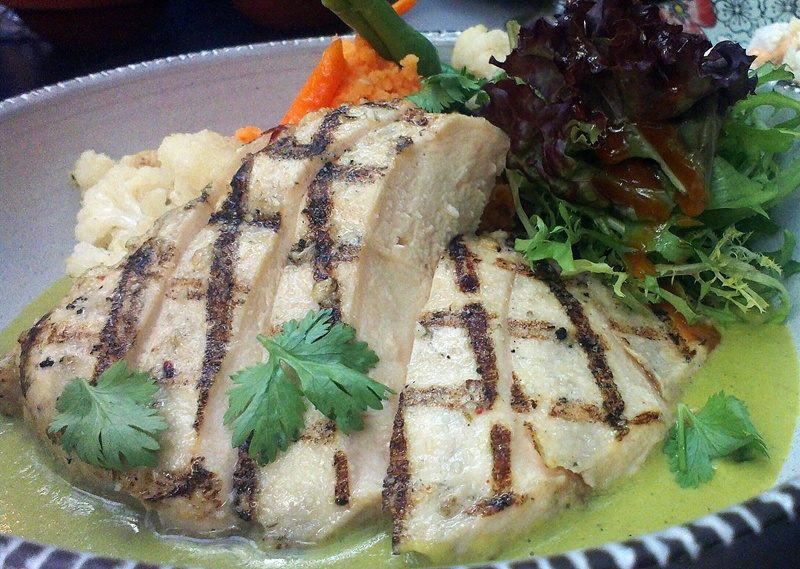 Moist perfectly wood fire-grilled chicken cutlets with poblano sauce—named for a mild pepper. The sides included, hmm, corn. Salad. And mashed yam? In any case, I wrote down "Mexican Thanksgiving dinner with all the fixings" because if I can't find turkey with root vegetables this October, I'm getting this instead.
Whole sea bass, grilled butterfly style. Tender, with red adobo marinade on one side, green on the other, Centered with cherry tomato, roast garlic, cream cheese, cabbage, mayo and more, and paired with tortillas and salsa, this was the f-yeah item of the day.
Heng presented lots more, including tortilla chips with six homemade dips (Sand Pebbles does some two dozen dips and sauces), skirt steak tacos, grilled lobster with plantain and tamal, and a pair of noteworthy desserts: street churros and sweet guava tamal, the latter with fruits, nuts and vanilla ice cream drizzled with goat's milk caramel. If you have a sweet tooth, give those a try.
As I noted in my first Hoo-Ray post last year, the food at Sand Pebbles is a testament to the long hours Heng put in at culinary school and at Frontera Grill in Chicago. You can now add a long exploratory trip to Baja that inspired this new menu. Sand Pebbles is a must-go for Mexican food fans.
---
Check out 京B Daily for weather, air quality, news and other updates. Plus sibling blogs Grape Wall of China, World Baijiu Day and World Marselan Day.
*     *     *
Get regular Beijing updates via my
Instagram
and
Twitter
feeds. Also see my sibling sites
Grape Wall of China
,
World Baijiu Day
 and
World Marselan Day
. Help cover the hosting and other costs of these sites with a
WeChat
,
AliPay
or
PayPal
donation.
*     *     *