By Jim Boyce | June 19 is World Martini Day and that got me thinking about the many superb cocktails I have sipped in our fair city. Here are five places that have stirred and shaken and made marvelous martini memories for me over the last dozen years. Lucky for us, there are plenty of bars at which to get a decent drink tonight.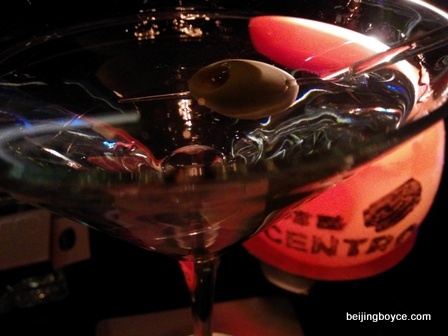 CENTRO
My first Beijing bar after my first full day of work when I moved to Beijing. (My second, later that night, Bar Blu.) Centro represented the heart of expatriate corporate account drinking when I arrived and still has a worthy buy one, get one free happy hour, including for martinis. Bruce Li headed the bar at that time and was one of the few Beijing mixologists people knew by reputation.
---
FIRST CAFE+
I knew not a single soul when I moved to Beijing but quickly made friends through work, events and a cozy two-floor bar called First Cafe. I learned about this place during my first month in town when I met Mike Wester, now GM of The Beijinger. (He was then head of that's Beijing but an unfortunate relationship with the publisher saw Wester and team leave to start Beijinger.)
That first meeting featured a gleeful Wester showing recently arrived newspaper clippings of his hometown Boston Red Sox winning their first World Series in 86 years, then teaming with editor Jerry Chan to recommend First Cafe, hidden near the corner of Sanlitun South and Workers North.
The First Cafe team had just added martinis and this place became my local, a spot crammed with a happy group spanning a dozen nations on any given night. I list it as First Cafe "+" in reference to the subsequent bars at which one of the original bartenders, George Zhou, ended up and I enjoyed many more martinis. Those include Midnight Cafe, George's, Touch Bar and the current Q Bar.
---
MAISON BOULUD
Known for its food and top-notch service under GM Ignace Lecleir, now at TRB, this Qiananmen venue also had an excellent bar. I most remember bartender Frankie Zhou—who now runs Botany Bar and consults at Hulu—and his Yunnan truffle-infused gin martinis. East-West fusion is a cliche but it worked here, both in terms of the drink ingredients and a Beijing venue that once served as the U.S. Embassy. (I had the final drink at this bar in 2013, an Old Fashioned with chef Brian Reimer and friends, even as the movers emptied the shelves of bottles. That was a truly sad day.)
---
FLAMME
The brilliant thing about Flamme was the happy hour, a lengthy affair where you could get generously poured dirty martinis garnished with fat blue cheese-stuffed olives for half price. (If memory serves, that meant rmb30 or rmb35 for drinks made with premium spirits.)
Paul Mathew headed the bar program—and also consulted at Diageo, TAPS, Q Mex and others—and at one point ran a two-hour rmb99 all-you-can-drink cocktail deal on Wednesdays. Dangerous!
Mathew also granted my request to make a Buffalo wing martini: it turned out to be a bit of a disaster, as he had hinted might happen, but at least satiated this imbiber's curiosity.
---
OCEAN GROUNDS
When this place opened just off Xindong Road, it doubled as coffee joint by day and bar by night. It quickly became a favorite martini stop due to the delectable drinks made by Paul Hsu, now at Infusion Room. These were not light on the wallet—I believe they cost rmb80, an envelope-pushing price in 2014—but they were delicious.
That's just a handful of the many places that have served good martinis, a list that would include Ichikura, Twilight, Mokihi, Hulu, Botany, Infusion Room, Janes & Hooch and more. Get out there today and have one of your own!
---
Check out 京B Daily for weather, air quality, news and other updates. Plus sibling blogs Grape Wall of China, World Baijiu Day and World Marselan Day.
*     *     *
Get regular Beijing updates via my
Instagram
and
Twitter
feeds. Also see my sibling sites
Grape Wall of China
,
World Baijiu Day
 and
World Marselan Day
. Help cover the hosting and other costs of these sites with a
WeChat
,
AliPay
or
PayPal
donation.
*     *     *