By Jim Boyce | State-owned medium Global Times just cooked up a heaping serving of culinary cultural appropriation shade with a side dish of WTF. In this slide show, it takes aim at "baozza", the tasty pizza-baozi combos I have covered here, here and here.
Global Times calls baozza a "fad" that has "flooded expat-oriented restaurants in Beijing." (Flooded? I've only seen it in two places.)
A food that is "ridiculing" Chinese and Western culture "for the sake of a marketing gag for expats with little or no culinary background." (Ridiculing? I have friends of all nationalities, including Chinese, that lie this brand.)
Global Times also takes shots at the "baozi burgers" served at Belgium joint De Refter in Sanlitun. And singles out the prices there as far higher than those for regular baozi. (Maybe cecause the burgers are far bigger and use ingredients like truffle, Brie and imported beef?)
"Luckily, these fusion fast foods are usually gone faster than you can flush the remnants of your latest food poisoning down the toilet," it concludes. (I'm pretty sure I know what the people at Baozza and De Refter will use to wipe with the next time they use the toilet.)
Anyway, if Global Times is getting into fusion food commentary, they have a vast buffet from which to choose. Like this pork and seaweed creation from Dunkin' Donuts in China:
Or, if they want to stick to that pizza-ish theme, the dozens, if not hundreds, of pizza toppings unique to China. In fact, fusion was the opening philosophy for Pizza Hut entering China:
"Pizza Hut cut down on cheese and tomato sauce, and added local toppings such as soy sauce chicken, tuna fish, corn, and crab sticks. They even introduced new pizzas, such as Thousand Island dressing pizza…."
I haven't tried Thousand Island pizza in Beijing but did find a photo of it from Hong Kong:
Also, there is no need to limit the field of commentary to China. Signature Chinese foods served overseas are also getting the fusion treatment. Partnering cheese and baozi has happened in Vancouver, among other places, where you might find everything from jackfruit to guacamole to wasabi in your steamed bun.
And look at what they're putting on jianbing in New York:
Kimchi! For rmb78! (About ten times what you will pay for jianbing in Beijing.)
I guess I'm part of this movement because the annual World Baijiu Day I help organize each August 9 goes far beyond drinking China's national spirit in the traditional "ganbei" (bottoms up) style. Instead, this day features baijiu in cocktails, liqueurs, infusions and—gulp—food.
Anyway, thanks Global Times, for reminding me of baozza. I need to pick a few up. Right after I finish some Hot & Sour Fish Soup potato chips.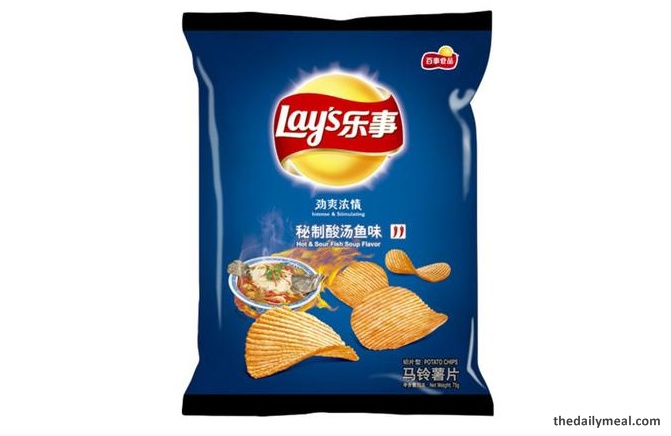 See the Global Times take on Baozza here.
---
Check out 京B Daily for weather, air quality, news and other updates. Plus sibling blogs Grape Wall of China, World Baijiu Day and World Marselan Day.
*     *     *
Get regular Beijing updates via my
Instagram
and
Twitter
feeds. Also see my sibling sites
Grape Wall of China
,
World Baijiu Day
 and
World Marselan Day
. Help cover the hosting and other costs of these sites with a
WeChat
,
AliPay
or
PayPal
donation.
*     *     *