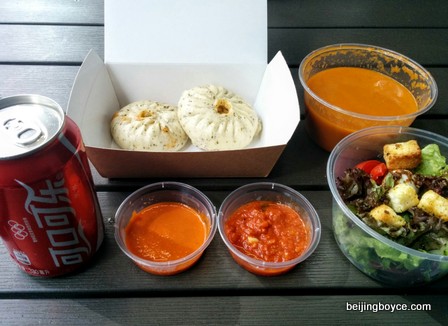 By Jim Boyce | I lost touch with the Baozza Boys after they closed their Sanlitun Soho venue, just down the street from my place, a few months back. But I caught up with them last weekend at The Pizza Cup—their booth was among the busiest—and learned more about plans for their East-West comfort food. (If you haven't tried them, a baozza is a steamed bun, or baozi, filled with pizza ingredients.)
Partner Alex Cree says the team has a QS-approved processing facility that can crank out 2,000 baozza per hour. Each baozza will come in a plastic wrapper and be ready to go after a short stint in a microwave.
Given the current ups and downs in opening bars and restaurants these days, partner Cree says the focus will be teaming with retailers. Hopefully, we see Baozza at places like April Gourmet, 7-ELEVEN and Jenny Lou / Wang soon.
---
Check 京B Daily for headlines, job openings, food and drink deals, weather updates, and more. Also see sibling blogs Grape Wall of China and World Baijiu Day.
Follow me on Twitter, Instagram and Facebook. Check my sibling sites, Grape Wall of China, World Baijiu Day and World Marselan Day. These sites take a lot of resources. Help cover the cost with a contribution through WeChat or Paypal: