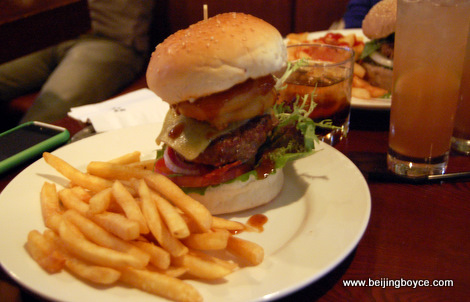 The Beijing Olympics in 2008 were about more than world-class sport, China's coming out party and the unveiling of infrastructure, notably subway lines, that benefit us today. They also changed the city's burger zeitgeist. The Games bridged a burger scene where a set with fries cost rmb40 or less–think The Rickshaw, The Den and Le Petit Gourmand–with one where newbies like Blue Frog, Union Bar & Grille and Let's Burger charged as much as double that.
In some cases food quality rose and in nearly all cases rent did, with prices inevitably following. It was another example of Beijing consumers getting more choices in an increasingly expensive city. (It also put some veteran restaurants in a pickle as it's not easy to raise prices 50 percent or more, no matter what the new players are charging, as it risks losing regulars.)
Along with getting more crowded, the scene was getting more creative, just as it was in areas like clothing, craft beer and cuisine. We saw twists like the quesadilla burger at Luga's Villa , the wagyu with truffle option at Let's Burger, a rmb325 burger at One East on Third and a short rib and foie gras-topped wonder at Maison Boulud. And lots more was in the pipeline, including The Butcher Steakhouse with its five-kilo burgers as well as Herber Keller's (short-lived) Burger Bar.
Anyway, it was this time of year in 2009 that The Beijinger listed the best burger nominees for its annual restaurant awards. Here they are:
25 Degrees (G Hotel)
All-Star Sports Bar & Grill (Chaoyang Park)
American Cafe (Blue Castle)
Blue Frog (first one was in Taikooli)
Chef Too (Chaoyang Park)
Grandma's Kitchen (several locations)
Let's Burger (first one was in Nali Patio)
Rickshaw (close to Bookworm)
Union Bar & Grille (Taikooli)
Vineyard Cafe (Wudaoying Hutong)
I believe my vote went to Chef Too and its decadent blue cheese burger. (That place also had a Bourbon collection that I still don't think has been matched in Beijing.)
Anyway, those places have all closed or been surpassed in the hearts of burger award voters by the likes of Cannon's and Q Mex. What might surprise someone from 2009 is prices have not changed all that much in the past decade.
By the way, here are the most-nominated restaurants and bars for those same Beijinger awards back in 2009:
7– Maison Boulud
6–Chef Too
6–Dali Courtyard
6–Mosto
5–Alameda
5–China Grill (Park Hyatt)
5–Element Fresh
5–SALT
5–Sureno (Opposite House)

Finally, some photos of Beijing burgers from over the years. And if you are looking for some good burger value, check out the food deals page:
Cannon's

Q Mex

XL

Frost

Blue Frog

Tomacado

The Local

Fatburger

Switch

Union

3sums

Burger Bar

Irish Volunteer

Beer Mania

Let's Burger

Pinotage
*     *     *
Get regular Beijing updates via my
Instagram
and
Twitter
feeds. Also see my sibling sites
Grape Wall of China
,
World Baijiu Day
 and
World Marselan Day
. Help cover the hosting and other costs of these sites with a
WeChat
,
AliPay
or
PayPal
donation.
*     *     *