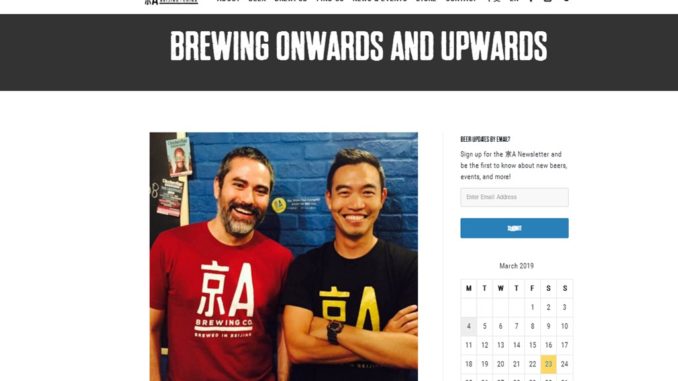 Carlsberg, which used to brand itself as probably the best beer in the world and is definitely my least favorite, now has a minority stake in Beijing-based craft brewer Jing-A. The news evoked the same feeling as when Joan Jett's "I Love Rock 'n' Roll" was used for a peanut butter ad.
Most striking is Jing A's announcement cited Carlsberg's "storied commitment to the art and science of brewing, innovating in their research lab since 1876."
That's quite a kudo for a company with a flagship brew that, 143 years on, is average at best. In fact, it's the kind of product that inspired the rise of craft brewers (like Jing-A) in the first place. I hold no general grudge against mass market beers, and enjoy an icy Tiger or Tsingtao on a hot summer day, but if asked to vote one off our planet, Carlsberg it would be.
(After I posted the above comments on social media, Jing-A marketing guru director Richard Ammerman replied: "Carlsberg's lab really is due credit for some of the breakthroughs in the science behind modern brewing. The purification of yeast strains, including the one still used for most lagers, and the concept of the pH scale are probably the most obvious ones, and it's still actively studying new issues, some of which are mentioned here." That's great, so when is all that science-y stuff going to translate into better beer?)
I have no doubt Carlsberg can help Jing-A ramp up (production) and out (distribution). And even before the announcement, a bar owner, who only deals with Carlsberg, told me he might soon sell Jing-A. I didn't catch his drift at the time, and chalked it up to one of those lost in translation moments, but it seems the wheels were already in motion.
You can read the announcement, titled "onwards and upwards', from Jing-A founders Alex Acker and Kristian Li here. And get another take on Carlsberg here.
(To prevent the usual comments about how my Beijing Boyce Jing-B logo looks like Jing-A's logo, let me again confirm I am not involved with Jing-A expect for charity and World Baijiu Day events, and that I have used the Jing-B logo since 2005. It's part of my storied Beijing blogging history!)
*     *     *
Get regular Beijing updates via my
Instagram
and
Twitter
feeds. Also see my sibling sites
Grape Wall of China
,
World Baijiu Day
 and
World Marselan Day
. Help cover the hosting and other costs of these sites with a
WeChat
,
AliPay
or
PayPal
donation.
*     *     *