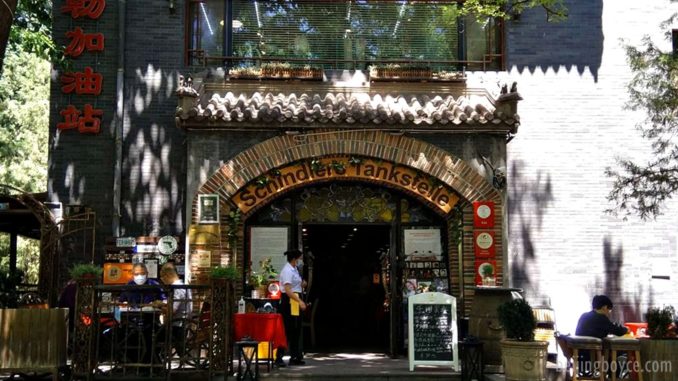 Stretched resources this year meant focusing on my WeChat and Twitter feeds at the expense of the blogs. Sorry, doing the best I can to pass along useful info for food and drink fans in Beijing and beyond! (If you want to help support the effort, see here.)
Here are a bunch of updates. I make no claims to cover the Beijing food and beverage scene — the following are about places I like and / or info that came across my path. Jia you!
(I aim to be as accurate as possible, but mistakes happen. If you spot one, please let me know!)
I detailed the impressive response of TRB Group to the virus crisis, which included opening a second Hulu restaurant in Shunyi in the ex-Fella's space: TRB first rented the kitchen to start deliveries and test the local market, then took over the premises. Now Hulu is teaming with Japanese restaurant Hatsune for a popup there this weekend–might it be the first step toward Team Hatsune opening something in those suburbs? Also, Hulu Shunyi will hold its first wine dinner, with All In Wine, on May 28.
Look for Frank Siegel, whose first foray into the bar / restaurant scene was Frank's Place in 1990, to open Embassy Cafe in the ex-John Bull Pub / Casa Brasil / Caravan space. The kitchen will do burgers, soups, salads and the like–there was a taste test this week and goal aim is to open for business next week. Fingerprint Cafe and Italian restaurant Cucina are also open in that building.
Fans of fun fusion food guys Avocado Drum can expect a new place on Xingfucun Middle Road next month. Jianbing with cheese and avocado? Check it out!
Malbec & Beef opened in Yizhuang in south Beijing. Expect 70 Argentine wines, many below 元200 per bottle, and a food menu with both familiar Western dishes and Argentine classics — pasta, burgers, sausages, steaks, more. The place is headed by Jorge Wang, who has a decade of Argentine wine experience, including as an importer.
Goodbye Q Bar. Opened in 2006 atop a slightly seedy Sanlitun South Street hotel, Q was an instant "bar of the year" candidate due to its quality cocktails, cool decor and loyal following earned by the owners from previous venues First Cafe and Midnight Cafe. Owner George Zhou packed up and moved last month from the hotel, which was hit hard by the coronavirus crisis. More on this soon.
Just off Xindong road, Italian wine bar Buona Bocca has updated its food and drink menus with a wacky animal theme. The owner has been super active the past four months, even selling homemade steamed buns online, to keep Buona Bocca and its next door sibling / spicy eats joint MalaBocca going. I went Saturday night for a quick cocktail and found a good crowd, including on that side patio.
Around the corner, Herbal and XL are both open–with Jane Cui of the latter also busy with sibling establishment The Tree Nearby the Sea in Qingdao. Le Moment and Heaven Supermarket on the front side of the complex are also open, although three readers say they discovered, on separate occasions, that Heaven is quite picky–in terms of nationality, about who is allowed in. Frankly, Heaven can wait. Possibly forever.
Nearby, Pi Bar reopened its eclectically decorated and airy venue–that wood-beamed ceiling must at least eight meters high!–a month ago and finally fired up its kitchen, adding wonton soup to the menu. Pi's Saturday night happy hours, with rmb40 mixed drinks from 9 PM, still stand.
On the other side of Xindong Road, craft beer operation Prodigy Brewing opened in late March and offers rmb10 off brews from 5 PM to 7 PM daily. Try the Farmhouse Ale. The team is also working on beer-based cocktails. Another nearby newcomer is Root Down over on Xingfucun Middle Road. I haven't been yet but this place's photos suggest loads of vinyl–the kind involving music–and booze. Jing-A, That Other Place and O'Steak rank among the noteworthy places that weathered the crisis in those parts.
Few faced strict regulations pressure like Paddy O'Shea's, which until recently had a limit of one person per table–pretty tough for a typically packed sports bar! Even so, Paddy's has endured, even taking its weekly quiz online at one point, and has started to screen sports again. Paddy's also has good weekday food deals–buy a dish, get a beer–including Irish poutine on Tuesdays and fish 'n' chips on Fridays. If you haven't been to the expanded Paddy O'Shea's–they took over the restaurant next door, thus doubling the floor space, including an indoor balcony–give it a look. Plus, it has an even bigger cider list now. Plus, Indian food from Ganges upstairs.
Closer to Sanlitun proper, Groovy Schiller's hasn't done much different, except remain open every day this year, which is a kind of achievement itself. This place took on the nickname "the fort" these past months, with the addition of some ceremonial cannons to symbolize the battle against the siege of the virus. Co-owner Jack Zhou, who runs a Groovy Schiller's branch in Changsha, aims to upgrade the pizza to be best in the city. Look out Pie Squared!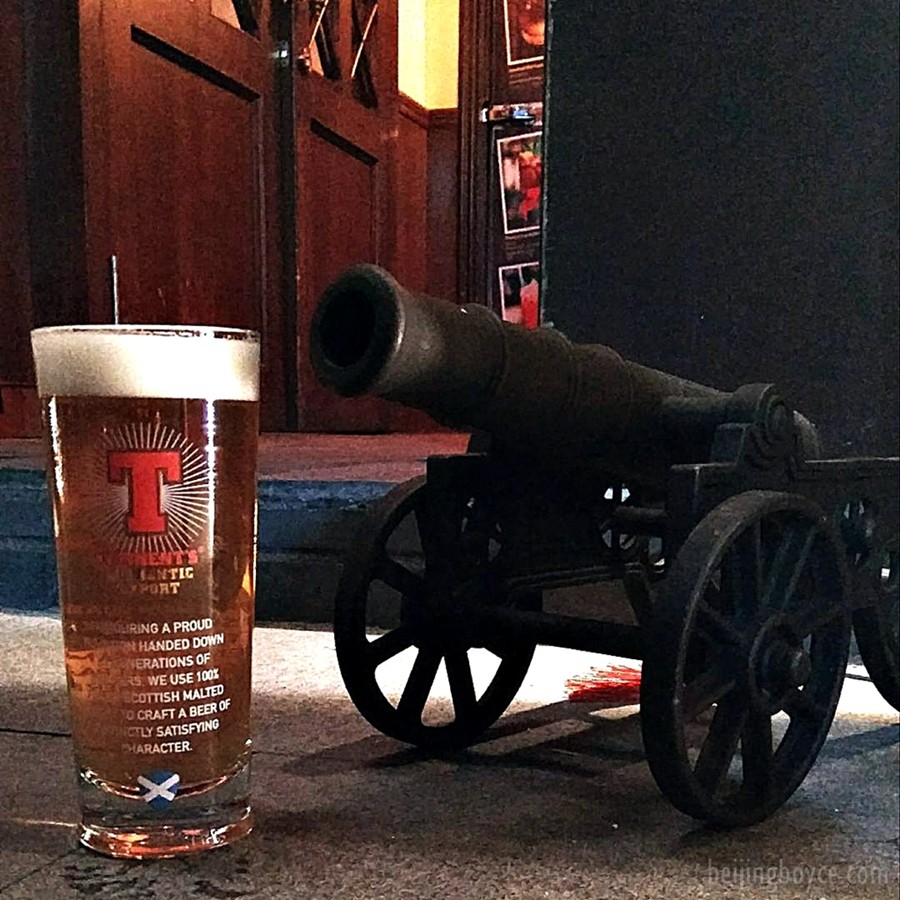 I should note Beijing bars, at least the ones I visited, still require patrons to do a temperature check and register info like their name and phone number–Johan at Groovy Schiller's has manned the door and done this every day since the virus crisis started! You can expect to do checks when going into malls or into places like Sanlitun Courtyard, home to Nanjie, Q Mex, The Local, The Rug, Taco Bar, Home Plate, Tiens Tiens, Lucky Las Vegas et al.
That courtyard has been a barometer for the crisis, with limited access (north and south entrances) and limited capacities at bars. At one point, at least some venues were allowed just 15 people, a number later raised to 25. I'm not sure what it is now–I'll stop by later this week–but it's been tough times for many venues there.
Another barometer was the B1 level of TopWin across the street. Avocado Tree and April Gourmet were about the only places open during the first long stretch of the virus crisis, then others started reopening, including Shawarma (great value), CHEERS Wine and that most excellent roujiamo (Chinese burger) place toward the south end. Now things are pretty much back to normal, except customer traffic has seemed lighter than usual on my dozen or so visits.
What else?
The Bake Shop makes good bagels.
That area around Tongli Studio is busier and busier. I'm not a regular at studio spots, such as First Floor (I'd rather support Groovy Schiller's) or the club Aurora (I'm way too old for that stuff) but am happy to see that Middle Eastern restaurant veteran Biteapitta is still going. Newcomers might find it hard to believe that area was once jammed full with cheap street-level drink joints, food vendors and a free flow of "characters" til the wee hours.
In Nali Patio, Mosto reopened on May 8 and is currently doing dinner and weekend brunch. Prior to that, Daniel Urdaneta and Alex Molina hosted a series of Mosto pop-up dinners, including with Hatsune's Alan Wong. Speaking of Burger Box, after announcing it would add a daily "buy one burger set, get another for rmb25" deal and drop its Tuesday "buy one get one free offer, it ended up keeping the latter, too–that's one of the better weekly offers. Moka Bros opened even earlier than sibling Mosto, though one of its branches, in Shuangjing, closed due to the virus crisis. Check out the all-day happy hour on Thursdays, with rmb35 beer, wine and cocktails. And steady Nali Patio veteran Niajo is doing business as usual, which also means cranking out new business lunch menus each week.
JAZZ-YA IS STILL OPEN! 25 YEARS, PEOPLE!
Mexican restaurant Pebbles deviated a bit from authentic Mexican food mission by reintroducing items such as burritos. Expect some fun dishes as Heng says he's dealing with this crazy year with some creativity. He's also boosting the margarita portfolio, including a spicy mango habanero option, among others. And has retained the delivery service started when Wudaoying Hutong was blocked off for more than a month.
It's been a tough year in general for bars / restaurants in hutong areas but many places are back online. The Club at Zarah has been hosting Saturday night dance parties, featuring Beijing DJs. Cafe de la Poste reopened after a lengthy closure–this place and QS are a "last stop" for many in those parts of the city. Sidestreet is offering a bunch of deals, including three hours of bubbly on weekends for rmb149, between 12:30 PM and 5:30 PM.
And El Nido is back to putting on premium beer events–the most recent focused on sours–among other projects. One notable effort saw El Nido source beers from a half-dozen Chinese cities, including Wuhan, can them on site, and sell six packs with cool labels and packaging. Really impressive, especially as these guys faced some major headaches due to zealous local rule-checkers.
What else?
Want to celebrate near normality by drinking beer through a snorkel? The Diving Restaurant is for you. Finish without "resting, vomiting or cheating" and you get the beer and a meal for free. In Shuangjing.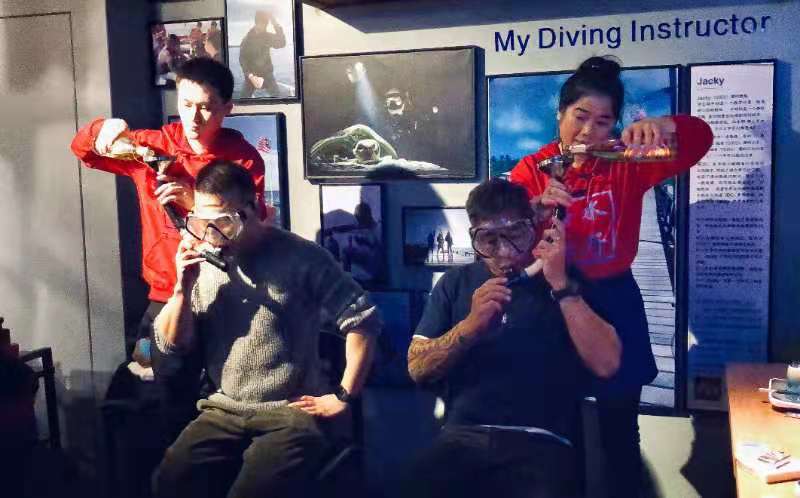 Southeast Asian food specialists Mulu started a kapi kopi (coffee buddy) all-you-can-eat weekend brunch for rmb168. Italian restaurant Fiume added panini and other sets for delivery. And China World Summit Wing has opened an outdoor area called The Secret Garden.
Bottega Sanyuanli has one of the city's best new deals: three hours of free-flow pizza on Wednesdays from 6 PM to 9 PM for just rmb98. It also has specials in its bar Vesuvio, in the same space, like rmb38 Negronis Tuesdays from 5 PM.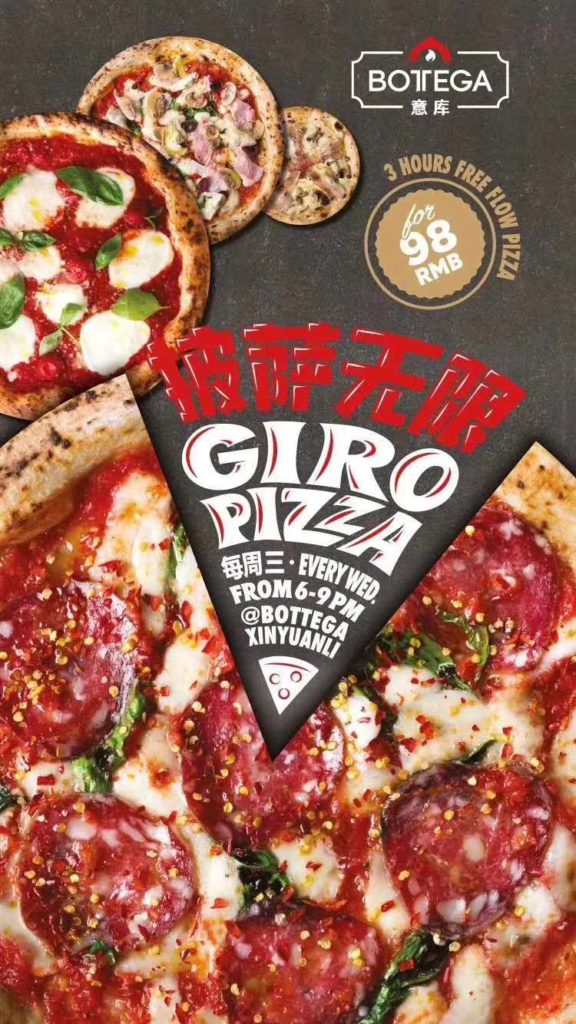 In that same complex, Boxing Cat–which has one of the most frustrating WeChat groups: learn to use the group notice, people–has buy one get one free burgers from 5 PM on Wednesdays. The weekday happy hour features rmb35 house drinks / beers from 4 PM to 7 PM. As best I know, Q Mex Taqueria has the same weekly deals.
Pachipapi, one of the bright spots in the dining scene, has yet to reopen. (We need those Peruvian dishes and drinks back!) Next door, Turkish Feast is doing well and offers good weekday deals: half-price kebabs on Mondays, pide ("Turkish pizza") on Tuesdays, beef ribs on Wednesdays and rib-eye steaks on Thursdays, all from 5 PM. Recent photos of fresh baklava made my stomach rumble.
Luga's Bistro & Brewery, on Ghost Street, also has weekday food deals–steaks on Mondays, etc–and a regular rotation of select half-price beers.
Bistro 108 recently launched a new WeChat group to keep in touch with its fans. Get free flow mussels and fries on Thursdays for rmb168. Daily happy hours (closed Monday) are 3 PM to 7 PM, with buy one get one free Asahi, house drinks for rmb30 and bottles of wine for rmb108. Fellow French eatery O'Steak also has lots of weekly deals: marketing manager David has been relentless (in a good way) in promoting this Xingfucun Middle Street venue the last few months. Tuesday is "carnivore night" with a weekly half-price meat dish, ranging from sirloins to beef Rossini to tomahawk steaks.
Buona Bocca and The Merchants are among the wine bars still going in a city where craft beer and cocktails rule. Unfortunately, today I passed by 17 Cafe, which featured natural wines, and the space was empty. (The nearby space that housed Pudao Wines, until it closed last year, is a hair salon.) If you need a glass in that Central Park complex, maybe try LM Plus.
Kitty & Daniel? I don't know the status of this place but is catches the eye. Anyone know what's happening here? It's on Jinhui Street, the same strip as Burger King, Q Mex, Hey Tea et al.
And The Rug started delivery during the virus crisis, which means getting your favorite brunch items, pizzas, salads, wine and more at home. I'm a big fan of the mapo tofu pizza. I'll have more on The Rug and others soon–lots more to cover from Punjabi to Eudora Station to Park Square–but I want to get this post up today before it's too late.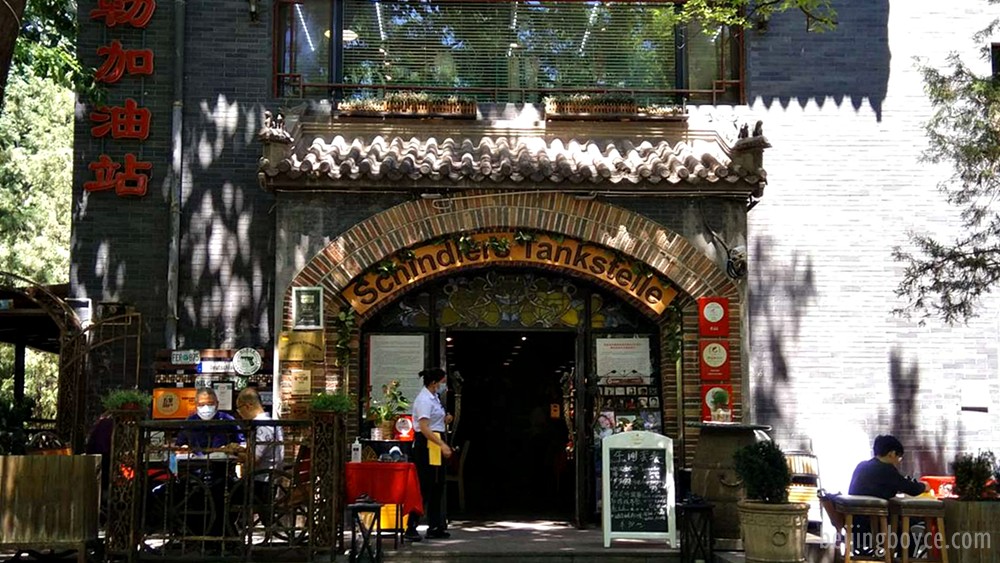 *     *     *
Get regular Beijing updates via my
Instagram
and
Twitter
feeds. Also see my sibling sites
Grape Wall of China
,
World Baijiu Day
 and
World Marselan Day
. Help cover the hosting and other costs of these sites with a
WeChat
,
AliPay
or
PayPal
donation.
*     *     *