Elin Hung, Aden Chang and Gordon Chan launched brunch-centric The Rug near Chaoyang Park in 2011 and now have two additional venues, one in Sanlitun and one in WF Central. For the Q&8 series, I asked Aden Chang about mapo tofu pizza, sourcing local ingredients, menu recommendations and more.
1 The Rug just celebrated its tenth anniversary. If you could write a letter to your 2011 self, what advice would you give?
No matter how hard it is, keep walking!
2 What was the first dish you guys created that made you proud?
The Rug signature salad. And it has always remained on the menu and is still going strong.
3 You guys were sourcing quality local ingredients very early. What has changed over the past decade?
It was tough back then due to the limited sources. The most difficult part was during that time, restaurant cooperation with organic producers was almost down to zero, so mutual trust was a very big challenge. It took us a lot of time to make them believe we are very serious and that we want healthy long-term relationships.
Over the years, awareness of organic products has risen at a fast pace, and we are now able to find more partners and do business with them.
4 I'm a fan of the mapo tofu twists you guys do: pizza, pasta, nachos and more. Which one sells best? And is there more mapo tofu love in the pipeline?
Mapo tofu pizza is the best-seller without a doubt! We will continue to explore this flavor and to pair it with other interesting ingredients. 
5 Who's the typical The Rug customer? And does it differ depending on the venue?
Our customers tend to have had experience living overseas and that has remained the same over the past decade. We think that has to do with the consistency of our venues—we try to come up with new dishes and menus twice per year, and we play with a wide range of tastes, with the style in tune with our core customers and related to their experiences.
6 You got me interested in Guanyun baijiu. How did you connect with those guys and what's the best food pairings?
They were introduced by friends and we fell in love with the product and the design the first time we met them. Guanyun's baijius pair best with strongly flavor dishes as they bring out the balance.
(I organized a World Baijiu Day event with Guanyun at The Rug, one that featured food, drink and music. Check it out here.)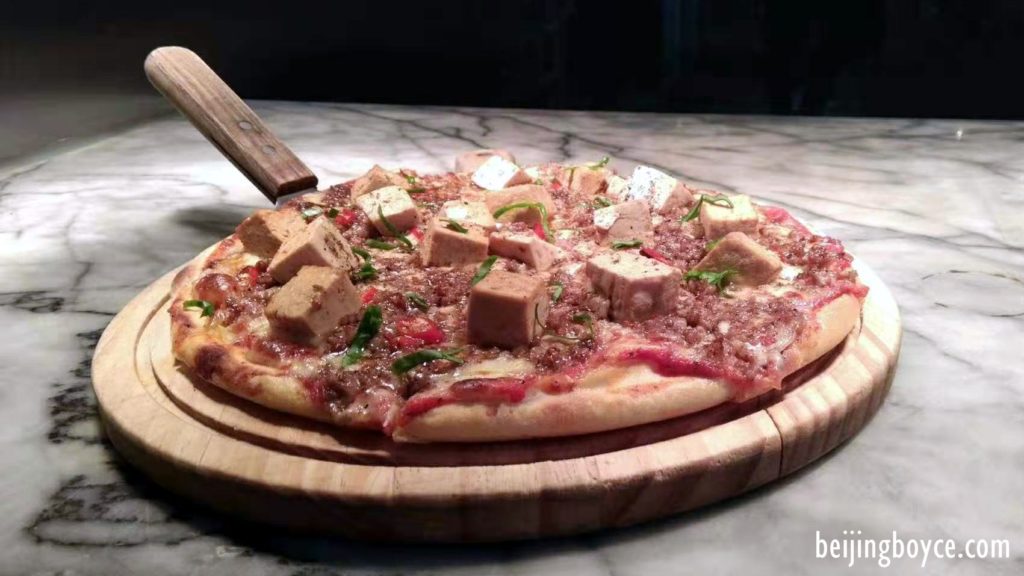 7 Let's say I'm a newbie to The Rug and going there for my first dinner. What three dishes you would recommend?
For dinner, our beef Wellington, which is a bit outside the box compared to the traditional way most restaurants make it. Also, the roasted ranch chicken is really good. And most of all, the mapo tufo pizza is a must !
8 Do you have any resolutions for The Rug for 2022?
It's a secret! You have to come back in April to find out our 2022 summer menu.
Also see: Mapo ToFusion! The Rug Strikes, Er, Spices Again, Spice of Life: The Rug Made Mapo Tofu Nachos and Double Hottiness: Spicy Delights at The Rug.
*     *     *
Get regular Beijing updates via my
Instagram
and
Twitter
feeds. Also see my sibling sites
Grape Wall of China
,
World Baijiu Day
 and
World Marselan Day
. Help cover the hosting and other costs of these sites with a
WeChat
,
AliPay
or
PayPal
donation.
*     *     *