Mapo tofu nachos magic in Beijing! I saw a New York Times recipe posted for this dish, sent it to Aden Chang at The Rug Cafe, already known for its mapo tofu pizza, and a day later his team created a gooey, spicy and savory fiesta of flavors.

Basically, we're talking minced meat melted into cheese, toppings like black olives and pickled japaleno pepper slices, and a tongue-numbing peppercorn edge. That plate didn't last long. And good news: Chang says this dish will be on the upcoming winter menu.

I also tried mapo tofu-topped pasta with truffle cream sauce. Nice. The spice really lifted that truffle flavor and I had fun trying it with Shi Bai Pian Pinot Noir from just outside Beijing and Bench 1775 rose from Canada.
As noted, The Rug Cafe has mapo tofu pizza, and while some people wonder if such a topping can work, the vast majority of reviews have been excellent. The pizza is available at all Rug outlets though please note the Sanlitun branch is under renovations.
Thanks to the team at The Rug for making mapo tofu nachos happen!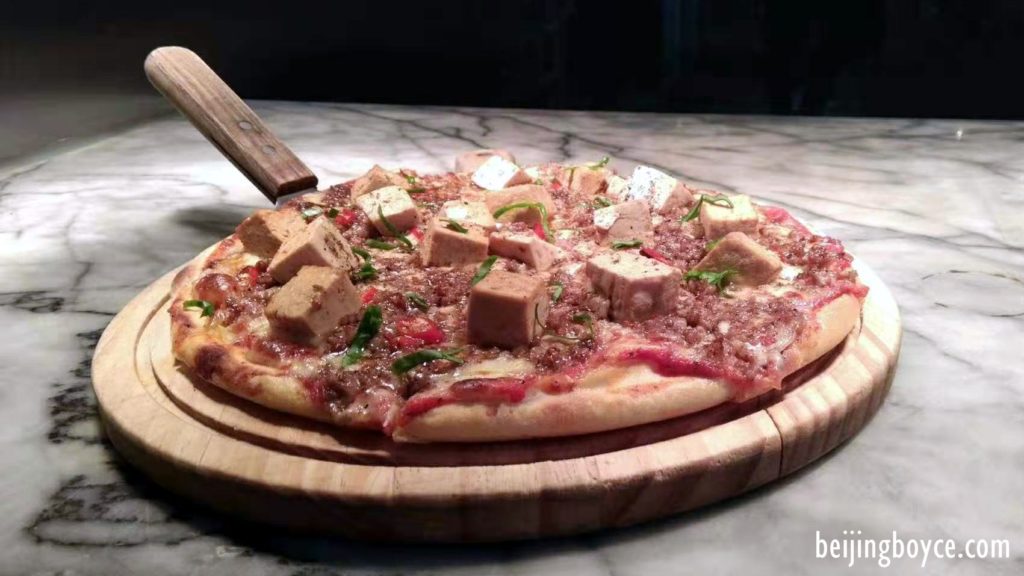 Check out my lists of Beijing
food deals
 and
drink deals
. Also get updates via
Twitter
,
Instagram
and
Facebook
. And check out my sibling sites
Grape Wall of China
,
World Baijiu Day
 and
World Marselan Day
.  If this site helped you find new bars, restaurants, foods and drinks, or saved you money, consider helping to cover the hosting and other costs with a
WeChat
 or 
PayPal
donation.