Six months ago people wondered if much of Beijing's restaurant and bar trade would survive, let alone move ahead with new venues. The vitality of the city's food and drink trade this summer is impressive.
From major incoming brands like Shake Shack, Taco Bell and Tim Hortons to veterans opening new spaces, such as Hulu (two new branches), Bottega (about to open another Forno pizza shop) and Tube Station, to standalone restaurants and bars, things seem as normal as one could have possibly hoped for back then.
And pizza is rising in a way not seen since the years around the 2008 Beijing Olympics, when the likes of Kro's Nest, Gung Ho and La Pizza took quality and creativity to new heights.
In the past month, we've seen Hulu open another outlet, this one in Indigo Mall in Lido and focused on pizza. (Ignace Lecleir and his team partnered with Giuseppe De Stefano of La Pizza fame on this project.)
Meanwhile, just meters from Hulu's Taikooli venue, the guys from Bottega will soon open a second branch of their Roman-style pizza joint, Forno. And have the grand opening on Saturday of their nearly three-month old original outlet in Sanyuanli, with a 50 percent discount deal and a gladiator and toga theme.
Across the street in the TopWin center, veteran Tube Station opened its most recent branch two weeks ago.
Not far away, near The Place, The Pizza Show has opened in Parkview Green and is getting rave reviews for its crusts.
And even newcomer Taco Bell is getting in on the action with its "Mexican pizzas."
Happily, for pizza fans, veteran reliable options are still in business, including Pie Squared (I really wish these guys would open in central Beijing), Pizza Saporita and Gung Ho. Again, such a scenario seemed pretty unlikely earlier this year and we can expect even more goodies in the pipeline.
By the way, I'm updating my Beijing food deals list, so here are a few specials focused on pizza.
Monday: The Local. Half-price 12-inch pizzas, dine-in only, 4 PM-10 PM.
Tuesday. Gung Ho. Buy one, get one free pizza, dine-in only.
Tuesday: Q Mex. Half price pizza from 5 PM.
Tuesday. Lucky Las Vegas. Buy one, get one free pizza. Dine-in only.
Wednesday. Bottega Xinyuanli. Half-price calzone. (Okay, it's not pizza, but it's good.
Wednesday. Paddy O'Shea's. Order a regular pizza, get a free lager. Order a large pizza, get 3 free lagers.
Sunday. Lucky Las Vegas. Buy one, get one free pizza. Dine-in only.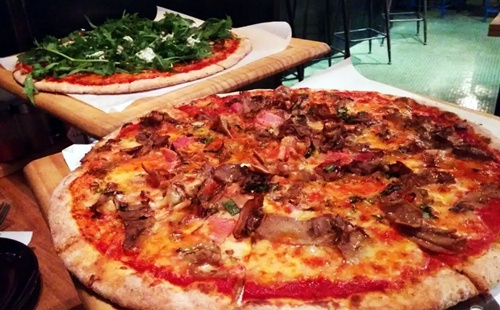 *     *     *
Get regular Beijing updates via my
Instagram
and
Twitter
feeds. Also see my sibling sites
Grape Wall of China
,
World Baijiu Day
 and
World Marselan Day
. Help cover the hosting and other costs of these sites with a
WeChat
,
AliPay
or
PayPal
donation.
*     *     *