Tasty Bordeaux blends made in Beijing's hutongs?
A man named Zhang Bingzhai contacted me out of the blue a few years ago to say he was making wine, it turns out, down a secluded alley off a side street just a short walk from the Houhai Lake District and, in turn, Tiananmen Square.
Zhang's message surprised me and the quality of his wines doubled that down: the word "passion" is thrown around (far too) casually in the wine trade but here was a guy living the life and doing it well. I made a much-overdue return visit to his two-room home 'winery' two weeks ago.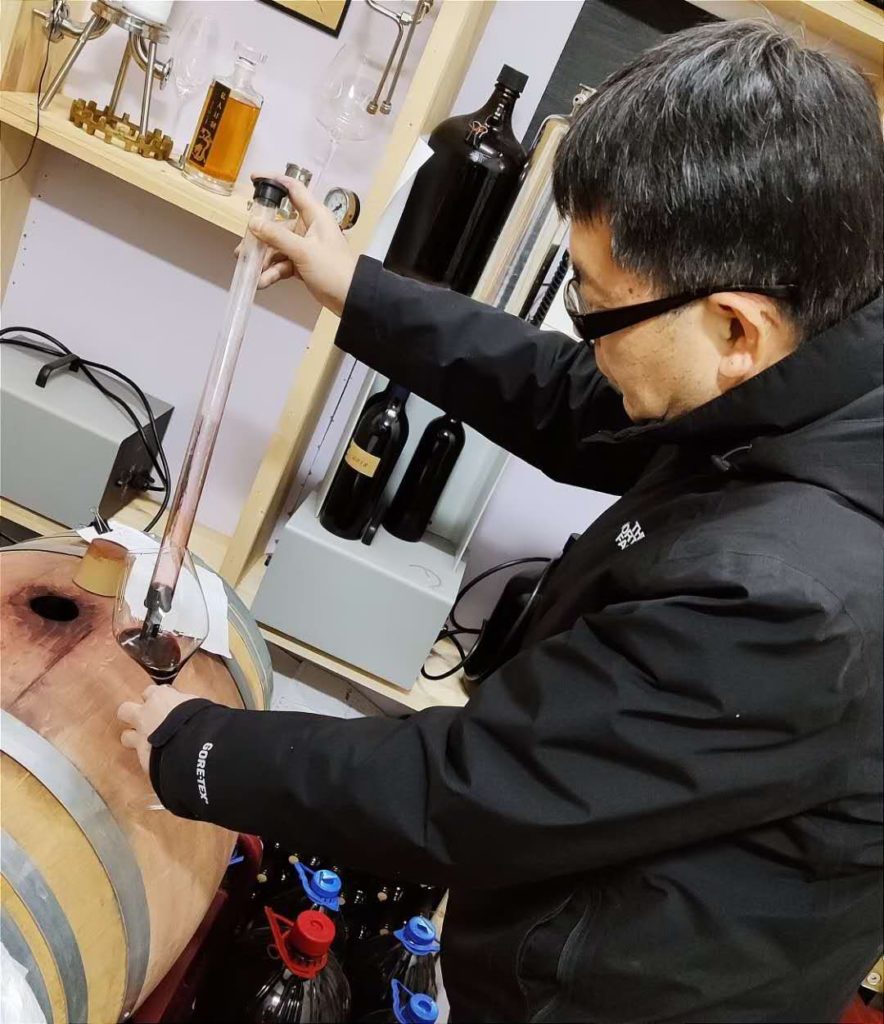 Zhang, whose full-time gig is in the patent business, told me he first made wine in 1997: both a white (Semillon) and a red (Carignan) with fruit from Daxing in southern Beijing. And that he has been making wine at his current space since 2016.
In recent years, he has sourced fruit from Qingtongxia in Ningxia and Huailai County in Hebei, including varieties such as Cabernet Sauvignon, Cabernet Franc, Marselan, Merlot and Petit Verdot, although he dabbles in dessert wines, using Vidal grapes from northeast China, and in sparkling wines, including a recent Chardonnay he gave some oomph with aged ginseng and oyster shells.
His well-organized operation covers two rooms and is a master class in equipment sourcing. Over the years, he has pieced together a system that includes everything from a German press to French and American barrels to a Swiss corker. And he has used that system to pursue his own wine styles, which includes mixing vintages and grapes from different regions.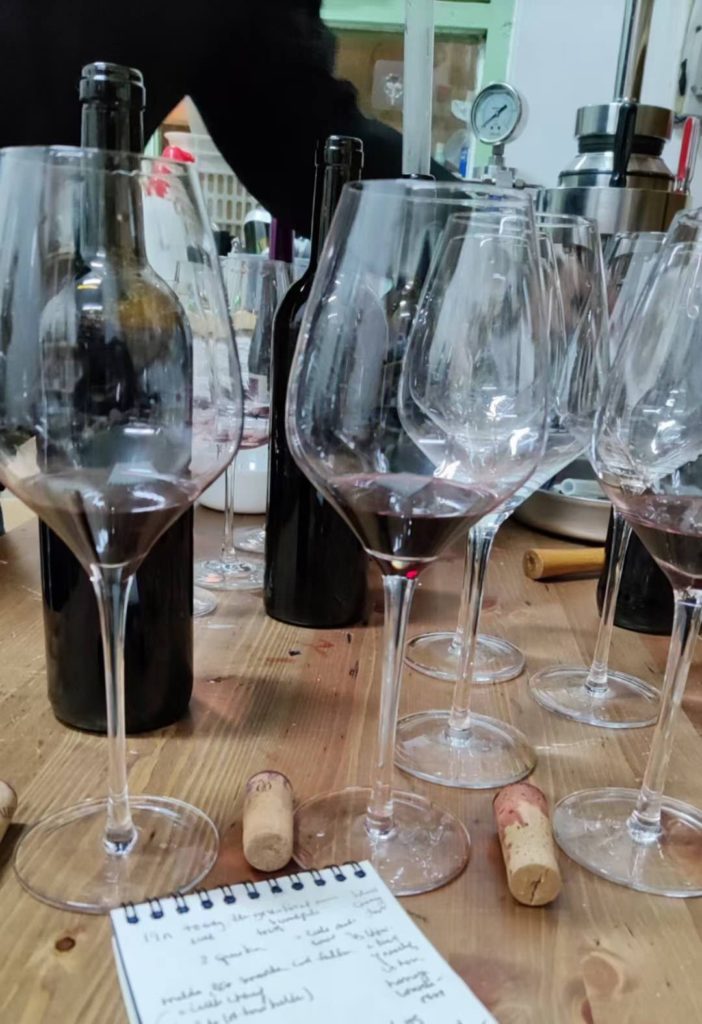 Here are some notes for his wines—that he bottles under the name Wanderfalke [peregrine falcon in German]—tasted during a fun afternoon session. For more detailed notes, see my post on sibling site Grape Wall of China.
WF 2016: 60% Cabernet Sauvignon (Qingtongxia in Ningxia), 40% Merlot, Petit Verdot and Cabernet Franc (Huailai in Hebei). Ample fruit and barrel influence: aged in new French oak for two years. Spicy dark cherry and plum aromas up front, then light chocolate and woody notes.
A fresh easy-going wine with a slightly grainy texture and pleasant mouthfeel. Has a rustic feel, kind of the difference between having a thoughtfully cooked meal at someone's home versus a set menu at a restaurant.
WF 2018: 50% Cabernet Sauvignon (Qingtongxia), 50% Merlot and Cabernet Franc (Huailai). A bit 'closed' at first, but shared the dark fruit and subsequent chocolate aroma of the 2016, with more complexity as it opened up. Fresh and fruity, with nice acidity and texture. The oakness—it was aged in French barrels for 20 months—picks up as this wine breathes.
ZF 2019: A "super blend" of 40% Cabernet Sauvignon (Qingtongxia), 60% Merlot, Cabernet Franc and Petit Verdot (Huailai). Aromas of black cherry and toast but also a forest woodiness. Milder, smoother and fuller than the others, with the biggest 'mouthfeel'. Still very young.
ZF 2021: 50% Cabernet Sauvignon, 25% Merlot, 12.5% each Cabernet Franc and Petit Verdot (Huailai). And no sulfur.
It pours vibrant dark purple and smells like summer flowers (roses and violets) and tart fruit (hawthorn), with a spicy note from the American oak. Tight, quite tannic and slightly tart. Only a month in barrel so far, it was Incredibly floral and with the acidity a bit rambunctious. I hope to try it again soon.
We also tried a 2021 Marselan from Huailai (inky purple and loads of tannins), a 'super super blend" with four vintages (2016, 2017, 2018 and 2019), four grapes (Cabernet Sauvignon, Cabernet Franc, Merlot and Petit Verdot) and two regions (Qingtongxia and Huailai) that was quite aromatic with ripe plum, tobacco and spices and that had nice acidity and an umami edge, and sparkling 2021 Chardonnay from Huailai.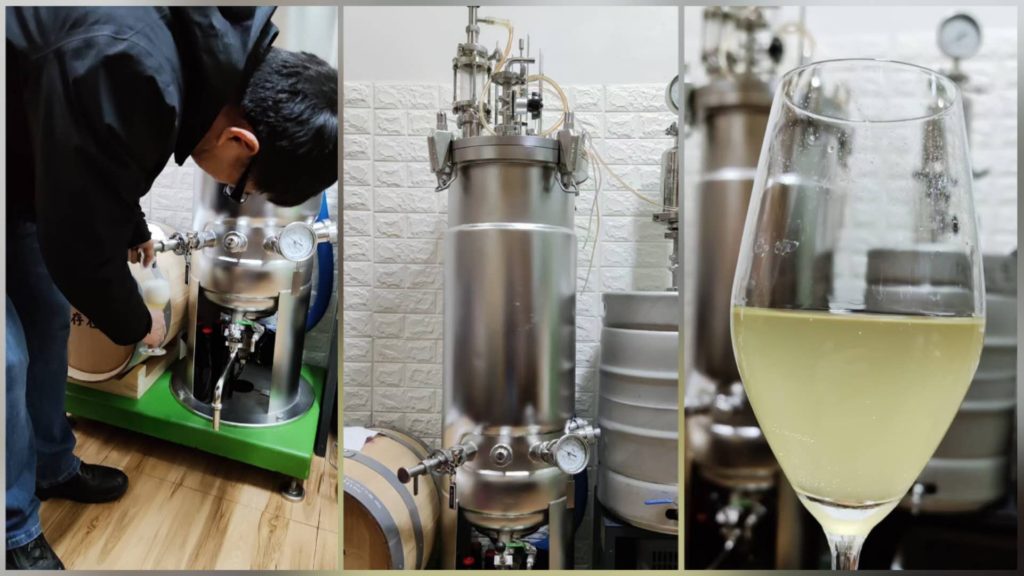 The Chardonnay threw me: I figured it was extra spicy Riesling or Gewurtztraminer. But it turned out Zhang found the wine bland and gave it oomph by adding 17-year-old ginseng and oyster shells to the tank. Unexpected! And weirdly delicious.
After a sparkling rose, a stout (yes, Zhang also makes beer) and a nice chat, I headed back to the streets having had a unique Sunday afternoon I hope others get to experience. And maybe instead of going to the hutongs, it's time Zhang also brings his wine out into the world.
*     *     *
Get regular Beijing updates via my
Instagram
and
Twitter
feeds. Also see my sibling sites
Grape Wall of China
,
World Baijiu Day
 and
World Marselan Day
. Help cover the hosting and other costs of these sites with a
WeChat
,
AliPay
or
PayPal
donation.
*     *     *