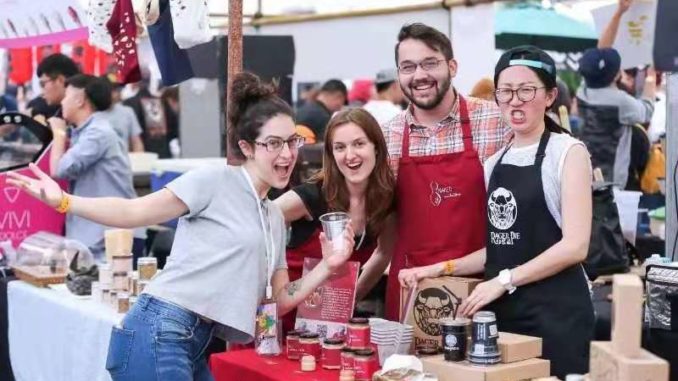 Meredith Sides founded Naked Nut Butters with Katie Tarrant in 2016 and it has gone from apartment balcony side hustle to full-fledged factory and online shop. I asked Sides about what kind of peanuts she uses (hsuji!), novelty nut butter flavors (chocolate coconut cashew!) and advice for Jaromir Jagr peanut butter collectors (HODL!?).
Plus, how she finds new customers, other craft goods at her online store and the 'Meredith' way of eating nut butter.
Check out the Q&8 below. (And see more Q&8s at this link.)
1 What inspired you to make nut butters in the first place?
Honestly, it was just because I couldn't get the good stuff here in China. I've been obsessed with nut butter for as long as I can remember, and when I first got to China in 2011, I found the options really lacking. So, every time I visited the States, I would return with at least half a suitcase full of nut butter products.
My favorite activity was to come back from a night of drinking and snuggle in bed with a spoon and a jar of nut butter. Since I couldn't visit home often enough to satisfy my addiction, my roommate at the time—who would later become my business partner—suggested we try making it at home. And that's where it all began.
2 There are so many kinds of nut varieties and grades. What peanuts do you use?
We use a small, round, red peanut from the Sichuan region, called Hsuji peanuts. They tend to be a bit sweeter and oilier than the larger peanuts you might eat as a snack.
The reason why we use these, and why we decided to set up our own factory, are the same. When we were making our nut butter at home, we were buying nuts from the local market. As our side hustle started to grow, I needed some help setting up basic financials for the business, and so I contacted an old friend of my partner who works for a Chinese NGO, The Paradise Foundation. This NGO works to protect nature reserves around China and helps to promote environmental conservation and education.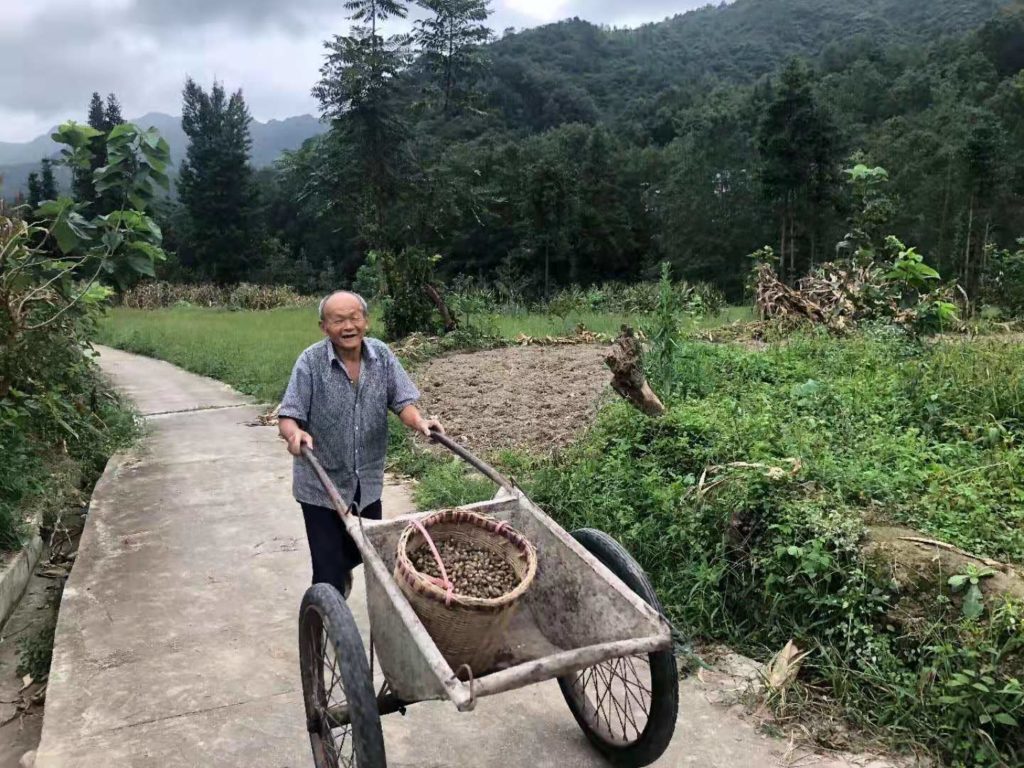 While we were chatting about P&Ls [profit and loss statements], he mentioned that just outside of one of their reserves in Sichuan was a very small village that grew peanuts in an ecological way, meaning that no chemicals or heavy machinery are used, in order to help protect the land around the crops as well as the crops themselves.
He suggested we try using those peanuts, and also said that there was space in the village to set up a small factory if we wanted to take that step. We visited the region, fell in love with the landscape, the locals, and the nuts, and decided to take the chance and move production from our apartment balcony to a full-blown factory.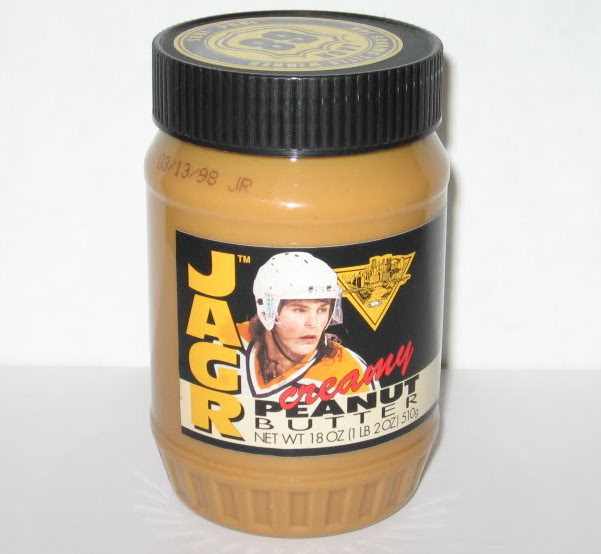 3 Your peanut butter is 100 percent nuts. How long does a jar last once opened versus mass-produced peanut butter? Also, my friend's mom in Pittsburgh has an unopened jar of Jaromir Jagr peanut butter from 25 years ago—will that still be edible!?
Because our nuts are roasted before grinding and then vacuum-sealed, each jar is good for one year after opening. It's about the same as mass-manufactured peanut butter, but over time you can see the natural oil of our nut butter separating to the top of the jar. In a typical jar you'd see in the supermarket, like Skippy, they add preservatives so the oils do not separate.
As for your friend's mom's jar, I'd say she'd get more value from selling it as a collector's item than from eating it.
4 Your year-end post stated there were 3,000 new Naked Nut Butter customers in 2021. Where are you getting all these fans?
We pushed more online in 2021, utilizing platforms like Weibo and 小红书, and a majority of our new customers came from that.
While offline markets and festivals are good for some things, like meeting customers in real life and chatting with fellow entrepreneurs, the return is somewhat limited. If you really want to make it in China, you need to go online.
We also have an amazing fan base, that we call our NAKED fam, and that recommends our products to their friends, and their friends' friends, and their friends' friends' friends…
5 You also make novelty nut flavors—I think the latest was peanut butter satay. What were your three favorites from the past year?
Oh man, that's a bit hard to choose, but if I had to pick, I'd say our Chocolate Coconut Cashew Butter, Golden Spice Cashew Butter, with turmeric and bits of crystallized ginger, and Peanut Butter Satay Sauce. That last one was created by local chef and mastermind Simone [Thompson], who was most recently the executive chef of 京A Brewing.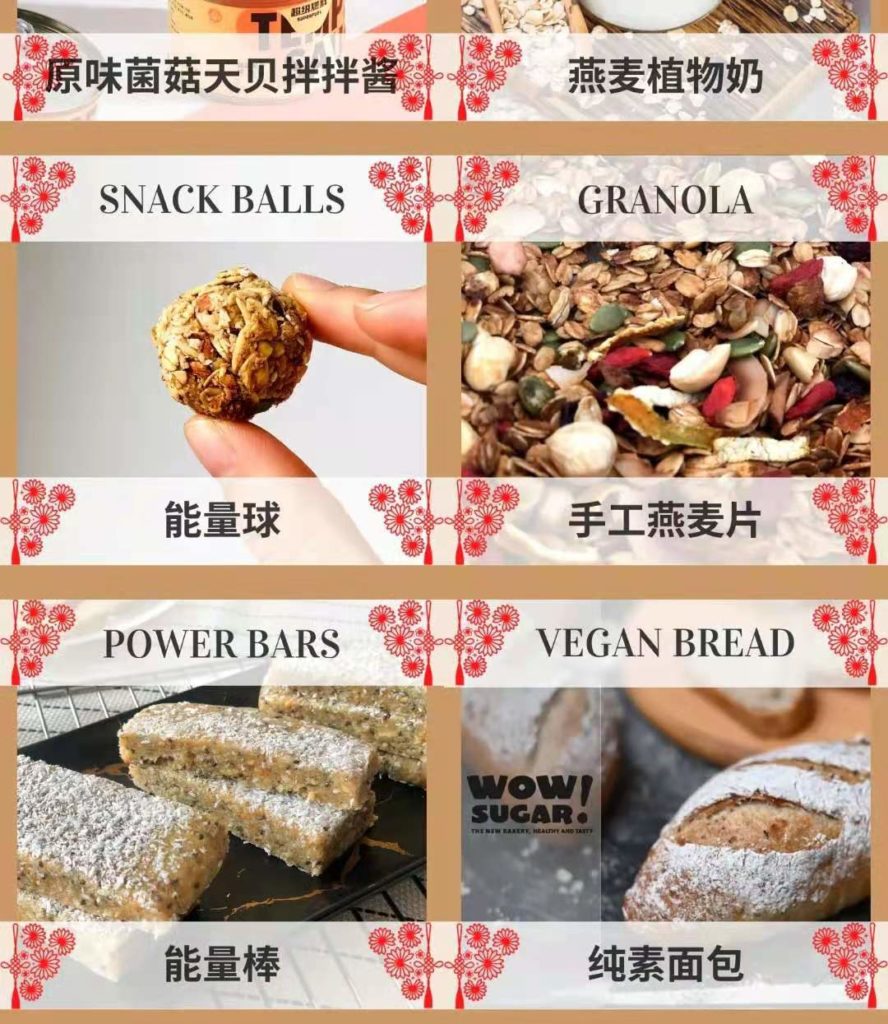 6 Your online shop also includes craft products by other people—everything from brownies to granola to kombucha. What is the most recent addition and what are you looking to add in Year of the Tiger?
The most recent addition was peanut butter cookies, made by local bakers using our all-natural peanut butter. We also added some amazing juices and smoothies by Mr. Raw, who uses our nut butter in many of his smoothies.
We're talking to a few potential partners now to add some creative, delicious, healthy products this year, but I can't yet reveal who they are. You'll just have to stay tuned!
7 You joined our Maovember Dog Pub Crawl this year. What are three restaurants or bars you like to take your dogs in Beijing?
The Maovember Dog Pub Crawl was such a highlight! I love being able to take my doggos out for some nice weekend day-drinking. My favorite places to take my dogs are 京A, Pi Bar, which was a stop on the pub crawl, and Buona Bocca when the weather is nice and we can sit outside with a glass (or bottle) of wine.
8 How does Meredith Sides enjoy her peanut butter?
I eat peanut butter almost every day. In the morning, I make a peanut butter smoothie loaded with oat milk, fruit, chia seeds, and whatever else I feel like throwing in.
I love a classic peanut butter toast with some Trader Joe's Everything But The Bagel seasoning that I brought back from the States. And I often mix up a peanut butter sauce with our peanut butter, dark vinegar, soy sauce, and sesame oil to eat with rice.
But my favorite way is still the classic Meredith way: straight from the jar while snuggled in bed.
*     *     *
Get regular Beijing updates via my
Instagram
and
Twitter
feeds. Also see my sibling sites
Grape Wall of China
,
World Baijiu Day
 and
World Marselan Day
. Help cover the hosting and other costs of these sites with a
WeChat
,
AliPay
or
PayPal
donation.
*     *     *