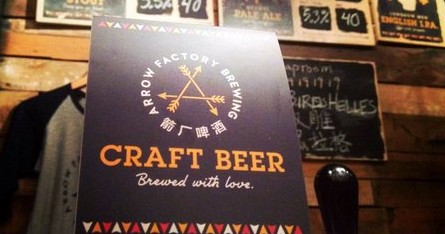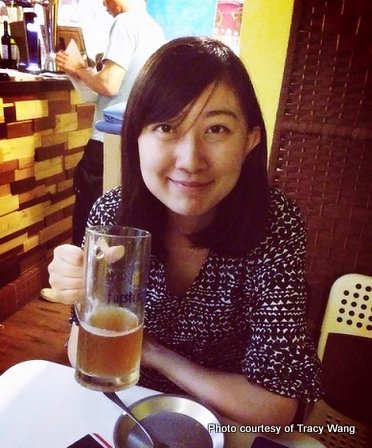 When I asked writer Tracy Wang if she would "list five craft beers and why you like them" as part of the Must Tries Series, I had no idea she would go ten hops further and cover not only her favorite tipples but also a brewpub tour that lets drinkers get the most out of the scene. You can see her 'flight of flights' tour below and her writing in The Beijinger, The Beer Link, Esquire, Precis and her blog.
Note: She defines 'flight of flights' as a challenge where participants walk brewpub to brewpub, covering five places, and have a flight of beer at each. A minimum of 20 beers should be sampled and scored.
---
The Flight of Flights Tour by Tracy Wang
There are many Beijing shops and bars that stock imported bottled beer, but what if you want to try something that is hard to find outside this city? That would be local craft beer. Several friends of mine came up with a "flight of flights" idea that allows people to experience a good range of beers and brew pubs in one day, to figure out which ones they like most through what we call horizontal tastings, and to get some exercise–or what might ultimately be described as drunk stumbling. This is our regular route.
---
We always start the journey from Jing-A Taproom because it's close to where we all live. This place is aesthetically appealing with its brick-and-wood decor. The quiet courtyard is an added bonus. And Jing-A never says no to fun or innovation, thus they have made a lot of experimental brews, including Toasted Chestnut Brown Ale, Guizhou Smoked Chili Porter and Bingtanghulu Amber Ale as well as co-brews with Nine Rivers, Boneyard, Elysian and 10 Barrel. Last year, they also made an interesting and bold Qu Brew, using qu (the fermentation agent for baijiu) and red sorghum. You will see me at Jing-A almost every Wednesday for the chili.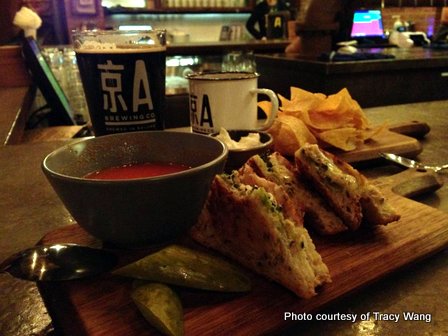 My picks: Black Velvet Vanilla Stout (ABV 6.2%, 15 IBU) and Hutong Clan Cascadian Dark Ale (ABV 9%, 75 IBU).
Address: Jing-A Taproom, 1949: The Hidden City, Courtyard Four, Workers Stadium North Street
---
Our second stop is NBeer at Sanlitun SOHO, which offers a short break ahead of an upcoming bunch of hardcore beers. NBeer is a project by Yin Hai and Xiao Bianr. It lacks the magnificent huge wall of fridges of their first venue, and the bottle choices are limited, but, hey, that's not what we are looking for here. The specialty is that you can drink beers made by Chinese brewers from other parts of the country, such as No. 18 from Wuhan and Master Gao from Nanjing.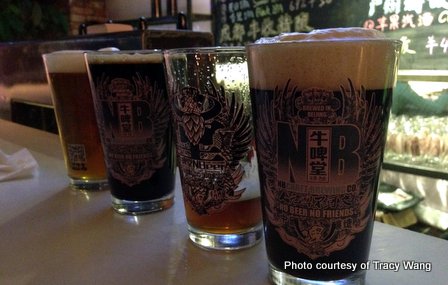 My picks: Black IPA (ABV 6.9%) and Helles (ABV 4.5%).
Address: NBeer Pub, B1-625, Building 6, Sanlitun SOHO
---
Now there's a long walk in the hutongs to Arrow Factory, which is next to Stuff'd, just off Wudaoying Hutong. Arrow Factory has opened a new taproom at the former Vineyard Cafe spot at Liangmaqiao, but we go to the hutong venue because it's near the other brewpubs. Thomas Gaestadius and Will Yorke have recently been making a lot of beer in American styles. If you prefer hoppy beers, the latest release, New Leaf Oatmeal IPA, will slap you with Cascade and Mosaic hops. The steak and ale pie at Arrow Factory is a killer.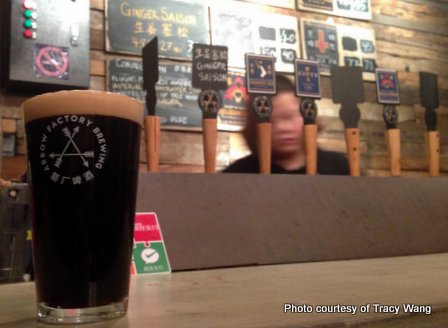 My picks: Seeing Double IPA (ABV 7.7%) and Back in Black Stout (ABV 5.5%).
Address: Arrow Factory Taproom, 9 Jianchang Hutong
---
After that, we take a little walk to Great Leap Brewing #6. Unlike the always packed #12 brewpub, which is known for its cheeseburgers, this one is in a quiet and hard-to-find hutong area. It was also Great Leap's first location.
My picks: Hidden General IPA (ABV 4.7%) and Three Door Tripel (ABV 9.5%)
Address: Great Leap Brewing, 6 Doujiao Hutong
---
Finally, Slow Boat. I am saving my favorite for the end. Maybe I seem biased, but they didn't bribe me for this! They have two heavy-hitters: above-average beers and award-winning burgers! A blue cheese burger with a stout / porter is a perfect night. And it's a small and cozy place.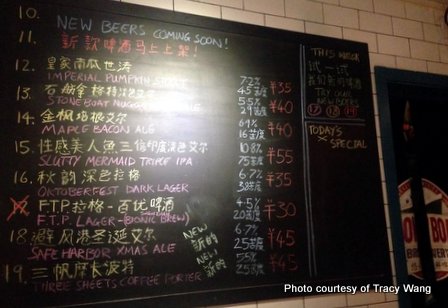 My picks: Three Sheets Coffee Porter (ABV 5.5%: best if you are a coffee lover), First Immortal Double IPA (ABV 8.0%) and Sea Level Chocolate Sea Salt Stout.
Address: Slow Boat Brewery, 56 Dongsi Ba Tiao
---
If you are not completely wasted by this time, and still willing to try more, you could visit Panda Brew on the next street. It is Chinese-owned and recently secured rmb20 million in investment. Their potent barley wine is enough to knock you down and worth a try.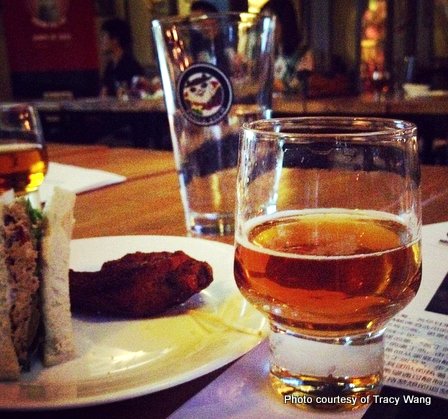 My pick: Barley Wine (ABV 8.6%)
Address: Panda Brew, 14 Dongsi Beidajie
---
The Must Tries Series asks people in the F&B sector about their favorite foods and drinks about town. You can find more picks here.
*     *     *
Get regular Beijing updates via my
Instagram
and
Twitter
feeds. Also see my sibling sites
Grape Wall of China
,
World Baijiu Day
 and
World Marselan Day
. Help cover the hosting and other costs of these sites with a
WeChat
,
AliPay
or
PayPal
donation.
*     *     *