Sanlitun is home both to some of Beijing's best restaurants and bars and its most beastly buildings. A notable veteran is the squat 3.3 (see above) that transforms each night into a huge annoying kaleidoscope with its mind-numbing multicolored light show / tribute to fluorescent tubes. Stare long enough and you might go into spasms  / speak in tongues. For free.
I could give lots of other examples. And near misses: the original plans for Sanlitun Village South included shipping containers jutting from the complex's north facade, until cooler heads at Swire prevailed.
But the point is that these efforts have all been surpassed by a newcomer that has taken crass to new levels, some forty stories of them—The Intercontinental Hotel.
During the day, this massive slab is fairly benign, although anyone turning the corner near The Bookworm after a visit to Q Mex, The Local, Jing-A, Pop-Up et al will find its sheer size startling.
It's sunset that brings out this building's true colors. The facade is wired to display morphing multicolored multi-hexagon designs, a cross between Tetris and a honeycomb made using a Fruit Loops palette. Squint just right and it looks like rainbow hurl. And given the Intercontinental is the tallest building in Sanlitun, it has a major edge on 3.3: you can easily catch a glimpse, whether via a reflection in a nearby building or from more that hundreds of meters away:
I'm far from alone in my opinion. When I posted a photo of the Intercontinental light show on Weixin, millions dozens of people agreed. Comments included "Trying too hard", "Speechless", "Bloody hell, that's not gonna be every night, right?", "Houhai in a bottle", "It's like they're trying to be Hong Kong but fucked up royally" and "Bringing the third-tier city look to Beijing."
I believe the boy in this statue, set just a few meters in front of the Intercontinental, reflects people's general reaction: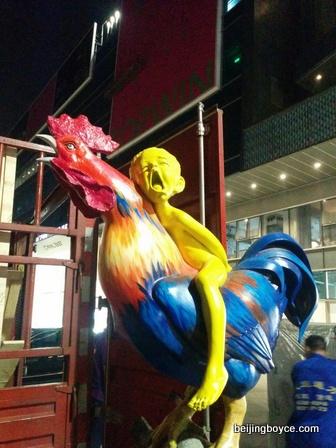 About the only positive is that The Intercontinental might serve as a beacon for people who are plastered in the area and need to get their bearings. But given the height of the building, it would work as well without that rainbow of colors. Can't we just go with this lighting?


*     *     *
Get regular Beijing updates via my
Instagram
and
Twitter
feeds. Also see my sibling sites
Grape Wall of China
,
World Baijiu Day
 and
World Marselan Day
. Help cover the hosting and other costs of these sites with a
WeChat
,
AliPay
or
PayPal
donation.
*     *     *